Ahead of the European Union's ambitious proposal to ban the sale of new gasoline and diesel internal combustion (IC) engine vehicles by 2035, the Italian liquefied petroleum gas (LPG) Association is preparing for a key review in 2026. The association, led by president Andrea Arzà, will challenge the EU proposal, focusing on the limitations and pitfalls a complete ban of IC engine vehicles would bring.
Arzà spoke to us in November during the LPG week in Rome, on the association's initiatives and expectations for the LPG market.
OPIS: How does the Italian Association plan to persuade the European Union to consider its proposals for using more LPG instead of completely banning combustion engine (ICE) vehicles?
Arzà: The EU's "Fit for 55" plan aims for a 55% cut in emissions by 2030 and climate neutrality by 2050. A key part is banning IC engines, which will have the greatest direct implications for the LPG sector. We believe the EU's plan overlooks emissions linked the whole life cycle of technology, for example from sourcing and production to utilization as well as end-of-life waste management.
We conducted a study, presented during the LPG Week conference, which introduced a fuel blend for cars using LPG, including bio-propane, along with renewable dimethyl ether (rDME). This combination—20% rDME and 80% propane—adheres to EN 589 standards and showcases a 10% to 15% reduction in emissions compared to traditional gasoline.
Another study from the Polytechnic University of Milan analyzed the entire life cycle of electric and IC engines. Electric engines emit zero emissions while running, but we need to look at the entire life cycle of the electric engine, from production to consumption.
This study found that no energy source guarantees a complete emission cut, even if fully renewable. So, adding 20% renewable LPG cuts emissions by 10%. Scaling up this blend with more renewable product significantly boosts performance. Imagine the impact of an 80% renewable LPG and 20% gas blend on the industry!
We strongly believe that we need cars with IC engines powered by renewable fuels instead of electric cars only. For us the priorities are to have a variety of energy sources, an option of choice, with no competition between the different sectors, as well as performance and efficiency.
OPIS: So, what's the problem, why can't I drive my car with a renewable LPG fuel blend?
Arzà: In Italy, we've made significant progress, but it's unfortunate that only a few European countries embrace LPG usage due to cultural differences.
For instance, the LPG market in Poland and Turkey surpasses Italy's market size. Interestingly, the markets in France and Germany are relatively smaller, but they use LPG. Economically robust countries like Germany are less affected by price increases, yet they use more LPG.
The other challenge is finding enough feedstock to produce the quantity of LPG needed. But that's part of the process. Italy's refiner Eni said during LPG Week that it plans to increase production of feedstock from organic sources to produce more renewable fuels, including bio-LPG. In Italy Eni declared that they want to increase biofuel production to more than 5 million metric tons/year by 2030. As a side product, bio-LPG production is expected to be around 200,000 mt/year.
OPIS: What is your outlook for the bio-LPG market?
Arzà: By 2030 we will have 200,000 of bio-LPG just from Eni, but it's possible that companies like Total or BP could develop the technology needed to also produce bio-LPG.
The size of European bio-LPG supply today is less than 200,000 mt/year. We hope to achieve around 1 million mt/year of bio-LPG supply by 2030. If everyone contributes in a similar manner to Eni, I don't see any reason why bio-LPG production shouldn't increase. To achieve this goal, we estimate an investment of around €1.5 billion ($1.7 billion) will be required to establish enough bio-LPG production plants by 2030.
OPIS: With the global push for energy security, could you discuss Italy's strategic priorities in ensuring a reliable and secure supply chain for LPG, and how the association is involved in these efforts?
Arzà: Our goal is to conserve the size of the industry, create molecules that can be blended into the gasoline stream in a safe manner, with no adverse impact for the end-user, nor for the industry. We want to increase blending fossil fuel products with larger quantities of non-fossil fuel products. This can be challenging but also has advantages, as it conserves existing infrastructure and requires less investment while ensuring safety of users.
OPIS: What is the current state of the LPG market in Italy and Europe in terms of consumption and supply? How are you pushing for more consumption without changing the infrastructure?
Arzà: Presently, the Italian market consumes around 3.5 million mt/year of LPG. 50% is consumed by the automotive sector. The domestic sector consumes 25% and the remainder is used by the industrial and commercial sectors.
We hope to maintain and increase consumption as well as supply. We have different scenarios. On the one hand, there are challenges in increasing consumption due to new technology that decreases demand for fuels like LPG. If I have an engine for production or operation, which needs less product for the same output, it is clear that it will potentially reduce regional or even global consumption. For example, new technology allows us to move less, travel less and need less fuel.
OPIS: What are the advantages for adopting a more widespread use of LPG?
Arzà: The replacement of light and heavy oil derivatives with less polluting alternatives represents a significant advantage for the LPG industry. Eliminating pollutants is imperative in both industrial and domestic applications.
This transition doesn't necessarily involve an immediate switch to heat pumps or electric cars but could instead include a shift from oil to LPG and subsequently to other equipment. This strategic direction offers us an opportunity to be part of the energy transition and maintain or increase consumption and supply of LPG.
OPIS: Where do you see the LPG market headed?
Arzà: Over the next five years, I anticipate a stable market with consistent consumption at 3.5 million mt/year.
The automotive sector is poised to drive LPG demand, as electric cars remain extremely expensive for many, especially low-income consumers who rely on second-hand cars. In 2023, in Italy the number of cars powered by LPG has grown by 10% compared to 2022. That's one of the best performances ever. This trend is driven by LPG's cost advantage—50% cheaper than traditional gasoline—and the cautious attitude of potential buyers that await more affordable electric options.
However, the decision to phase out IC engines has adversely impacted the residual value of older cars for those with limited spending power. But despite these challenges, I anticipate another successful year in 2024, with an estimated 10% growth in demand for LPG.
OPIS: How will you navigate the balance between traditional uses of LPG and emerging trends in the energy sector, such as renewable energy integration, especially as the government wants a "mixed energy resources" approach?
Arzà: Innovation is crucial for survival. Our current focus lies in the automotive sector. The challenge we face is to prepare for the 2026 review, ensuring we're equipped with solid evidence, consistent supply, and comprehensive studies showcasing the performance of LPG. To achieve this, we need to innovate both in terms of producing new molecules as well as new technology.
A consolidation frenzy in the midstream sector is seeing integrated majors snap up gathering and processing firms active in America's shale hinterlands, as the majors jostle with one another to source more y-grade (the raw mix of natural gas liquids) to feed into their expanding fractionation and export operations.
Anyone working in the gas liquids market knows the need (and hassle) to convert global NGLs.
NGLs — a.k.a. ethane, propane, pentanes+, normal butane and isobutane  — are shipped all over the world, every day, from export hubs as diverse as Mont Belvieu, Texas, and the Arab Gulf.
NGLs, like other hydrocarbons, have undergone a metamorphosis in recent years, given wild fluctuations in crude and natural gas prices in the wake of Covid-19 and the war in Ukraine.
With all due respect to the Jackson Five, sometimes A-B-C is not easy as 1-2-3.
We're talking NGL or LPG or LNG – abbreviations for gases that can trip up even a seasoned energy market veteran. Let's take a moment to straighten out our definitions for these important gas terms and then familiarize ourselves with common uses for this hydrocarbon alphabet soup. There will be a very easy-to-follow graphic that you can print out and ponder at your leisure, too. We've got your back!
OPIS analysis suggests that protracted robust premiums for natural gas over liquefied petroleum gas (LPG), a tightening of supply in East Europe since Russia's invasion and rising demand from the petrochemical sector are shaping a new norm of elevated U.S. imports into Northwest Europe, as the flood of U.S. LPG exports to Europe over June and July reach multi-year highs.
Ukraine is in the grip of widespread fuel shortages as the country tears itself away from Russian exports, and imports from the west are impeded by logistical challenges and regional shortages in a redraw of the European energy map.
Since Russia's invasion of Ukraine on February 24, about 60% of its retail fuel stations have closed, according to Kyiv-based Artem Kuyun, director of Ukrainian fuel consulting group A-95. Motorists who want to drive to the border face waiting times of between five and seven hours to fill up their tanks, with some resorting to sleeping in their cars parked at the stations. Supplies are unpredictable, as some regions have adequate gasoline but no diesel, while other locations only have diesel and no gasoline.
In January, after a socially-distant holiday season, with many countries announcing further lockdowns amid rising infection rates, the COVID-19 pandemic cast a long shadow over demand expectations for the year. Spot styrene trading got off to a slow start. Robust propylene oxide styrene monomer production rates provided the market with ample styrene supply. Ethylbenzene styrene monomer operating rates were strong, and they too ensured sufficient availability of the aromatic.
A key message to emerge from the recent India Energy Forum by CERAWeek was the strong commitment by the Indian government in a transition to cleaner energy, with Indian Prime Minister Narendra Modi reiterating his government's commitment to the climate goals of the Paris Agreement, while drawing attention to the developing nation's growing energy demand.
This message may, however, face obstacles from an unexpected and often unrecognized quarter in energy transition discussions – tradition and an individual's belief structure, especially in rural areas.
The role of these forces and the obstacle they may create to transitioning to cleaner energy was highlighted in a recent study on villagers in four villages in rural India concerning the use of cooking fuels. The report suggests that India's transition to clean cooking fuels could be hindered by the cooking fuel users' belief as to the merits of firewood (the traditional fuel) versus Liquified Petroleum Gas (LPG) (a cleaner fuel) on their family's wellbeing.
The study's authors, Dr Rosie Day of the U.K.'s University of Birmingham and Dr Yuwan Malakar of the Commonwealth Scientific and Industrial Research Organization (CSIRO) Land & Water in Australia, note that women are predominantly the family cooks in rural India and could help clarify why India's switch from traditional solid fuels is slower than expected.
"Whilst cooking is not solely a woman's job, the reality is that, in rural India, women are considered the primary cooks. It is, therefore, critical to unravel how women see the relationship between wellbeing and cooking fuel if India is to make progress in transitioning to clean fuels," said co-author of the study Dr Day.
The report showed that firewood users saw three key advantages to continued use of firewood:
It enhanced their financial wellbeing by allowing them to sell surplus firewood.

It allowed them to socialize, as women traditionally go in a large group to collect the firewood.

It was a tradition they want to maintain.
LPG users in contrast extolled the benefits it provides by enabling them to:
Maintain or improve social status based on the expense of LPG versus firewood.

More time to care for children/other family members because LPG cooking is faster than with firewood.

The faster cooking time of LPG also meant they could use the time not cooking to work outside their home and earn money as well as have more leisure time with their families.
India is a signatory to the UN's Sustainable Development Goals (SDGs), one of which is to provide universal access to clean cooking fuels. Yet the study notes that Indian reliance on solid fuels, wood, charcoal, dung cakes, biomass, is the largest globally.
The Indian Government sees the uptake of clean cooking fuels in rural households as a key policy objective and introduced the Pradhan Mantri Ujjwala Yojana (PMUY) scheme in May 2016. Its goal was to provide LPG connections to all Indian households below poverty level (BPL), replacing other cooking fuels – typically solid fuels – with cleaner and more efficient LPG. The Government noted cooking with a solid fuel on an open fire inside the home is the equivalent of smoking 400 cigarettes per day.
The study was carried out in four rural villages in the Chittoor district located in the southernmost part of the coastal state of Andhra Pradesh in south east India.

Chittoor's population is 4 million as per the Indian 2011 census of which 70% live in rural areas.

Cooking fuel data for Chittoor is typical for India. Around 86% of rural households in India relied on solid cooking fuels (firewood, crop residue, animal dung, coal, lignite and charcoal) based on the 2011 census.

Rural households cooking primarily with solid fuels in Chittoor were around 80%. Rural households using LPG for cooking were recorded at 11.4% and 17% in India and Chittoor respectively.
PMUY is targeting providing 50 million LPG connections to women in BPL households. This is just half of the total number of households without access to clean cooking fuel. PMUY estimate that there are 240 million households in India of which around 100 million (41.7%) do not have access to LPG as a cooking fuel. To help households meet the costs of connecting to LPG, each household will receive Rupees 1,600 for each LPG connection – double the monthly expenditure in the villages in the study area.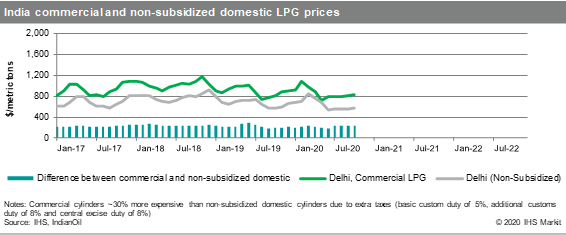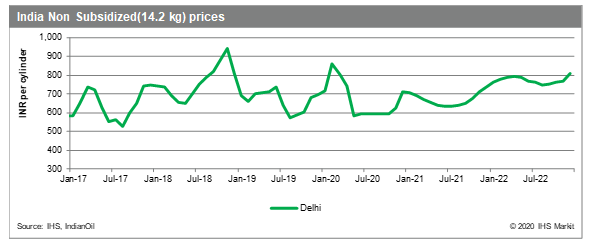 IHS Markit analysts estimated that 119.7 million LPG cylinders were delivered between April to June under the PMUY scheme, according to the September COVID-19 India LPG Market Update. To meet the heightened demand from the PMUY scheme, the update concludes India will need to import an additional 2.4 million mt of LPG in 2020 than it did in 2019.
IHS Markit data clearly shows the enormity of the task the Indian government faces in meeting the transition to LPG as a cooking fuel. Notwithstanding the preceding comments about rural households expressing a reluctance to switch away from solid fuel, India does not produce enough LPG to meet demand currently. The demand surplus will only worsen over the coming decade to 2030, according to the analysis.
Indian refiners will boost LPG production between 2020 and 2030 by 2.99 million metric tons (19%) to 15.46 million mt, with annual production averaging 13.76 million mt over the period, according to IHS Markit April 2020 Asia and Middle East NGL Markets Annual Strategic Workbook.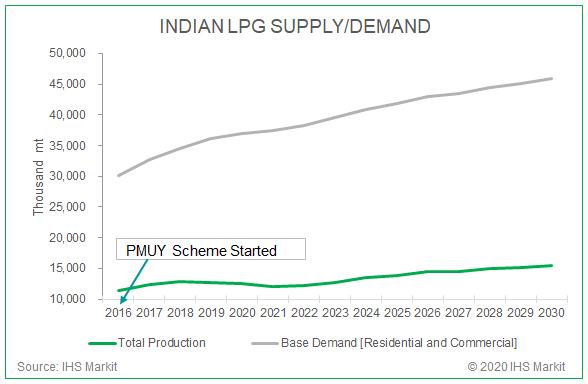 Base demand, which is defined as residential and commercial usage and accounts for an average 89% of total Indian LPG demand, will grow by 7 million mt (20%) to 34.88 million mt with the annual demand averaging 31.34 million mt during the decade. Supply will lag demand during this time frame, growing by 4 million mt (21%) to 19.43 million mt. The average annual deficit for the decade is 17.62 million mt.
"Despite India's aim of switching to clean fuels, the scale of solid fuel use in rural areas signals that widespread uptake and sustained use of clean fuels is a distant reality," said Dr Day.
IHS Markit is the parent company of OPIS.
The LPG sector is exploring almost a dozen different pathways to usher in a decarbonized "bioLPG" future, however, commercial and technical hurdles have yet to be overcome to bring volumes to scale, delegates heard at this year's World LPG Association (WLPGA) "e-LPG Week."
Produced from renewable and organic feedstock, bioLPG has an identical chemical structure to conventional LPG, though its carbon footprint is up to 80% lower, according to Liquid Gas Europe, the European LPG sector body.
Already available in a number of European countries, in small but steadily growing volumes, bioLPG can be blended as drop-in fuel and used in existing infrastructure and appliances, without a change or upgrade of equipment.
Current bioLPG output amounts to about 180,000 tons worldwide, according to George Webb, the CEO of Liquid Gas UK, who expects "another 100,000 tons" to be added over the next few years. About half of volumes are used as process fuel.
A Plethora of Pathways
BioLPG can be produced in numerous ways, typically as by-product, using different feedstocks and processes.
Current processes use about 60% waste and residue materials as feedstock and 40% renewable vegetable oils (such as jatropha, algae, rapeseed, palm, soy), with a plethora of production pathways being pursued. Waste includes residues from food processing.
Organic feedstocks have to meet sustainability criteria, and first-generation crop-based feedstocks will be phased out over time, to be replaced by waste and residue materials, according to Liquid Gas Europe. The European Union's current 7% cap on crop-based biofuels is to be lowered in increments to 3.8% by 2030.
Biorefining has the highest "technology readiness level" and hence already operates at commercial scale. It involves the hydrogenation or hydrotreating of "lipids" — i.e. organic compounds that are fatty acids or their derivatives, such as vegetable oils, biomass-derived oils or animal fats.
Hydrotreated vegetable oil (HVO) or hydrotreated esters and fatty acids (HEFA) are used to produce renewable diesel or sustainable aviation fuel. Waste 'off-gases' containing propane occur as by-product. Every ton of renewable diesel/kerosene yields about 50 to 80 kilograms (5-8%) of bioLPG from this purified off-gas stream.
Other advanced options are gasification through the "Fischer-Tropsch" process, which converts carbon monoxide and hydrogen into liquid fuels; gasification to methanol and subsequent methanol-to-gasoline conversion; pyrolysis of biomass; and the methanation of syngas from biomass gasification.
Processes that have yet to make progress are fermentation-to-LPG, alcohol-to-jet, the conversion of biogas/biomethane (oligomerization), glycerin-to-propane, power-to-x and bio-synthesis. The bioLPG cut varies by process, with a few – oligomerization, glycerin-to-propane, biosynthesis – yielding 100% of propane.
"We are probably going to need all of them, at various different places in the world, at various different times, depending on the feedstock, to be able to meet our full potential as an LPG industry," said Rebecca Groen, sustainable fuels director at family-owned SHV Energy, who outlined the various options.
A Drop-in Solution
SHV Energy also sees an opportunity in converting biogas and industrial waste streams into fuel-grade renewable dimethyl ether (rDME).
"It is the closest drop-in solution to LPG that is available today," according to SHV Energy's Mrs Groen, who also represents the International DME Association. "Whilst we do focus on the alternative routes to bioLPG, we need also some opportunities right now to show that pathway. And rDME is one of those very easily achievable, with production technologies available today."
rDME can be produced from manure, municipal solid waste, biomass and intermediates (biogas/renewable methanol). It is very similar but not identical to LPG, hence can be used blended or pure, with limited modifications to existing LPG infrastructure and similar environmental benefits. "It's really the easiest and closest solution and one we think it's really worth exploring together as an industry," Mrs Groen said.
Rise in Refineries going Green
A number of refineries are observed adding renewable fuel units, such as HVO, pyrolysis, electrolysis, waste gasification, while the conversion of biogas and unconventional lipids (jatropha, algae or even sewage sludge) also draws interest.
Refineries fully switching to renewables tend to be small, uncompetitive or unviable, "usually with a serious handful of government money to do that," according to Eric Johnson, managing director at Swiss Atlantic Consulting.
"Progress is being made, but it is bumpier than the headlines suggest, and there are considerable risks," he said. "But the risks of doing nothing are even greater."
Not all process technologies offering carbon savings are new – some are "resurrected," and the odd project firm is being "revived" that had gone bust in the past.
Focus on Efficiency, Alongside Carbon Footprint
Mr Johnson's view that the path to carbon neutrality "isn't just about renewables, it is also about efficiency" resounded in the words of Chris Smith, managing director at start-up G-volution.
The firm's dual-fuel technology allows clean fuel types to combust in diesel engines, including bioLPG, which he sees as "very cost-effective, it's very green, but most of all it can be applied in lots of places." He mentioned solid-oxide fuel cells run on bioLPG as another option.
"I feel this combination of a clean fuel and an efficient conversion into electricity has tremendous value in a world that is slightly focused on something which is so expensive and impractical as hydrogen, in the medium term," Mr Smith said. "A lot of people talk about hydrogen. It has got everybody's attention, but those of us who know the physics of it understand the challenges."
Assessing the Economics
Walt Hart, vice president and chief strategist for global NGLs at IHS Markit, the parent company of OPIS, was weighing bioLPG economics. "So, at the moment, the prospects of bioLPG depend on the prospects for renewable diesel," he said at the e-LPG Week event. "There are other processes that could technically make it, but the economics aren't necessarily supportive."
"If you did go through the trouble to put up a process that would convert some cheap bio-feed to something else, it's likely that you would make other liquids – maybe chemicals, maybe other fuels, rather than making bioLPG," according to Mr Hart.
Faster decarbonization efforts in Europe could pressure prices if LPG from traditional sources is pushed onto the global market. "If you have a lot of LPG going into the market very quickly, it's more expedient to build petrochemical processes than to build all the infrastructure for residential or commercial markets," Mr Hart said.
However, he also considered that lower oil product demand in the 2030-40s could reduce supplies of naphtha, on which about 40% of global ethylene output depends at present. "If your naphtha availability starts to get a little bit tight, then you're looking for other feedstocks, and LPG could really fit the bill on that," Mr Hart said.
"It seems the world has to keep one foot on the accelerator (r[enewable]LPG) and one foot on the brake (LPG)," WLPGA director David Tyler concluded. "Isn't there an argument then to channel fossil LPG into developing countries, to displace wood as a cooking fuel, while the developed world goes down the rLPG route?"