How U.S. Natural Gas Production Is Changing the Global Gas Market
Thanks to record natural gas production and growing production capacity for liquefied natural gas (LNG), the United States is becoming a global player in natural gas markets.
Coming off a strong winter of demand for natural gas worldwide, prospects are looking good for global gas in the near term and longer term, said industry leaders at the CERAWeek 2018 conference in March.
OPIS, a division of IHS Markit, which sponsors CERAWeek, is tracking how booming U.S. natural gas production is helping to change the dynamics of the global gas market.
Doing More For Less: Booming U.S. Natural Gas Production
Through the first quarter of 2018, U.S. natural gas production has been hitting new records, and more of the same is expected for the rest of the year. The forecast for the year is more than 79 billion cubic feet per day (Bcf/d). Not only is this an all-time high, but it represents a gain of 5.4 Bcf/d from 2017 – and that volume gain also is a record for a single year.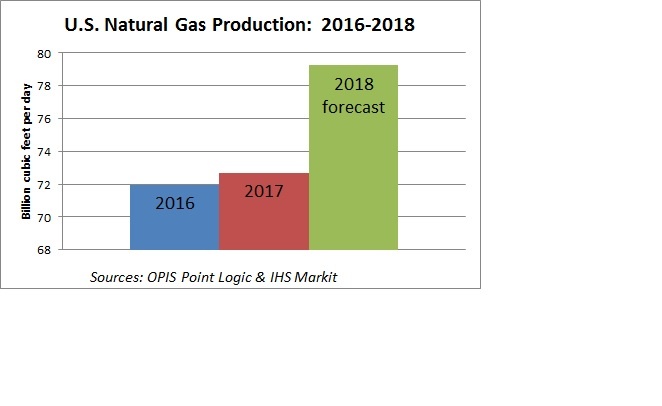 What's going on? For one thing, improved drilling technology for both oil and gas is helping to drive production upward. Producers can do more for less – in fact, they've had to do more for less since oil prices fell sharply in 2015. To cite one example, BP said that its worldwide cost for producing natural gas has been cut by 46% since 2014.
To keep costs down, drillers are focusing on their best prospects. In the gas industry, that means the highly productive Marcellus and Utica basins in West Virginia, Ohio and Pennsylvania. OPIS PointLogic Production Module forecasts that the Marcellus-Utica will provide about 27.6 Bcf/d of gas in 2018, or close to 40% of the U.S. total supply. This represents remarkable growth: as recently as 2012, the Marcellus-Utica contributed less than 8 Bcf/d to U.S. production.
And it's not just direct gas drilling. With oil prices holding steady at well above their lows of two years ago, drilling in the Permian in Texas and New Mexico is surging. When oil is produced in the Permian, so is "associated gas." OPIS PointLogic forecasts that the Permian will produce 7.4 Bcf/d of gas in 2018.
Problem Solved: Natural Gas Pipelines Becoming Less of a Stumbling Block
Producing gas is only part of the answer. Gas producers need a network of "gathering lines" to move gas from each well site to processing plants. From there, "takeaway" pipelines are needed to move the gas to markets.
In the fast-growing Marcellus and Utica, inadequate gas takeaway capacity had been a disincentive for gas producers.
Fortunately, this situation is being solved. In 2017, pipelines with capacity of 7.3 Bcf/d to move Marcellus-Utica gas were completed. In 2018, another 9 Bcf/d of gas takeaway projects are on track for completion, according to OPIS Pointlogic's Pipeline Module, which tracks North American natural gas pipeline projects as they go through the permitting and construction process.
Finding Homes Domestically and Abroad: U.S. Demand and Exports
Where is that U.S. natural gas going? Much of it will be used domestically, as natural gas continues to become a major source of electric power generation. Natural gas demand for electric power reached a record in 2016, when natural gas replaced coal as the largest source of power for the first time. Though gas demand for power fell in 2017, it's still 30% higher than it was in 2009.
In addition, record volumes of natural gas exports – by pipeline to Mexico and as LNG around the world. In fact, the U.S. in 2017 became a net natural gas exporter for the first time since 1957. Net exports in 2018 are forecast by OPIS PointLogic to increase to 1.3 Bcf/d.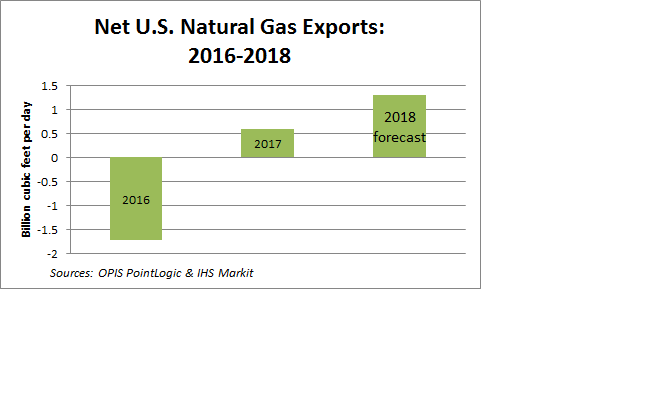 Exports to Mexico will be a record in 2018, about 4.6 Bcf/d, on average. And it could be more in the future. Gas pipelines that cross the U.S.-Mexico border can supply about 8.2 Bcf/d of gas to Mexico today, so there's ample room for growth as Mexico's demand markets mature.
The other export option is LNG, which OPIS PointLogic is forecasting will rise to a record level of 3.3 Bcf/d this year. Cheniere Energy is the leading U.S. LNG producer to date, having shipped more than 300 cargoes of LNG worldwide from its Louisiana location in the last two years. Jack Fusco, president and CEO of Cheniere, told CERAWeek that the company's expansion projects could double its production capacity in the next two years. "I feel like we're just getting started," he added.
Now, Cheniere has a U.S. competitor: Cove Point LNG in Maryland began commercial operations in March 2018. By the end of 2019, the U.S. Energy Information Administration forecasts that U.S. LNG producers will have a total operating capacity of about 9.6 Bcf/d – more good news for U.S. gas producers who are looking for global markets.
More on Global Gas Market Demand
With booming gas production and export capability, U.S. natural gas is becoming important to maintaining global market balance, explained industry leaders at CERAWeek. Here are a few highlighted observations:
In 2017, China surpassed Japan as the world's largest importer of LNG, as its demand grew by 17% to 235 billion cubic meters (Bcm), said Zhixin Wang, deputy general manager, Shanghai Petroleum and Natural Gas Exchange.
India trails China, Japan and South Korea in its natural gas use, but it's going to rise quickly, said B.C. Tripathi, chairman and managing director of GAIL Limited, India's largest LNG importer. "Natural gas is just 6% of India's energy use today, but a government directive has set a goal of 15%," he said.
European nations are heavily dependent on their natural gas coming by pipeline from Russia. Now, LNG from the U.S., as well as from Australia and Qatar, is offering a viable competitor – and this has important economic and geopolitical consequences.
Renewable energy. It might seem strange to describe the growth in renewable energy use as a benefit for natural gas. At the most basic level, renewables and natural gas both compete for the same power customers. But there's more to the story, said Marco Alvera, CEO, Snam, S.p.A., a natural gas company based in Italy. "Renewable energy can't go it alone," he said. "The best partner for renewables is gas." Here's why: renewable energy is either intermittent (solar power only works when there's sunshine) or unpredictable (wind and hydropower), so natural gas is the idea complementary power source to balance power from renewables.
The bottom line: 2017 was a strong year for U.S. natural gas, and 2018 is shaping up to be better, with record levels of production, demand and exports.

Track natural gas production, demand and export flow faster than standard reporting agencies and in a cost-effective manner –all via a single, integrated platform. Try the OPIS PointLogic Suite free today:

Tags: Natural Gas