RFA: 2018 RFS Rule Can't Head Back to the Future
Do you remember the scene towards the end of "Back to the Future," where Doc Brown is refueling the time-traveling DeLorean with banana peels and beer waste?
That was biofuel before it was available at so many of our neighborhood gasoline stations. Nowadays, Doc Brown just needs to pull up to his local station and select ethanol-blended gasoline; no more digging through Marty McFly's garbage. Thanks to the Renewable Fuel Standard, consumers all across our country have a choice at the pump. However, that will only occur if EPA finalizes a strong 2018 RFS rule.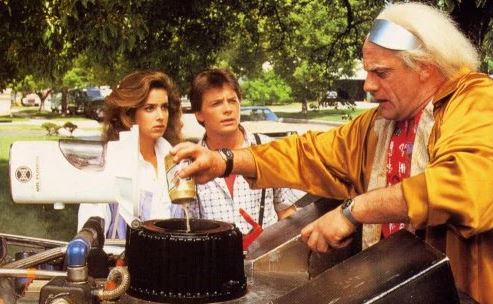 By Nov. 30 each year, EPA is statutorily required to finalize the annual RFS Renewable Volume Obligations for the following year. In July, EPA proposed to reduce the total 2018 RFS renewable fuel blending requirements below the levels required in 2017. The proposal, if finalized, would maintain the 15 billion gallon statutory requirement for conventional biofuels, but would slash the cellulosic biofuel target by nearly one-quarter, among other changes. While EPA Administrator Scott Pruitt has since promised the final 2018 RFS RVOs will be equal to or greater than those proposed in July, nothing is set in stone.
Since the RFS was first enacted in 2005:
The number of operational U.S. ethanol plants has grown from 81 in 2005 to 213 in 2016, while ethanol production has grown from 3.9 billion gallons to 15.3 billion gallons, a nearly 300% increase;

U.S. ethanol industry jobs grew 121 percent from 153,725 in 2005 to 339,176 in 2016 and the value of the industry's output quadrupled from $8.1 billion to $32.8 billion;

U.S. corn production has grown from 11.1 billion bushels in 2005 to 15.2 billion gallons in 2016, a 36% increase, while average yields grew from 147.9 bushels per acre to 174.6 bushels per acre;

U.S. petroleum net import dependence has dropped from 60% in 2005 to 25% in 2016 and would have been 33% last year without ethanol;

The number of retail gasoline stations offering flex fuels like E85 to flexible fuel vehicles (FFVs) grew 728% from 2005 to 2016, while the number of FFVs on the road grew 239%; and

Ethanol's role in cleaning the air has increased, with notable reductions in emissions of both greenhouse gases and criteria pollutants.
If EPA doesn't implement a strong, final 2018 RFS rule, many of these benefits would be reduced, shortchanging consumers in the process. EPA's proposed reductions, if finalized, would also send a negative signal to the marketplace to halt the infrastructure investments necessary to grow the renewable fuel marketplace. All consumers, even Doc Brown, need a choice at the pump and can benefit from the cleanest, lowest-cost and highest source of octane on the planet.

The views, opinions and positions expressed within this guest post are those of the author alone and do not represent those of OPIS (Oil Price Information Service). The accuracy, completeness and validity of any statements made within this article are not guaranteed. We accept no liability for any errors, omissions or representations. The copyright of this content belongs to the author and any liability with regards to infringement of intellectual property rights remains with them.

Tags: Renewables, Retail Market