Prospective Atlantic Offshore Wind Could Flood REC Markets and Drive Down Prices
The offshore wind power that has been solicited by U.S. East Coast states, if and when it is constructed, has the potential to flood the U.S.'s tightest Renewable Energy Certificate (REC) markets with fresh supply and drive down prices.
The Biden Administration has set a goal of commissioning 30 GW of new offshore wind capacity by 2030. Many East Coast states have supported that target with their own goals and/or legally-mandated solicitations, amounting to over 40 GW in total planned capacity to date.  It remains to be seen when, and indeed if, these targets will be reached, however.
Massachusetts will contract 5.6 GW by 2027; New Jersey aims to make 11 GW operational by 2040; Maryland has committed to 8.5 GW of operational capacity by 2035; Rhode Island will solicit between 600 MW and 1,000 MW by Oct. 15; New York has committed to 9 GW by 2035; Virginia will construct 5.2 GW by 2034 and Connecticut's current solicitation totals 1.158 GW.
The Potential Impact of an OREC Supply Shock
Market analysts expect that, as each new project becomes operational, they will inundate markets with the Offshore Wind RECs (ORECs) they produce.
One REC represents one megawatt hour (MWh) of renewable power. State renewable portfolio standards (RPS) require electricity suppliers to purchase and retire RECs to account for a set percentage of power they deliver each year. In most states that have planned offshore wind, suppliers will be required by state law to acquire the ORECs the new offshore wind farms produce. That OREC purchase will be eligible to meet the Class I or Tier I credit allotment they otherwise need to retire to satisfy their RPS. The imminent OREC glut is therefore expected to drive down REC prices across the PJM Interconnection and New England Power Pool (NEPOOL), as the demand for Class I or Tier I credits is potentially displaced by ORECs, sources said.
In New Jersey, for example, if the three planned offshore wind farms reach the upper limit of their forecast production, they will be able to fulfill nearly all of the state's RPS renewable energy requirement, OPIS analysis shows.
In 2021, New Jersey suppliers sold a total of 73,070,466 MWh to the state's retail customers. During the 2021 energy year (which runs June to May), the RPS required suppliers to account for 21% of total sales with RECs. They therefore had to purchase roughly 15,345,000 MWh-worth of RECs.

New Jersey has approved three offshore wind farms in two solicitations to date and is currently accepting proposals in a third solicitation. The three offshore wind farms are known as Ocean Wind I (1.1 GW proposed by Ørsted), Ocean Wind II (1.148 GW proposed by Ørsted) and Atlantic Shores (1.51 GW proposed by Shell New Energies and EDF Renewables).

Under New Jersey state law, each offshore wind development is granted an annual OREC allowance based on its estimated annual production. The three projects have been granted the following OREC allowances: 4,852,000 MWh for Ocean Wind I, 5,034,000 MWh for Ocean Wind II and 6,181,000 MWh for Atlantic Shores. OREC allowances represent the cap on how many ORECs can be sold, and wind farms may fall short. But shortfalls from one year can be carried over to the next, and, per state law, electricity suppliers must purchase all ORECs generated until the cap is met. If these projects do manage to max out their allowance or even come close, the three projects alone could satisfy the vast majority of New Jersey's Class I RPS requirement in the coming years.
Meanwhile, REC prices have been on the rise throughout East Coast states, as RPS requirements increase over time and supply struggles to meet demand. OPIS assessed New Jersey Class I prompt-year REC contracts at 23.35/MWh on April 4, 2022. One year later, on April 4, 2023, they were assessed 31.24% up at $30.64/MWh. Over the past month, prices climbed as high as $35.10/MWh on April 18 and were assessed on Friday April 28 at $33.40/MWh.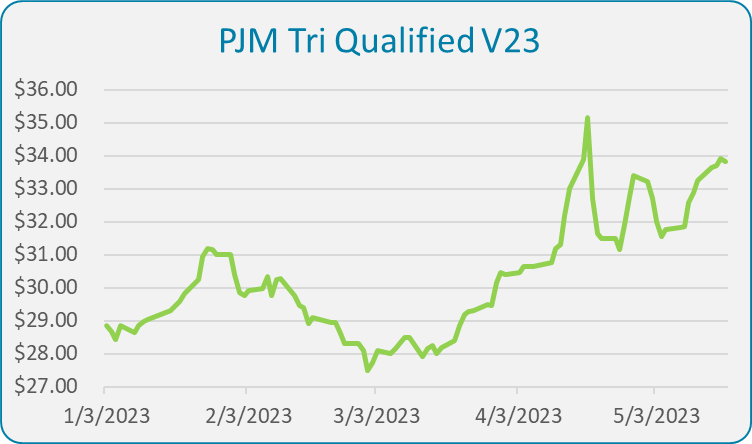 These trends are in line with the PJM Interconnection REC market at large. The prompt-year PJM Tri Qualified REC contract, which can be retired in New Jersey, Maryland or Pennsylvania, was assessed at $30.65/MWh on April 4, 2023, a 31% year-over-year increase. It surged as high as $35.15/MWh on April 18 and was assessed at $33.40/MWh on Friday, April 28.
NEPOOL prices have remained steadier but higher. Prompt-year Massachusetts Class I REC contracts were assessed at $37.05/MWh on April 4, 2022. They reached $38.25/MWh a year later, while prompt-year NEPOOL Dual Qualified, which can be retired in Massachusetts or Connecticut, rose $1.45 to $38.50/MWh.
The Current State of East Coast Offshore Wind Development
Despite recent project commitments, the East Coast remains years away from completing all the offshore wind that has been solicited by states.
While permitting and construction proceed, groups opposing offshore wind development due to their alleged visual, economic and biodiversity effects have begun to muster resources and coordination to halt the projects. In the face of this opposition, developers are laying low.  "I think developers are being very cautious, given what's been happening," said one energy sector executive who themselves requested anonymity to speak to OPIS. "They don't want to create a lot of headlines one way or another."
To report this story, OPIS reached out to each of the project developers of the 18 Atlantic sites that have made it through at least one stage of federal permitting. Just one agreed to provide comment.
One illustration of potential headwinds for project completion is Vineyard Offshore, which is a joint venture between Avangrid and Copenhagen Investment Partners (CIP), is closing in fast on the completion of Vineyard Wind 1 in the waters south of Martha's Vineyard and Nantucket.
The project has completed all necessary permitting and environmental reviews and began receiving turbine components in April, said spokesperson Andrew Doba. Construction will progress rapidly throughout the summer and a portion of the project is expected to be operational by the end of the year. When completed sometime in the first half of 2024, according to the current schedule, it will have a capacity of 800 MW.
But that outcome is not guaranteed. Four groups are currently suing the Bureau of Ocean Energy Management (BOEM) and other federal entities for improperly granting approval to the project. Each case alleges BOEM failed to comply with various environmental laws.
These cases focus significantly on the plight of the North Atlantic right whale, which is critically endangered. The National Oceanic and Atmospheric Association (NOAA) estimates the right whale population is fewer than 350. An unusual mortality event has been ongoing among primarily right and humpback whales since 2017, according to NOAA. Twenty-three dead whales, most of them humpbacks, have washed ashore on the East Coast since last December. NOAA has concluded that boat strikes and entanglement in fishing nets has been a primary culprit. Many groups opposing offshore wind development allege that ocean noise resulting from offshore wind surveying activity causes the whales to become disoriented and lose their way. NOAA states that no whale death has been conclusively linked to offshore wind development.
The Nascent East Coast American Offshore Wind Industry
While the U.S. excels at technological development and manufacturing in several sectors, it finds itself behind countries like Vietnam, Finland and South Korea when it comes to installed offshore wind capacity, according to the International Renewable Energy Agency (IRENA). The U.S. sports just two offshore wind farms: the 30 MW Block Island Wind Farm off Rhode Island and the 12 MW Coastal Virginia Offshore Wind off Virginia Beach.
The current state of the American offshore wind sector isn't for lack of trying. Several projects have launched, only to face a hail of lawsuits brought by groups concerned with their potential visual, economic and environmental impacts.
The first of these was the Nantucket Sound-based 454 MW Cape Wind project proposed by Energy Management Inc. (EMI). After clearing regulatory hurdles in the early 2000s, it met with opposition from a coalition, described by one judge as "an obdurate band of aggrieved residents," that included, among others, wealthy Nantucket and Martha's Vineyard property owners Senator Ted Kennedy and William Koch (brother to Charles and David), the Mashpee Wampanoag Tribe and environmentalists concerned about the turbines' effects on specific species. Dozens of lawsuits delayed construction, and EMI walked away from the project in 2017. 

Projects launched since have met with additional delays. The 120 MW Skipjack Wind Farm proposed by Ørsted off the Delaware and Maryland Coast originally entered into a memorandum of understanding in 2017 with the Delaware Department of Natural Resources and Environmental Control (DNREC) to develop a substation on Fenwick Island State Park without a period of public consultation.

Ørsted also changed plans in the following years to use larger turbines that would be more visible from shore. Local residents began to oppose the project, and state regulators reopened the approval process. Ørsted subsequently found a separate location for its substation and received approval from the Maryland Public Service Commission to move forward. But these events, along with the outbreak of COVID-19 and resulting supply chain crunches, caused a series of delays. Originally projected to be operational in 2022, the project is now scheduled to come online in 2026. Ørsted did not respond to requests for comment.
Still, East Coast offshore wind capacity is set to increase in the coming months. Beside Vineyard Wind I in Massachusetts, Ørsted, in its filings with the Bureau of Ocean Energy Management (BOEM), projects Ocean Wind I off the Jersey Shore to be operational by the end of 2024 and the 132 MW South Fork Wind in the New York Bight to come online by the end of the year.
BOEM has auctioned leases to 29 sites on the Atlantic Outer Continental Shelf (OCS) to date. One lease has also been granted in state waters off Rhode Island. Projects on 16 leases have obtained approval at least for their site assessment plan (SAP), the first stage of BOEM permitting.
A New Era in Offshore Wind Development

Several sources reached believe that the nearing completion of both Vineyard Wind I and South Fork Wind represent a turning of the tide in American offshore wind development.

"We're now seeing a lot more coordination amongst stakeholders and concerned groups, project developers, states, and the federal government," said Jonathan Wilcon of law firm Morgan Lewis, which provides counsel and advice to the energy industry. "Whereas individual projects used to have to contend with their particular stakeholder issues on their own, driving up costs and giving each stakeholder set more leverage in each given situation, we now have successful projects that can be seen as 'blueprints' for future projects with similar challenges."

Still, others see further roadblocks on the horizon. There will likely be, for example, a shortage of federally compliant wind turbine installation vehicles, sources said. Securing adequate space along coastlines to bring transmission lines onshore and construct substations or other grid infrastructure may also represent a challenge in the future, Doba of Vineyard Offshore said.

Finally, rising inflation and interest rates have significantly altered the economic landscape in which many of the current agreements were signed, and some developers have already had to renegotiate deals with regulators and power purchasers.

But for now, sources reached by OPIS say it's too soon to predict when or to what extent large-scale offshore wind will become significant sources of power in East Coast mixes.

"Everything else is still somewhat up in the air," said the energy executive who wished to remain anonymous. "The opposition has been getting increasingly vocal, and they've latched on to the issue of whale beaching. True or not, it's been somewhat effective in getting a lot of press. It's hard to know what's going to happen."

–Reporting by Henry Kronk, hkronk@opisnet.com; Editing by Bridget Hunsucker, bhunsucker@opisnet.com

OPIS Carbon Market Report assesses the largest compliance carbon markets in the world with reliable and transparent trade-day data. Easily track and manage your carbon compliance costs with daily pricing and breaking news.

Tags: Renewables