Biofuels industry hopes its efforts to cut GHG emissions will keep it relevant as White House pushes EVs
After four years of the Trump administration's often-chaotic approach to the Renewable Fuel Standard (RFS), many in the biofuels industry were hoping President Joe Biden would bring a level of stability and support to the program.
While the new administration has provided renewable fuel producers with some wins – most notably a strong endorsement this spring of last year's federal appeals court ruling limiting EPA's authority to exempt small refineries from complying with the RFS – the industry appears to be growing more anxious now that the White House's push to electrify much of the transportation sector will leave it with an increasingly smaller role to play.
While campaigning for office last August, Biden won applause from the renewable fuels industry when he accused the Trump White House of undermining the RFS through its liberal grants of small refinery exemptions to "Big Oil."
The RFS program, he said "marks our bond with our farmers and our commitment to a thriving rural economy."
He promised that a Biden administration would "honor the critical role the renewable fuel industry plays in supporting the rural economy and the leadership role American agriculture will play in our fight against climate change."
But by the time the statement was released, some in the biofuels industry were already beginning to wonder about their long-term future if Biden won.
In mid-July of last year, just weeks before he voiced support for the RFS, Biden unveiled a $2 trillion plan to get the U.S. to net-zero carbon emissions by 2050. To reduce greenhouse gas (GHG) emissions from transportation, the plan called for adding 500,000 electric vehicle (EV) charging stations by 2030 and revising fuel economy standards to speed the adoption of zero-emission vehicles.
As for biofuels? The proposal only promised to "make it easier for mobility to be powered by electricity and clean fuels."
Some in the renewable fuels industry downplayed the importance of the campaign's July announcement, saying they believed as president, Biden would support increased use of biofuels as part of his climate-change efforts.
But since winning the White House in November, Biden has yet to call for higher production and consumption of renewable fuels as a tool for reducing carbon emissions.
Indeed, the administration has often been somewhat non-comital when pressed on the subject.
Consider, for example, the exchange Michael Regan, Biden's nominee to lead EPA, had with Iowa Republican Sen. Joni Ernst, when he appeared before the Senate Environment and Public Works Committee for his confirmation hearing in February.
"We do want to see a continuation of our renewables," Ernst told the nominee. "Is that something you can commit to?"
Regan responded only that "agriculture will have a seat at the table in this administration, especially as it relates to climate change."
What appeared to be a bit of good news for the industry came in May when the administration released a fiscal year 2022 budget proposal that included $1 billion in "support for biofuels" between 2022 and 2024. Missing from the plan, however, were details on exactly what the money would be used for.
But in early August of this year, the White House delivered twin blows to the biofuels industry when it unveiled a plan calling for half of all new cars and light-duty trucks sold in the U.S. by 2030 to be powered by electricity and released a proposed rewrite of the Trump administration's fuel economy standards that failed to include a role for high octane, higher ethanol blends.
Many believe the 2030 target will be difficult to achieve given that U.S. electric vehicle (EV) sales over the past three years have been about 2% of total new car sales. However, the announcement was yet another sign the current administration may be discounting the contributions the renewable fuels industry says it can make in cutting GHGs.
"Decarbonizing our nation's fuels and vehicles is going to take an all-of-the above approach that stimulates growth in all available low-carbon technologies," Geoff Cooper, president and CEO of the Renewable Fuels Association (RFA), an ethanol industry group, said after the EV target was announced.
The "overarching goal," he continued, "should be to reach net-zero emissions as quickly as possible without dictating the pathway to get there or putting all of our eggs into one technology basket."
Kim Reynolds, Republican governor of Iowa, the country's largest producer of renewable fuels, offered a blunter assessment, calling the EV plan a "short-sighted" proposal that would undermine the biofuels industry.
The governor also said the announcement, along with the White House's failure to include funding for the biofuels industry in a massive infrastructure bill working its way through Congress, marks a "harmful pattern that must be reversed."
In the face of the administration's support for EVs, the renewable fuels industry, and ethanol producers in particular, are not sitting idle and are increasingly focusing on reducing the carbon intensity of their fuels.
In February, ethanol producer Green Plains said it had signed a long-term carbon off-take agreement for three of its plants to participate in a carbon capture and storage (CCS) pipeline project that would run from Iowa to North Dakota.
At the time, Green Plains CEO Todd Becker said CCS could reduce the carbon intensity of conventional ethanol by as much as 50% and said he believes carbon-neutral or even carbon-negative ethanol will eventually be available.
Just a month later, Valero Energy, a refiner and the country's second-largest ethanol producer, said it would partner with investment firm Blackrock and midstream company Navigator Energy Services to build an industrial-scale CCS pipeline system, targeting biorefineries across five Midwest states.
And in June, a broad coalition of renewable fuel producers and auto industry groups called on Congress to adopt a technology-neutral national clean fuels policy that it said is essential if the U.S. is to achieve the administration's goal of reaching net-zero GHG emissions by mid-century.
That was followed a month later by a letter to the White House from RFA members committed to ensuring that ethanol can reduce carbon emissions by an average of at least 70% when compared with gasoline and promising the biofuel could reach net-zero carbon emissions by 2030 through CCS, increased use of renewable power and biogas at plants, and the increased adoption of more carbon-efficient agricultural practices.
The question still to be answered, however, is whether a White House that may have decided EVs are the future is paying much attention.
Now in its 13th year, the Annual OPIS RFS, RINs & Biofuels Forum is the premier conference for up-to-date information on the biofuels market and the RFS program. Register early for the conference and ensure you don't miss the regulatory and marketplace discussions that attendees have come to rely on at this event, plus essential in-person networking.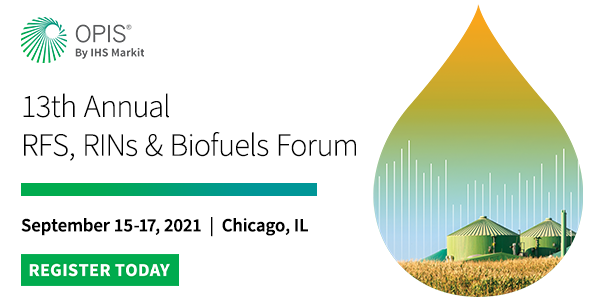 Tags: Biofuels, Renewables, RINs