Charting Growth in Carbon Markets Across the Asia Pacific
Carbon markets are increasingly being seen by countries in the Asia Pacific as a tool to reach decarbonization goals, and stay abreast of policy changes such as cross border carbon tariffs. Across the region, carbon markets fall across a full spectrum of growth – with its fair share of both emerging and mature markets.
There are currently four well-established APAC regulatory carbon schemes, covering at least 26% of the overall annual emissions within the region. However, each program faces its own set of issues, challenges, and potentials.
Let's take a closer look at these key markets that include South Korea, Australia, New Zealand, and China, as well as other regional schemes that are emerging.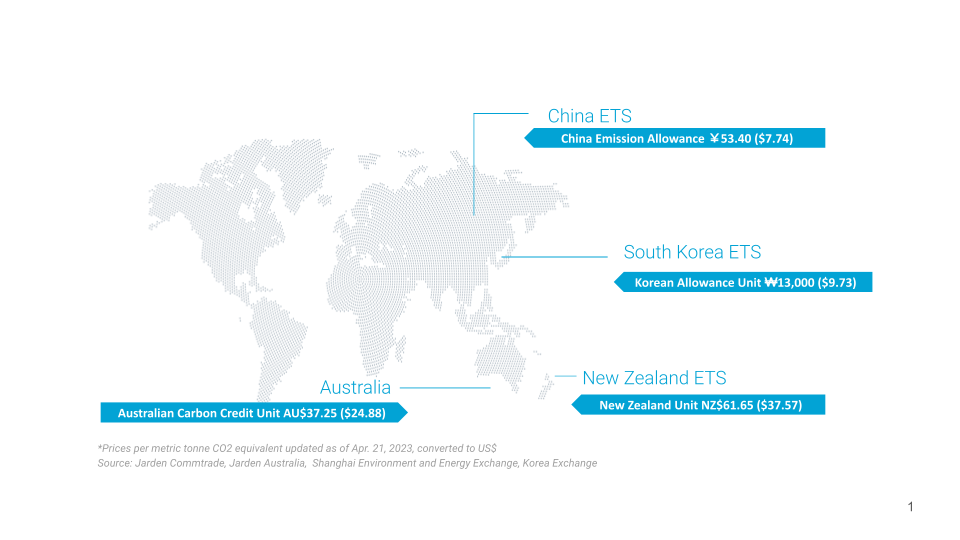 Key Compliance Carbon Markets in APAC
Across the four major APAC compliance carbon markets, the New Zealand emissions trading scheme (ETS) has maintained the highest carbon price, with Australia edging up from its lowest level in late-2022 as well.
On the other hand, South Korea and China are seeing comparatively lower prices, with South Korea seeing a sharp decline in prices the first few months of 2023 and China so far holding steady.
Australia's Safeguard Mechanism Limits Emissions
Landmark reforms to Australia's compliance emissions trading scheme, called the Safeguard Mechanism, were passed in parliament in March 2023, with increased policy certainty and positive sentiment lifting prices in the market.
With the update, Australia's biggest emitters, which contribute 28% of the national emissions, will face a declining limit on their emissions out to 2030. Large industrial facilities will also be able to earn tradeable credits, called Safeguard Mechanism Credits, as a bid to incentivize emissions reductions below their specified limits.
However, the upside price potential for the Australian Carbon Credit Units (ACCU) is still capped. The market needs to absorb a surplus of carbon credits from project proponents who were allowed to exit their fixed delivery contracts with the government since March 2023.
ACCUs are tradable carbon credits that can be used to offset emissions for both compliance and voluntary purposes. Australia's voluntary carbon scheme is anchored by the Emission Reduction Fund (ERF), which issues ACCUs from eligible projects.
The spot generic ACCU trades ranged from A$30-A$40 per unit since the start of 2023, recovering from its lowest level in 2022 at A$26 in mid-August, according to data from Australia-based research firm RepuTex.
New Zealand's Carbon Allowances Prices Weaken
In the New Zealand ETS, launched in 2008, carbon allowances prices have weakened substantially in 2023 partly due to concerns over future price signals.
Spot New Zealand Units (NZUs) have been declining from their all-time high of NZ$88.50 in late 2022, with prices around NZ$60 in mid-April of 2023, according to data from Jarden Commtrade. In addition, the quarterly auction in March 2023 failed to clear for the first time due to bids coming in below a confidential reserve price.
In 2022, the market anticipated significant increases in auction price settings as recommended by New Zealand's independent advisory Climate Change Commission. However, the government's implementation of a weaker-than-expected auction price setting for the ETS resulted in a more than 15% decline in NZU prices due to uncertainty over future policy direction.
The Commission reiterated its advice in April 2023 to auction fewer NZUs and set higher auction pricing signals from 2026. The next review of the NZU auction price setting will take place near the end of 2023. Nevertheless, some market sources remain cautiously optimistic.
Meanwhile, in March 2023, the New Zealand government launched a formal review of the ETS to determine the future balance of emissions reductions at source (gross emissions reductions) and emissions removals (net emissions reductions). In its earlier independent review, the Climate Change Commission had highlighted its expectations that the NZ ETS in its current form would drive large-scale afforestation while displacing and delaying gross reductions.
South Korea's ETS Focuses on Reform
Prices for carbon allowances in Asia's second-oldest emissions trading scheme have also struggled to remain buoyant, with South Korea's ETS (K-ETS) battling market uncertainty and concern about an oversupply of free allowances amid weak buying demand. Korean Allowance Units in the K-ETS saw their prices drop around 20% in the first four months of 2023, according to Korea Exchange data.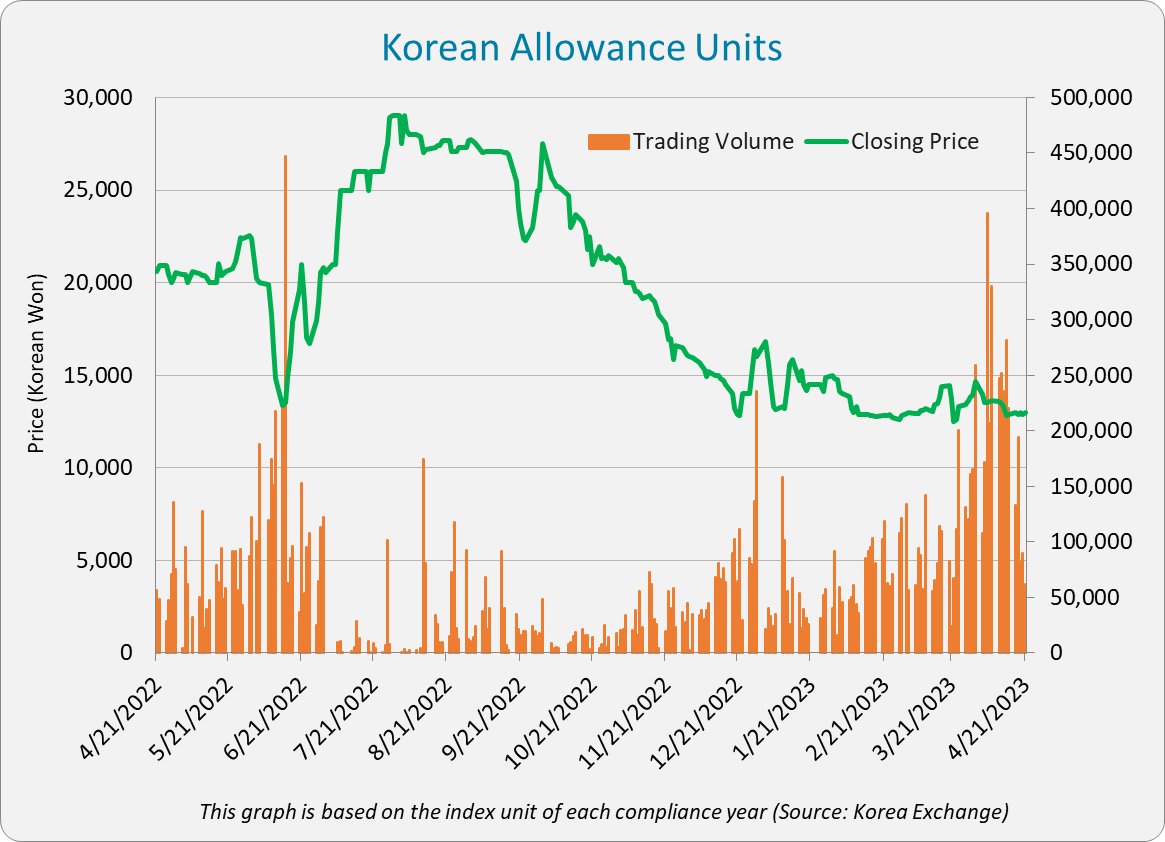 Like other regulatory programs in the APAC region, Korea's scheme is under major reform. The government in March 2023 announced its plan to achieve carbon neutrality – with key changes including lowered emissions reduction targets for industry and expanded targets for energy transition and international offset credits. The government also plans to improve auction and benchmarking allocation, alongside the introduction of consignment trading for the K-ETS.
China's Vast Carbon Trading Scheme
China first launched its national ETS in July 2021, covering 4.5 billion mt of annual emissions from its power generation sector, making it the world's largest carbon trading scheme by volume. Prices for China Emission Allowances (CEA) have traded steady at around 55-60 yuan/mt ($7.97-$8.70/mt) since early 2022, according to the ETS operator Shanghai Environment and Energy Exchange (SEEE).
Regulators prefer to avoid speculation and excessive volatility in the market, sources said.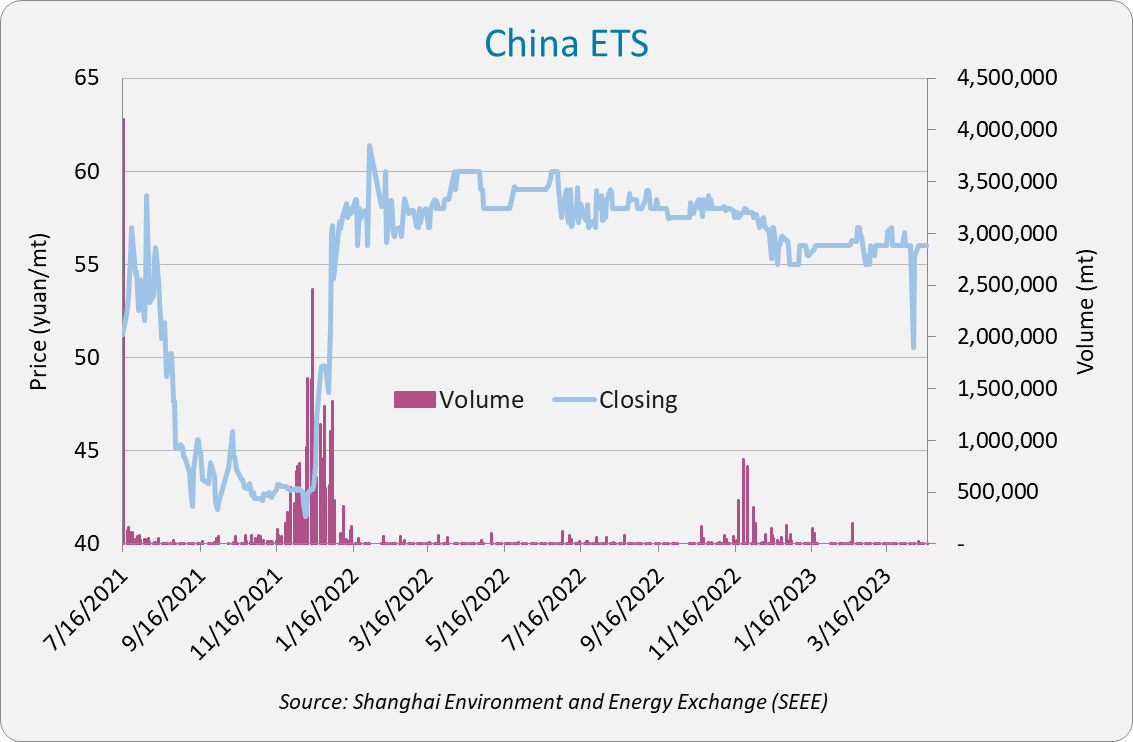 Trading activities usually pick up as it gets closer to the compliance deadlines or when there are new changes made to the scheme. In the most recent policy updates from the ETS regulator in March 2023, the Ministry of Environment and Ecology (MEE) made the switch to annual compliance from a biennial basis to drive decarbonization efforts.
The CEA price is likely to face downward pressure when the actual emission quotas are distributed whereby suppliers with length would be willing to sell their extra quota to the market, sources said.
Large enterprises with a deep pocket of quotas tend to hold on to them with the expectation that the prices are going to increase in the longer term, sources added. Currently, there is no expiry date set on the CEA.
While the MEE proposed the tightening of emission baselines as of November 2022 for the second compliance cycle that is due to end on Dec. 31, 2023, the ministry will continue to provide measures to help corporations to alleviate their compliance costs, especially for those power plants who undertake energy security tasks and impacted by the COVID-19 pandemic.
Market participants, meanwhile, are hopeful for the revival of its national voluntary scheme, which issues Chinese Certified Emission Reduction (CCER), by the end of 2023. The issuance of CCER was suspended in 2017 after a five-year run, although existing credits remain in circulation. CCER is the sole supplement to the national ETS allowing designated entities to offset up to 5% of their emissions.
Up-and-Coming Carbon Markets in APAC

New carbon markets are also sprouting up across the Asia Pacific, with Indonesia launching carbon trading for coal power plants and Japan looking to roll out its voluntary ETS in 2023 as well.

Clarified rules around carbon credit export are expected to drive growth in carbon markets in Southeast Asia, a region offering about $10 billion in economic opportunity, according to research by Bain and Company. Several countries have already expressed ambition to become the region's leading carbon trading hub.

Malaysia, for one, has launched its national voluntary carbon market. The Bursa Carbon Exchange successfully sold all 150,000 Verra-registered carbon credits on offer in its first auction this year. It plans to launch its online spot, and off-market trading platform by the third or fourth quarter of 2023, a Bursa spokesperson told OPIS. Malaysia's largest state, Sarawak, is also exploring the potential of carbon credits to generate new sources of revenue estimated at up to $234.1 million (1.039 billion Malaysian Ringgit) annually.

Singapore, the first country in Southeast Asia to introduce a carbon tax, is also eyeing a piece of the pie through strengthened policy direction. Its carbon tax of $3.74 (Singapore $5) is slated to increase fivefold in 2024, with companies allowed to use eligible international carbon credits to offset up to 5% of their taxable emissions. Several voluntary exchanges including Air Carbon Exchange (ACX) and Climate Impact X (CIX) are already active in Singapore, with CIX targeting a launch for its spot exchange this year.

As carbon markets across the Asia Pacific continue to evolve and mature, the region's role in the global fight against climate change is increasingly vital, and the success of these schemes will be critical in achieving a sustainable and low-carbon future.

The OPIS Global Carbon Offsets Report along with the daily OPIS Carbon Market Report provide the largest compliance and voluntary carbon market price suite by any price reporting agency in the world. OPIS's robust and comprehensive coverage of the carbon markets enables global project developers, traders, marketers and investors to accurately identify a fair value for their assets and understand compliance costs associated with carbon and emissions programs.

Tags: Carbon, Spot Market