Container Cargo Volumes Reach 20-Month Low
Container cargo volumes nationwide reached a yearly low in November and are expected to fall further as retailers rebalance warehouses following the holiday shopping season.
Cargo volumes recorded at the nine major domestic ports totaled 3.696 million twenty-foot equivalent units (TEUs) moved during the month of November, a 12% fall from the prior year, and the lowest monthly TEU total recorded since February 2021.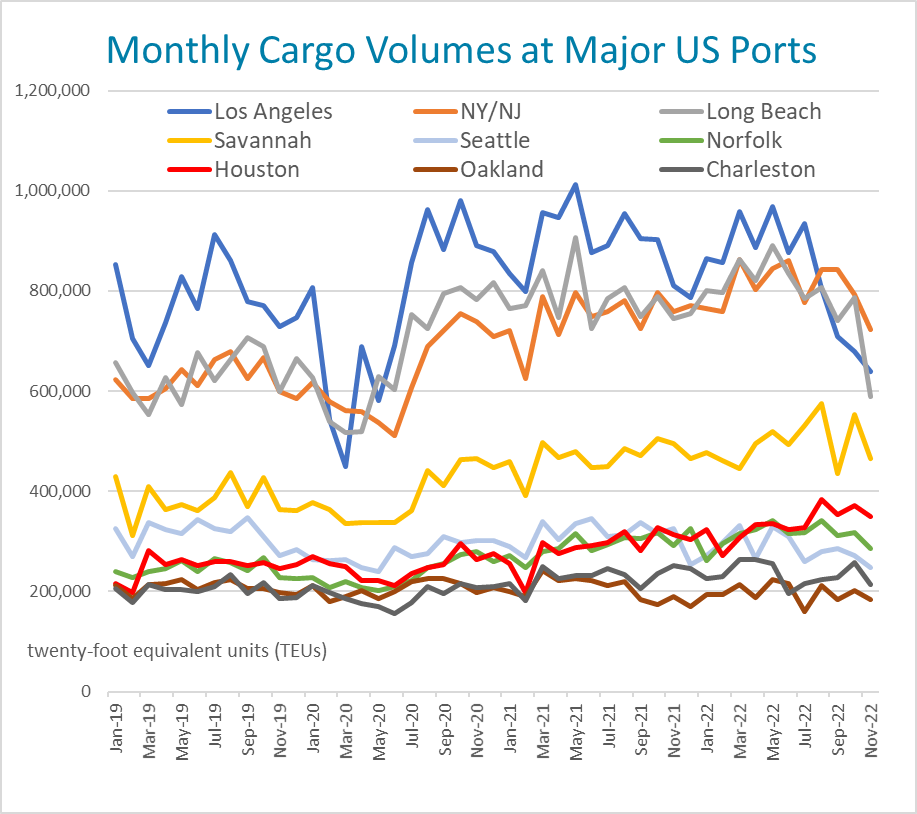 Total calendar year volumes for the facilities, which include Los Angeles, Long Beach, New York, Savanna, Seattle, Norfolk, Houston, Oakland, and Charleston, totaled 47.235 million TEUs, a 2% rise from the same 11-month period recorded a year prior.
Facilities along the West Coast, most notably the Port of Los Angeles, have been hit especially hard since peak shipping season began in August, as ongoing labor disruptions and facility congestion has prompted a shift in cargo flows to Gulf and East Coast facilities.
During the month of November, the Port of LA, traditionally the busiest domestic facility, moved just 639,344 TEUs, a 21% fall from the prior year, and the lowest monthly total recorded since February 2020.
"An early peak season and a shift to other ports due to West Coast labor talks have had big impacts, and now we're seeing a nationwide slowing of imports," said Port of LA Executive Director Gene Seroka.
Container cargo volumes at participating ports have declined steadily since May and are expected to fall further as we enter 2023 to levels "not seen for some time."
Members of the International Longshore and Warehouse Union (ILWU) have been working without a contract since July 1, when their previous pact expired. Seroka, however, has previously stated that he believes a new contract will be agreed upon in early 2023, but anticipates "softer" TEU volumes for the remainder of 2022.

"We're seeing an uptick in canceled or blank sailings. There were 13 ships that cancelled in November and 11 in December, we haven't seen numbers like that since the start of the pandemic," Seroka added.

The Port of New York and New Jersey has been the largest benefactor from this shift East. When viewed as a percentage share, the Port of New York and New Jersey has averaged 18.80% of the total U.S. TEU imports throughout 2022, a full percentage point higher than 2021 totals, according to OPIS data.

Since peak shipping season began, however, that figure has ballooned to an average of 19.43%, over a percentage point higher than the second busiest facility, the Port of Long Beach, throughout the same four-month span.

While the East Coast gains are significant, the Port of New York and New Jersey also experienced a major "leveling off" of TEU activity during November, moving just 723,069 TEUs throughout the month, a 5% fall from the previous year, and the lowest monthly total recorded in 2022 thus far.

According to the National Retail Federations Global Port Tracker, recent increases in retail sales, employment, and gross domestic product all point to a robust economy. However, container cargo volumes at participating ports have declined steadily since May and are expected to fall further as we enter 2023 to levels "not seen for some time."

For daily marine fuel pricing assessments, be sure to check out our Global Marine Fuels Report for key cargo and bunker fuel prices, news and commentary for Asia, Europe and the Americas. 

Tags: Shipping