European Diesel Cracks Soar Amid Tight Supply and Refinery Outages
Prices and cracks for diesel and other oil products surged in late July and early August, reflecting tight supply and low stocks at a time when demand picks up due to the summer travel season.
The situation in Europe is particularly volatile as a result of sanctions on Russian oil, which have lengthened trade routes, with flexibility hampered by the need to find alternative supply sources.
Cracks for ultra-low-sulfur diesel (ULSD) in the key trading hub of Amsterdam, Rotterdam and Antwerp (ARA) hit a six-month high of $38.5/barrel on August 1, almost doubling from levels seen in early July.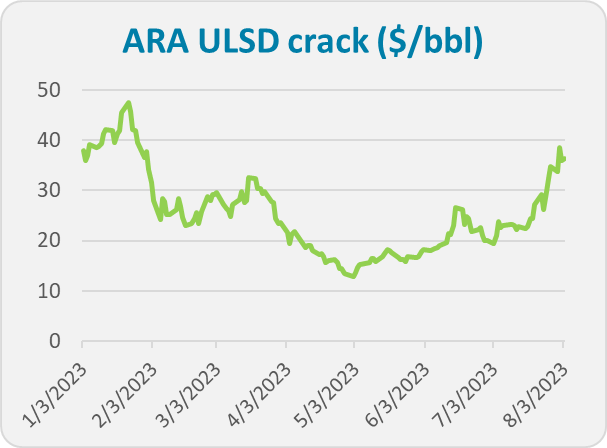 Similarly, the backwardated structure in the low sulfur gasoil (LSG) futures curve in Europe has steepened significantly. The spread between the front month and the second month LSG contracts widened to $19.50/metric ton on August 1, the largest since late March when national strikes in France disrupted operations across the country's refineries and ports.
"Clearly, the diesel market is tight. The arbitrage from the U.S. is shut, things are not looking good [for supply] from the Arab Gulf either, and there have been quite a few refining issues," a broker said.
As a result, prices for ULSD barges in ARA were trading at nearly $920/mt, the highest since January, reflecting both the recent strength in crude oil and middle distillate cracks.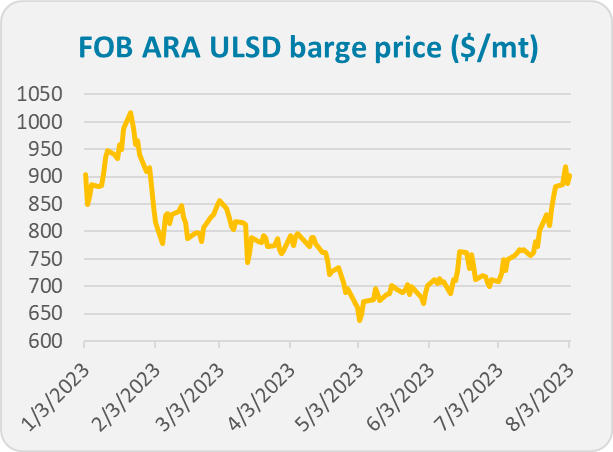 "Spreads and cracks are roofing due to refinery issues, at a time when stocks were already low," said James Noel-Beswick from Sparta Commodities. "Refineries aren't running efficiently due to high temperatures and a lighter crude slate," he added.

Refineries are designed to use different grades of crude oil for producing gasoline, diesel and other products. Medium crude streams, like the Arab light that Saudi Arabia produces, are relatively heavier than lighter crudes such as Brent. They offer high distillate yields, and therefore the recent Saudi crude production cuts have a relatively greater impact on diesel and fuel oil production.

In addition, many refineries have experienced outages in recent weeks, putting further pressure on the market. According to various sources, these include issues at the Pernis, Bilbao and Donges refineries in Europe in addition to downtime at the Baton Rouge, Beaumont, Memphis and Whiting refineries in the U.S.

High summer temperatures could be impacting run rates in parts of Europe and the U.S. As TotalEnergies CEO Patrick Pouyanné said in an earnings call last week, "refineries do not like hot weather."

However, some analysts suggest that current prices may be excessive. Noel-Beswick says that spreads and cracks should be approached with caution at current levels.

"Market sources predict a less tight situation by the second half of August, with more U.S. ULSD becoming available," he said.

–Reporting by Jaime Llinares Taboada, jllinares@opisnet.com; Editing by
Anthony Lane, alane@opisnet.com

Tags: Gas & Diesel