Most NGLs Exit 2022 at Lower Levels, to Face Bearish Headwinds in 2023
NGLs, like other hydrocarbons, have undergone a metamorphosis in recent years, given wild fluctuations in crude and natural gas prices in the wake of Covid-19 and the war in Ukraine.
NGL prices that were considerably stronger in late 2021 gave way to much weaker levels in the last quarter of 2022.
While NGL prices have since rebounded, they will likely face more bearish pressure in the new year, given strong production, high inventories and tepid demand.
Mont Belvieu propane prices fell to the 60-70 cts/gal range in late 2022, thanks to higher refiner and blender net production, copious U.S. inventories  and soft domestic demand due in part to a depressed U.S. petrochemical market. They have since improved to the high 80s cts/gal.
"We've had significant production growth in all NGLs, without demand growth," said Dan Lippe, principal of Petral Consulting.
Going back to summer of 2021, the fear was "we weren't going to have enough propane, then it became apparent we had enough," said Peter Fasullo, principal of consulting firm EnVantage. In addition, inventories have built at a faster rate because of weak demand last winter.
On an international level, Chinese Covid-19 lockdowns and high gas and energy prices in Asia led to a contraction in petrochemical demand, Fasullo said.
And although the U.S. is exporting more than 1.5 million b/d of propane/propylene, it's not enough to offset declining demand stateside, he added.
In addition, refineries continue to operate at higher run rates to capture strong gasoline and diesel crack spreads, which means they are also producing more propane.
"I'm very concerned about propane going into next year," Fasullo said. (He said this in late 2022) At the same time, "we haven't had winter yet, so you hate to be bearish on propane."
Propane and other NGLs have seen their ratios to crude diminish in the last year, but that's been offset in part by some bouts of extreme strength in oil values. Propane was valued at 47.9225% of West Texas Intermediate crude in the Jan. 25 North America LPG Report.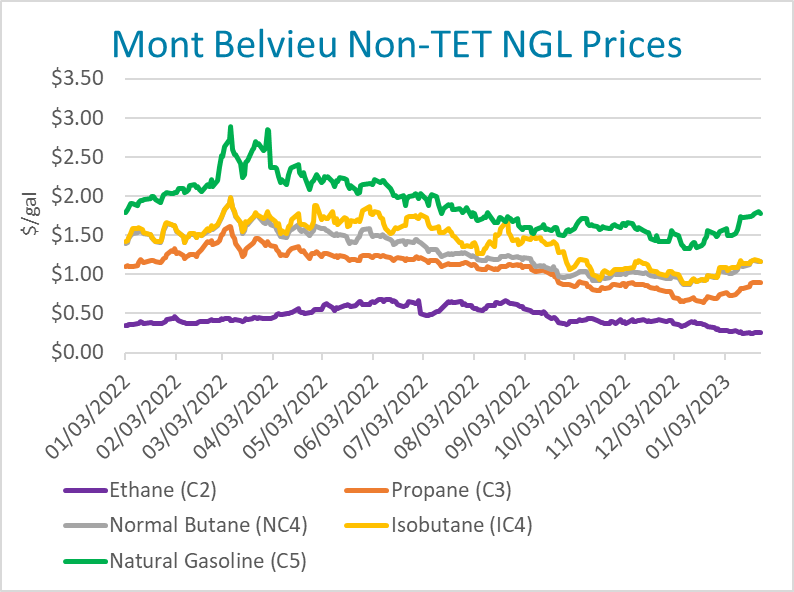 Like propane, Belvieu normal butane, valued at a 60.7128% ratio to WTI on Jan. 25, is under pressure as domestic gasoline demand is down this winter and the petrochemical industry continues to limp along. EIA data showed normal butane stocks for September at 68.565 million bbl, up more than 10 million bbl year to year.

Belvieu isobutane is expected to remain strong relative to normal butane in 2023, due to expectations of an ongoing octane shortage, as tight diesel balances have refineries continuing to churn out more diesel, shrinking octane supply. Octane shortages increase demand for isobutane, which is mainly used to produce alkylate, a high-octane gasoline blending component.

Isobutane's premium to normal butane was at times extreme in 2022, due in part to weaker normal butane prices. Isobutane prices were as much as 47.125cts above normal butane on Aug. 23, based on OPIS Time Series history. More recently, the spread between the two products has been nominal.

Like other NGLs, Belvieu natural gasoline will continue to struggle in early 2023, market sources said. Natural gasoline that is normally valued at a 90%-100% ratio to crude was just 75%-85% of WTI last year. Given weak domestic gasoline demand, natural gasoline, used as a blendstock in the gasoline pool and as a diluent in Canada, is expected to face continued pressure unless gasoline demand picks up, the sources added.

Ethane has long been depressed by bearish petrochemical economics, sending ethane frac spreads into negative territory last year before they recovered some in 2023.

There's a sense that ethane has reached rock bottom. "I don't think it can get any more depressed than it is," said Fasullo. The question, he added, isn't how much weaker it will get, but when will it rebound?

In the Conway NGL market, Midwest propane prices have been trading above the Belvieu TET market since September and could continue to post a premium to Belvieu next year, depending on whether the Midwest sees a colder-than-normal winter.

Belvieu propane had been 5-6cts over Conway before a fire and explosion took ONEOK's Medford, Okla., fractionator facility offline in early July, but that spread relationship gradually began to unwind following the incident. From September through December 2022, Conway propane traded at a premium to Mont Belvieu TET propane. Mont Belvieu TET propane reverted to its premium over Conway propane at the start of this month.

OPIS forward curves late last year showed Conway propane prices at a small premium to Belvieu in the third quarter of 2023 and at a 3.4375cts premium to Belvieu in next year's fourth quarter. As of Jan. 23, Mont Belvieu forward prices for 3Q2023 posted a 2.3125cts premium to Conway, but Conway propane for 4Q2023 posted a 1.375cts premium to Mont Belvieu.  For now, Conway has a decent supply cushion going into winter, with propane and propylene stocks up 8.1% from last year, based on recent EIA numbers. Part of the growth in stocks in November was attributed to a lackluster crop drying season.

"If it is a warmer than normal winter, than I expect Conway propane prices will sell at a discount to Mont Belvieu during the spring and summer months," Fasullo said. "If it is a colder than normal winter in the Midcontinent, then Conway prices could sell at least even to Mont Belvieu prices or at a slight premium by the time next fall comes around."

Gulf Coast propane and propylene stocks are well above their five-year average levels. Midcontinent stocks have grown enough to reach a new five-year high, but they are only 6.3% above the five-year average. Gulf Coast stocks, on the other hand, are 17% above their five-year average.

"We have to export 1.5 million b/d, or we're going to choke on it," Keith Barnett, president of Energy Strategies International, said of propane stocks.

The Conway propane market appears to have adjusted to the Medford NGL fractionator outage and the fact that the fractionator will not be rebuilt at that location, Fasullo said. ONEOK announced on Jan. 9 that it would build a new 125,000 b/d NGL fractionator at its Mont Belvieu, Texas facility that would help take the place of the Medford facility. The $550 million project is expected to take two years to complete and will boost fractionation capacity at the site to a total of 700,000 b/d. ONEOK said it chose the Mont Belvieu project because it had a more favorable completion schedule versus rebuilding at Medford. However, the company said it would still operate NGL pipeline assets and maintain existing offices at Medford and preserve assets at the site for future potential NGL facilities to be built.

"Fortunately, the weather has been warmer than normal in the Midcontinent this January and that has caused propane stocks in the Midcontinent to be 15% above levels seen last year at this time," Fasullo added. As a result, Conway propane prices are selling at a discount to Mont Belvieu prices.

"Unless the Midcontinent gets much colder weather on a sustained basis then the absence of the Medford fractionator will not have a material influence on Conway prices," Fasullo said. If Midcontinent propane balances tighten due to sustained cold weather, incremental propane supplies will have to come from the Gulf Coast, and Conway prices would need to sell at a premium to incentivize supplies to come to Conway.

Barnett believes the fractionator will not be rebuilt in 2023, if at all. If ONEOK decides to rebuild the facility, it will likely do so at the same site. Until the Conway market is pressured by lack of local demand and higher inventories, Barnett believes Conway will be a net forward market in 2023 — meaning logistics will have to pay to get propane to Conway — that could persist indefinitely.

Conway propane prices also will get support from the change in regional flow patterns within northern tier retail markets in the Midwest from mid-December through late February, Lippe told OPIS. Whether Conway propane stays at a premium will depend on the weather beyond late February.

The change stems from AltaGas' propane export terminal near Prince Rupert, British Columbia, and Pembina's propane export facility at Watson Island, British Columbia, which came online in 2020 and 2021. Not only have the terminals introduced Canadian propane supply as a new competitor to the Asian market, but they also have limited Canadian propane exports in the central/western Midcontinent. As a result, propane wholesalers will pull more supply from the big volume storage facilities in Conway and Marysville, Mich., Lippe predicted.

While Conway propane has been heavily impacted by the Medford outage, Conway natural gasoline also has been affected. It has been selling at a premium to Mont Belvieu natural gasoline since Medford went offline in July, and it's also been more difficult to access incremental natural gasoline supply in the Midcontinent, Fasullo said. One market source explained that the Medford outage changed the flow of y-grade production and supply, including natural gasoline.

While some natural gasoline is still available in Conway, most of the barrels of y-grade that flowed to Medford now go to Mont Belvieu, where natural gasoline is produced, the source added.

–Reporting by Mary Welge, mwelge@opisnet.com, and Karen Boman, kboman@opisnet.com; Editing by Jeff Barber, jbarber@opisnet.com, and Barbara Chuck, bchuck@opisnet.com

NGL SUMMIT 2023: Join the largest gathering of NGL professionals
in North America this March 6-8. 

Tags: NGL & LPG