RECs Bottlenecks Expected to Keep Markets Tight
U.S., state and local lawmakers, along with project developers, have set the table for widespread deployment of renewable energy. But unless numerous bottlenecks ease, Renewable Energy Certificate supply will struggle to keep up with demand and prices will continue to push higher through 2023.
Over the past 12 months, several states have strengthened their renewable portfolio standards with increased zero- or low-carbon power supply mandates, but global supply chain disruptions and economic hardships hampered operations and expansion plans. In addition, U.S. wind tax credits expired at the end of 2021.
Some relief came in August 2021 when Congress passed the Inflation Reduction Act, which provides tax incentives that would make renewable development more competitive with carbon-emitting alternatives.
The cost of wind and solar projects rose over the last two years after falling significantly during the prior decade. Wind and solar power purchase agreements both averaged between $25/MWh and $30/MWh in 2020, according to LevelTen Energy's PPA Index. By the second quarter of 2022, they had risen above $40/MWh and $35/MWh, respectively.
Those higher costs, however, did not dissuade developers. U.S. regional transmission organization interconnection queues were filled with more than 1 TW of generation projects and 420 GW of storage installations at the end of 2021, according to the Department of Energy's Lawrence Berkeley National Laboratory.
The annual number of interconnection requests and their proposed energy capacity have increased steadily each year from roughly 100 GW in 2012 to more than 400 GW in 2021.
These circumstances have caused some market analysts to completely rethink REC market forecasting.
"We have thrown our old models out the window and started fresh," said Pawan Mehra, co-founder and managing director of cKinetics, a sustainability advisory firm. "There are too many variables coming together at present impacting both the supply and demand."
The following factors will determine the RECs outlook for 2023: Demand in compliance markets is a known quantity and continues to increase, there is more than enough renewable capacity under development to satisfy that demand, but it is anyone's guess as to when those projects will come online. Other variables, such as whether the U.S. enters a recession and whether REC prices draw even with alternative compliance payments, are also in play.
A Tight Market Grows Tighter
REC markets grew over the past year and that growth is expected to continue through 2023. The Nodal Exchange saw open interest rise from 146,428 contracts on Dec. 13, 2021, to 192,896 on Dec. 12, 2022, a 32% increase.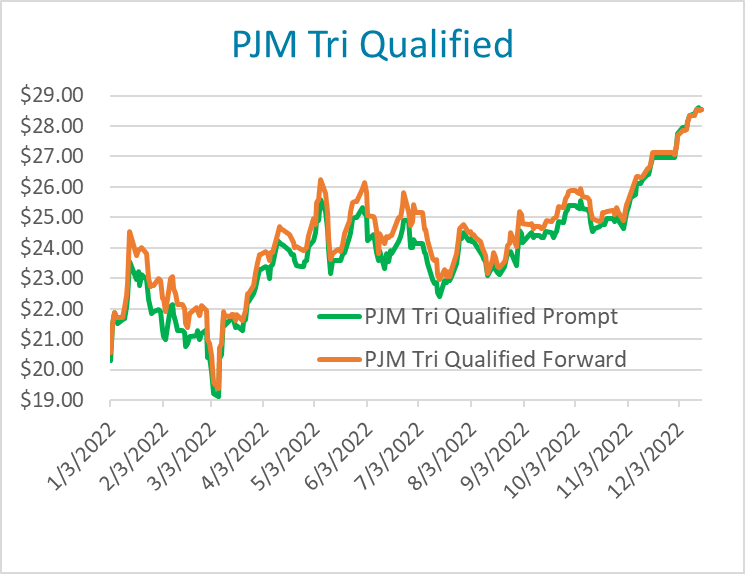 In the PJM transmission region, open interest on Nodal increased 21% to 111,856 contracts from 92,114 over the same period. For the first three quarters of the year, the OPIS mean assessments for PJM REC prices ranged between $20/MWh and $26/MWh and remained in a contango structure, in which the prompt year trades at a discount to forward years.
But during the fourth quarter, many price assessments shot north of $28.50/MWh with little sign of correction in sight. OPIS assessed PJM Tri Qualified V23 at $28.54/MWh on Nov. 16.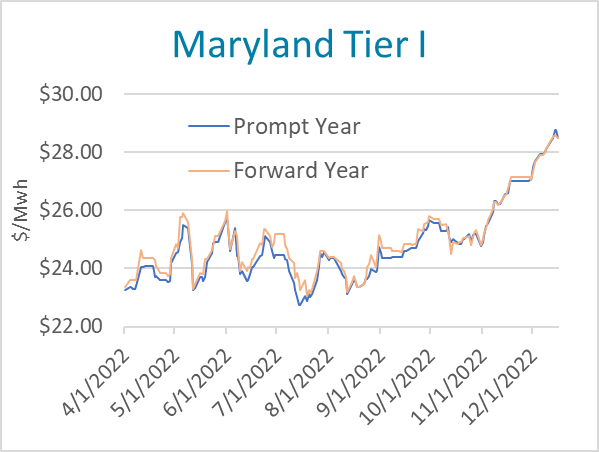 Maryland Tier I V22 was assessed at $28.50/MWh, just $1.50 shy of the state's $30/MWh alternative compliance payment (ACP).  If reached, that ACP "should be a resistance level for REC prices," Jennifer McIsaac, ClearBlue Markets' director of market analysis, said.
These contracts also began in the fourth quarter to flip from contango to backwardation structures, where the prompt year trades at a premium to forward years, and then back again.
Market analysts surveyed by OPIS were unwilling to predict whether the market will move next year into backwardation, remain mixed or revert to contango.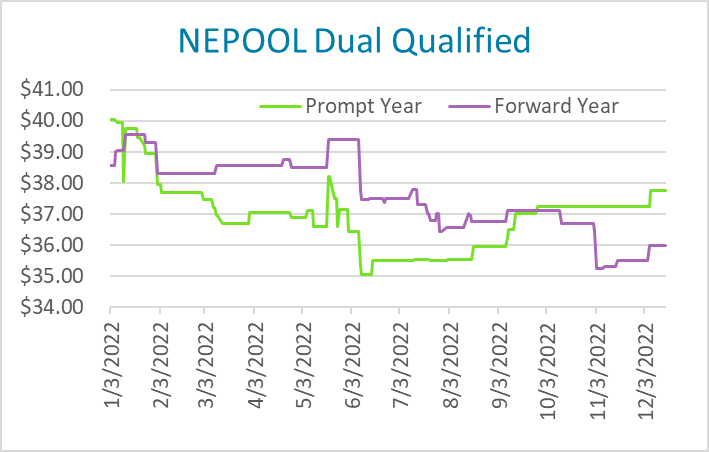 NEPOOL, a much smaller market than PJM, saw prices drop in 2022. NEPOOL Dual Qualified V21 began the year at $40.05/MWh, while NEPOOL Dual Qualified V22 was assessed at $38.55/MWh, creating a backwardation structure.
NEPOOL Dual Qualified RECs flipped to contango on Jan. 20, back to backwardation on June 16 (when a new compliance period began), then returned to contango on Sept. 27. NEPOOL Dual Qualified V22 was assessed at $36/MWh on Dec. 16, while NEPOOL Dual Qualified V23 stood at $37.75/MWh.
Renewable Deployment Slowed
New solar installations over the first six months of 2022 were down from the same period of 2021, sliding to 7.9 GW from 10 GW, according to the most recent data from the National Renewable Energy Laboratory, another DOE facility.
Fully half of the new development came in California, Florida and Texas. Photovoltaic module imports in the first half of the year also fell 18% year to year, but saw a second-quarter year-to-year of 28%.
The National Renewable Energy Laboratory doesn't publish comparable data for wind, but according to DOE's latest data, domestic turbine manufacturing contracted 50% in 2021 and produced enough for just 4.6 GW of wind capacity.
Onshore wind capacity additions nevertheless reached 13.4 GW in 2021, while offshore wind stood at 42 MW.
Despite these lingering supply chain challenges, wind and solar are expected to boom in coming years. The Interior Department's Bureau of Ocean Management held its first auction for California floating wind lease sites on Dec. 7 and held multiple auctions for Atlantic sites over the year. Some  247 GW of wind, including 77 GW of offshore wind, was in interconnection queues at the end of 2021, according to the Lawrence Berkeley lab. Queued solar projects amounted to 647 GW.
Most PJM and NEPOOL state RPS programs, meanwhile, call for more and more renewable power each year. Over the course of 2022, Rhode Island and New Hampshire added offshore wind carveouts into their RPS, while Connecticut, Massachusetts, Maryland also expanded their renewable targets.
Immediate Demand Increases
"Demand for clean electricity to meet state policy goals is increasing and the PJM Interconnection queue is a critical bottleneck to meeting that demand," said Jesse Jenkins, a professor at Princeton University's ZERO Lab, who has modeled several scenarios of renewable energy deployment and grid decarbonization. "The clean energy industry has come forward with a huge capacity of proposed projects, more than sufficient to meet state policy needs, but more of these projects need to make it through the queue, and in a timelier manner, to keep up with demand," he said.
Those circumstances have pushed prices higher in 2022. Clear Energy Brokerage Vice President Ryan Cook also attributed the price increases in PJM compliance RECs, in part, to the strength of the economy this year and warned that a recession could lead to a drop in demand.
"If we have an economic downturn, we're going to see a reduction in power consumption," said Cook. "That would mean we're going to see a reduction in overall demand for compliance RECs."
Over the course of this decade, ZERO Lab modeling projects PJM REC prices to fall to near zero as renewable power supply explodes. But the effects of this boom are unlikely to be felt in 2023.
Voluntary REC markets

Voluntary REC markets also expanded in 2022. Texas CRS wind and solar RECs, the most liquid on Nodal, saw open interest increase 56% from 27,978 contracts on Dec. 13, 2021, to 43,651 on Dec. 12. The exchange has also seen growth in M-RETs, WREGIS and voluntary NAR RECs.

"We continue to see growth across the REC group of contracts from a year ago and with broader participation from commercials and a small but growing number of financial participants," said Steve McComb, managing director of Incubex, which operates Nodal. "The growth of voluntary RECs is still strong, as more corporates engage with these markets to add renewable power equivalents to their operations."

–Reporting by Henry Kronk, hkronk@opisnet.com; Editing by Bridget Hunsucker, bunsucker@opisnet.com, Jeff Barber, jbarber@opisnet.com, and Barbara Chuck, bchuck@opisnet.com

Easily keep up with the complex and evolving biofuels market. Try OPIS Ethanol & Biodiesel Information Service free for 3 weeks. You'll get real-time news alerts and a daily market overview that includes pricing assessments, plus a weekly newsletter and rack pricing report in PDF format. Delivery is via email.

Tags: Renewables