Shippers Eye Methanol Fuel as Means to Decarbonize Global Fleet
In 2013, the Vancouver, Canada-based Waterfront Shipping Company introduced seven of the world's first ocean-going vessels built with Germany's MAN methanol dual-fuel engines. Early in 2021, Singapore's Eastern Pacific Shipping (EPS) announced it was partnering with MAN Energy Solutions and methanol producer OCI to convert conventional vessels from its existing tanker fleet to run on methanol, while at the same time planning to build new vessels with engines powered by methanol and ammonia.
Danish container shipping giant AP Moller-Maersk tabled contracts in August worth $1.4 billion for a series of 16,000 twenty-foot equivalent unit (TEU) ships to be fitted with dual-fuel MAN engines, after ordering its first methanol dual-fueled 2,100 TEU container ship earlier in the year. Global production capacity of methanol totaled around 80 million metric tons in 2020 and is expected to increase by 3.2% every year for the next five years, IHS Markit data showed.
"The methanol-fueled engine market for shipping is really in the early stages," says Martin Dorsman, secretary general of the European Community Shipowners' Association (ECSA). "Some shipowners have run their vessels on methanol for some years, but they are the frontrunners. We are just at the start of the process," Dorsman told OPIS.
Back in 2018, the IMO set out legislation to reduce the average carbon intensity of international shipping by 40% by 2030, followed by the adoption of new additional technical and operational requirements in June 2021.
Since then, energy transition in the maritime sector has gained momentum, with around 12% of newbuild vessels in 2021 ordered with alternative fuel systems, with liquefied natural gas (LNG) leading the way, according to the international shipping classification society DNV. That's compared with 6% of newbuilds ordered in 2019, DNV data showed. However, less than 1% of ships currently in operation burn alternative fuels, with the huge majority that do use such fuel plying short-sea routes, said DNV.
The use of methanol is likely to gather momentum as a transition fuel since it is a commodity that shippers are familiar with.
"We see the next few years as a period of exploring different options," DNV business development manager Christos Chryssakis explains. "Towards 2030 we will probably see more demand for green fuels, coming from the new EU regulations and from IMO's newest Carbon Intensity regulation (CII). We will then see a green version for all current fuels, such as bio-MGO, e-MGO, bio-LNG, e-LNG, bio-methanol, etc. This will gradually increase as we move towards 2050 on a larger scale," Chryssakis told OPIS.
"By 2023, the goal for the maritime sector is to reduce the emission of greenhouses gases (GHG) through fuel-efficiency, slow-steaming and using LNG as fuel, among other [fuels]," maritime research agency Drewry Shipping said in a post on its website. "However, to meet the medium-term (between 2025 and 2040) goal of a heavy cut in GHG and particulate matter, we expect methanol to play a key role," Drewry said.
"The use of methanol is likely to gather momentum as a transition fuel since it is a commodity that shippers are familiar with, while there is a long wait for the low-to-zero emission fuel options which lack even the basic infrastructure at present," Drewry adds.
Research shows that methanol is easily accessible on a global scale with existing infrastructure. Methanol storage facilities exist in most major port facilities in the world, according to Stuart McCall, director of finance and head of global marine fuel market development at Methanex NZ. The methanol can easily be transported and distributed through existing global terminal infrastructure, and this reuse is valuable from a bunkering perspective, explained McCall.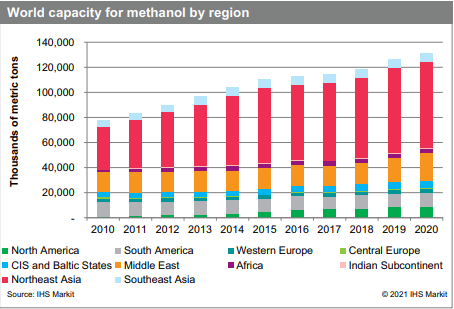 The cost of the equipment to use methanol is very low, compared to other alternative fuels such as ammonia or LNG. Methanol fuel tanks are comparable with traditional tanks, but need to comply with safety legislation, as methanol has a low flashpoint, and supply systems need to be adapted to control fire-risks, according to Chryssakis. In November 2020, the IMO adopted interim guidelines, known as the International Code of Safety for Ships using Gases or other Low-flashpoint Fuels, to minimize such dangers to vessels.
However, while methanol has remained cost-competitive with marine gas oil over the past ten years on an energy-equivalent basis, some in the market remain skeptical.
Shipping doesn't have the luxury of waiting for unavailable fuel technologies to reach technical readiness.
"The main sector that currently uses methanol as a fuel are methanol tankers; they get their methanol from the charters directly and they get it at a competitive price," Chryssakis said. "It is easy to produce, easy to handle and the CAPEX [for upgrading vessels and equipment to use methanol] is not very high, which is what makes it attractive."

This is what is creating all the interest in methanol today, according to Chryssakis.

"Building a vessel on methanol fuel is not the biggest issue; there is a link between the extra costs for building the ship and getting the funding. The main problem is how do you defend the business case in the operational phase?" he adds.

For their part, shipowners say they alone cannot foot the bill for the development of low-carbon fuels, while these are not yet commercially viable. Yet pressure is building on shippers to decarbonize as other transport sectors and industries, including oil companies, compete to show off their green credentials.

New initiatives such as green loans, the EU recovery fund, a $5 billion research and development fund currently under discussion at the IMO, as well as smaller advantages such as the port of Singapore waiving fees for vessels using more sustainable fuels, are all part of building the business case for the development of green marine fuels.

"Shipping doesn't have the luxury of waiting for unavailable fuel technologies to reach technical readiness, regulatory approval and availability when clean fuels are already available now for existing vessels and newbuilds," said Matthias Ólafsson, public affairs director at the MethanoI Institute.

"The burden of decarbonization needs to be managed and shared with fuel suppliers, power generators, port authorities, national governments, investment communities, international regulators and all maritime stakeholders," Ólafsson concludes.

For daily marine fuel pricing assessments, be sure to check out our Global Marine Fuels Report for key cargo and bunker fuel prices, news and commentary for Asia, Europe and the Americas.

Tags: Bunker fuel, Carbon, IMO 2020, Shipping, Spot Market