Robust USGC Crude and Fuel Exports to Continue
Industry leaders expect U.S. Gulf Coast crude exports to remain high in the coming years, maintaining that global prices should stay strong enough to justify movement offshore as infrastructure improves, demand increases, and global inventories eventually fall.
In a keynote speech at RBN's XPORT Con in June, Beth McDonald, the head of Strategic Planning for U.S. shale company Pioneer Natural Resources, predicted that the U.S. would continue to see exports ramp higher thanks to declining inventories elsewhere and increasing global demand. She cited the lack of upstream investment and dismissed reports that the lucrative Permian Basin region in West Texas and New Mexico has a limited shelf life.
McDonald indicated that Pioneer would pursue projects with the belief that crude prices would remain between $70/bbl and $90/bbl into 2024 with a possibility of occasional forays toward the $100/bbl mark. Those numbers should prevail for the next three to five years, she added.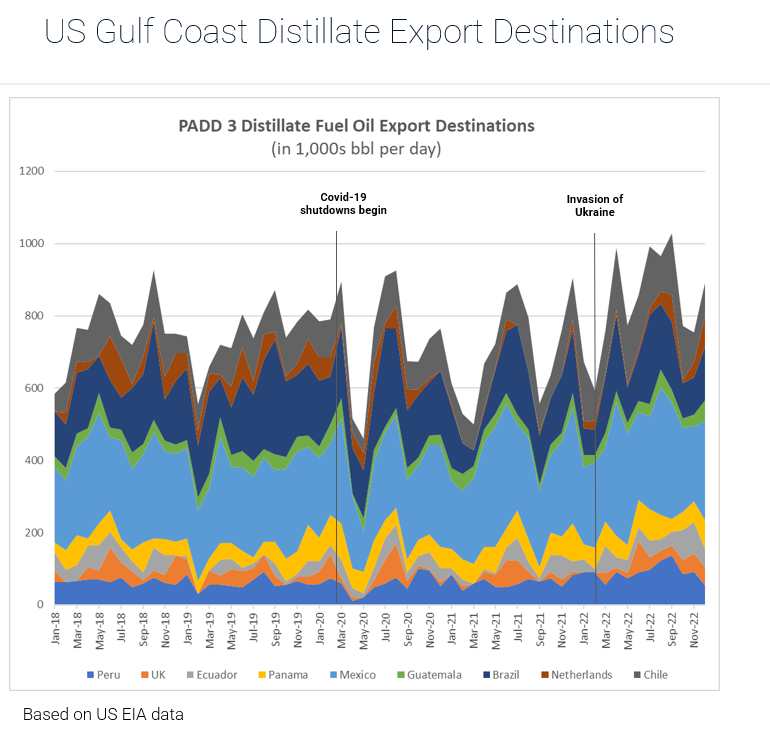 Meanwhile, at that same conference, EPIC Midstream CEO Brian Freed focused on fast-growing logistics at the Gulf Coast, highlighting upcoming improvements in that company's pipeline system that will facilitate even greater reliance for exports staged in Corpus Christi, Texas. A project there to deepen the ship channel should favor the Ingleside port and enable Very Large Crude Carriers to carry U.S. oil abroad.
Omar Garcia, the Chief External Affairs officer for the Port of Corpus Christi, explained that getting
product out of the Gulf will become easier in the next few years as overall improvement of the port (including dredging a greater depth in the Corpus Christi Ship Channel) will allow larger tankers to increase net exports and lower the cost of getting the crude out into the global market.
Corpus Christi itself has a less substantial refining capability unlike Beaumont or Houston, so its main business may evolve to accentuate exports. Industry leaders also pointed to further growth in crude exports overall thanks to the lucrative reserves located in the Permian.
USGC Fuel Exports to Remain Brisk, While the US East Coast Turns to Europe
U.S. Gulf Coast refiners will likely continue to see brisk exports of gasoline and diesel while the loss of refining Northeast refining capacity will make that region more dependent on exports from Europe.
RBN Managing Director Robert Auers explained in a presentation at XPORT Con that the U.S. will likely continue to see substantial fuel imports into the East Coast (PADD 1) region even as Gulf Coast (PADD 3) refiners remain a key supplier to Latin America and other destinations.
The 2019 closure of the 335,000 b/d Philadelphia Energy Solutions refinery and conversion of the
130,000 b/d Come by Chance refinery in northeast Canada to renewable diesel and other biofuels has raised the region's reliance on supplemental gasoline from Europe, he added. PADD 1 refining capacity, which was at about 1.142 million b/d in 2018, has since declined to about 806,000 b/d.
Auers added that given the difficulties in securing waivers from the Jones Act, which requires cargoes between U.S. ports to be moved by U.S. ships, refined product pipelines from the Gulf Coast into the Middle Atlantic will be busy or overbooked for the foreseeable future.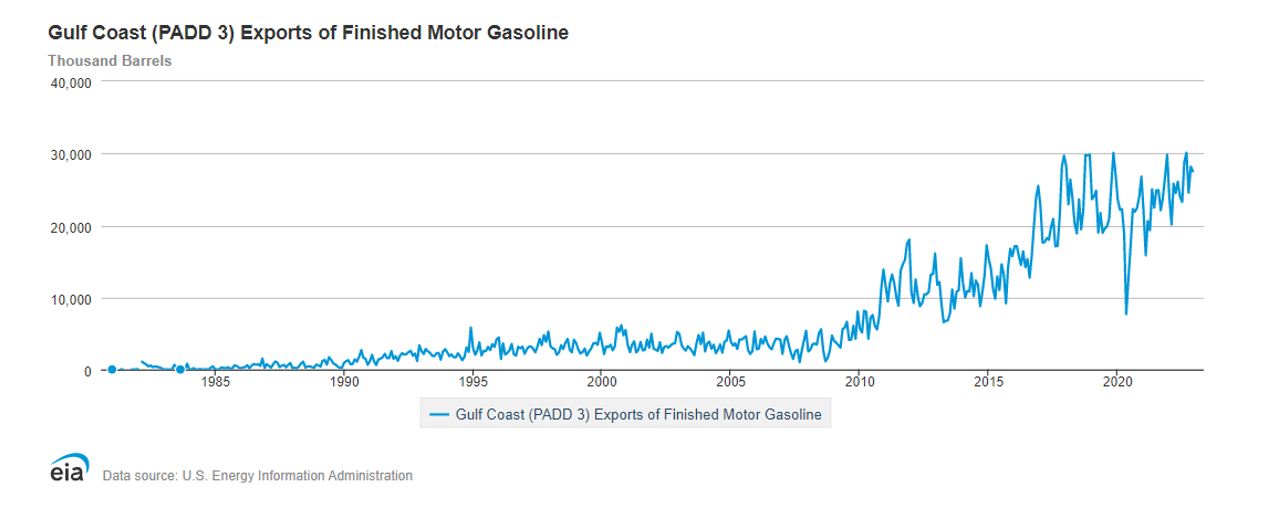 Tom Kloza, global head of energy analysis at OPIS, said reductions in U.S. refining capacity from 2018 through 2021 have left the country with tighter fuel supplies during peak demand periods.
Kloza said the recent decision by Lyondellbasell to extend the life of its 289,000 b/d Houston refinery by more than a year through the end of the first quarter of 2025, was critical for the market.
Kloza added that most of the capacity additions by U.S. refiners have come at coastal facilities, raising concerns over their operations during the Atlantic hurricane season, which covers most of the high demand summer driving season.
About 1.4 million b/d of refining capability added since Hurricane Katrina in 2005 had been between Corpus Christi and Beaumont, Texas.
But the most compelling numbers in the export market are found in population gains for Latin America, Kloza said. Thanks mostly to the failures of Venezuela's PDVSA, the entire region now has only about 4.4 million b/d of refining capacity, a more than 2.2 million b/d reduction over the last 15 years.
Latin America has been the primary destination for PADD 3 gasoline and distillates, but Gulf Coast refiners could begin to see some competition from West African refiners. The 650,000 b/d Dangote refinery in Nigeria will likely target some of those countries, though it is unclear whether the facility will produce on-spec fuel until sometime next year.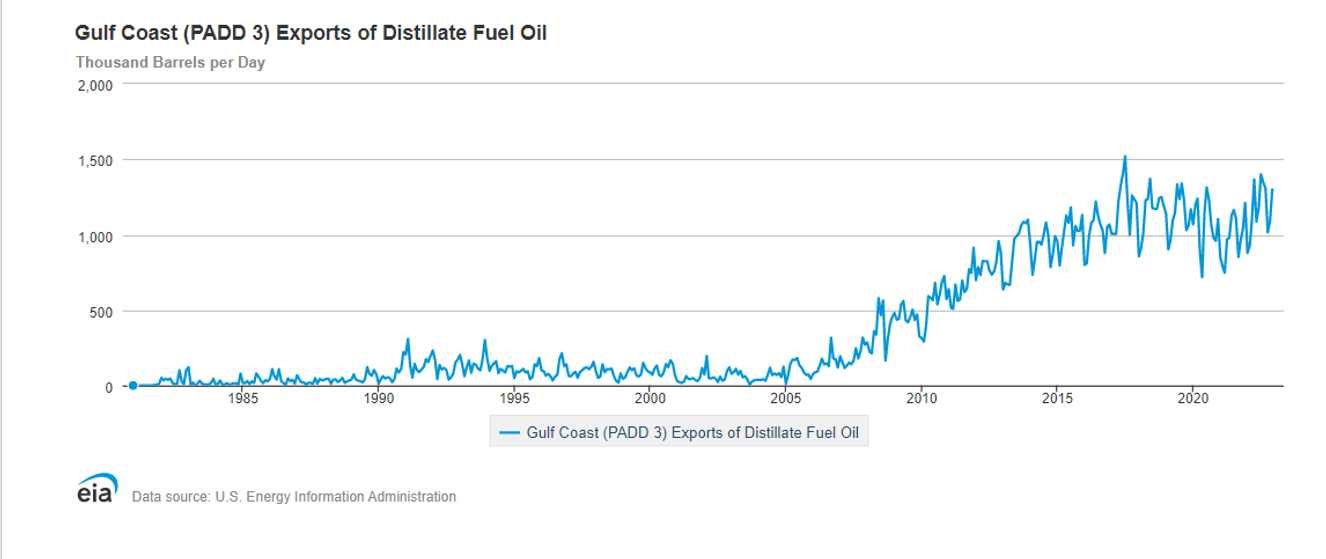 Stay on top of changes to world crude runs and downstream conversion capacity that may significantly impact returns for both new and existing refineries with OPIS Intraday News Alerts.
Be the first to know about mergers, acquisitions and bankruptcies.
Identify arbitrage opportunities with import/export insight.
Put supply and demand news into context. 
Tags: Crude, Crude oil