Discussion with Enterprise Products co-CEO Jim Teague about Historic Moment for US Gulf Coast Ethylene and Exports
The year 2020 was significant in the evolution of the US Gulf Coast ethylene market due to the opening of the new Enterprise Products ("Enterprise") ethylene storage facility and joint venture ethylene export terminal. OPIS PetroChem Wire ("OPIS PCW") spoke to Jim Teague, Co-CEO and Chris D'Anna, SVP Petrochemicals from Enterprise to learn more about the new ethylene system and hear the company's perspective on the future growth of the US ethylene market as it expands into the global marketplace.
The commissioning of the Enterprise ethylene storage hub in Mont Belvieu, Texas in early 2020 marked the opening of the third major trading hub for the product along the US Gulf Coast. The first hub opened in 2000 when Williams began leasing out storage in its salt dome caverns located in Mont Belvieu, Texas. This move by Williams allowed trading companies to enter the ethylene market and increased spot market liquidity. In 2012, the next phase of the ethylene market's expansion began to take shape when Boardwalk Louisiana Midstream, LLC ("BLM") purchased two storage hubs in Louisiana: the Choctaw hub near Plaquemine and the Sulphur hub near Lake Charles. When BLM took over the caverns, traders were able to enter the hub and liquidity in the Louisiana market increased.
In addition to the ethylene storage hub, the joint venture Enterprise Navigator Ethylene Terminal was commissioned in January of 2020 at Morgan's Point, Texas along the Houston Ship Channel. The Enterprise Navigator Ethylene Terminal was not the first to export ethylene from the US Gulf Coast. However, the new terminal is the first open-access ethylene export facility in the US, giving international companies the opportunity to connect the US with global ethylene markets.
"The truth is, now anyone can participate in our open-access markets. The benefits of these world-scale assets are available to the entire market through our Mont Belvieu storage, transportation or production opportunities," said Jim Teague.
Chris D'Anna added, "Our new ethylene export terminal is the largest of its kind in the world. It is directly connected to our open-access ethylene storage hub at Mont Belvieu by a high-capacity pipeline, which is located at the center of the US Gulf Coast petrochemical industry. As a result, our terminal is backed by the supply and reliability of the entire US Gulf Coast."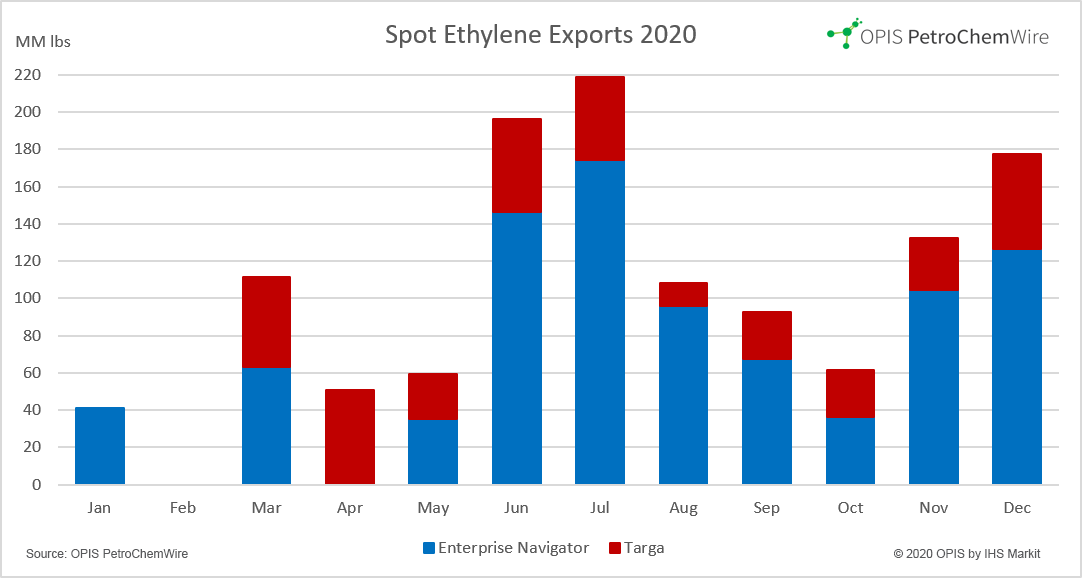 Since its opening at the beginning of the year, the joint venture terminal has broken records by loading 44 million pounds of ethylene on the Navigator Eclipse in June and co-loading the first ethane and ethylene vessel in the US in July.

While Enterprise was reaching milestones with its new ethylene assets, the ethylene market has been experiencing a tumultuous year in the wake of the COVID-19 crash and an active hurricane season along the US Gulf Coast. Ethylene prices reached historic lows in April of 2020 before rebounding in response to mid-summer cracker outages followed by the operational impacts of Hurricanes Laura and Delta.

By early November, US Gulf Coast steam cracker operating rates were back to an estimated 95% of daily capacity. As supply came back online, spot exports increased. Prices dipped into the high-teens across all hubs at the beginning of November before rebounding slightly to the low- to mid-20s – within 1 cpp from where applicable prices were assessed one year prior.

Read the full interview with Enterprise Products and learn more about the evolution of the US Gulf Coast ethylene market. Submit the form below to download the interview.





Tags: Ethylene, Petrochemicals