FOB U.S. Gulf Coast Propane Resale Market Could be Curbed if Freight Rates Stay High
The FOB U.S. Gulf Coast propane resale market, which is essentially the spot market for U.S. Gulf Coast propane exports, was marked by low activity for much of 2022 as high freight rates, potential long waits to cross the Panama Canal and uncertain netbacks kept many potential buyers on the sidelines.
The three-benchmark very large gas carrier (VLGC) freight rates assessed by OPIS soared to multi-year highs in late 2022 but in mid-December the rates plummeted on lower demand amid warmer-than-normal weather in Europe.
According to OPIS records, all three rates climbed to their highest levels since at least May 2019, with the Houston-Chiba (Japan) route via the Panama Canal peaking at $206.50/t on December 5, the Houston-Flushing (Netherlands) marker at $130.00/t on December 6 and Arab Gulf-Japan rate at $148.50/t on November 21.
But the rates started to come down in mid-December and reached lows on January 24 before starting to come back up. The Houston-Chiba (via Panama) route fell to $104.00/t, Houston-Flushing to $58.00/t and AG-Japan to $57.00/t.
A market source in mid-December attributed the drops to "a lot of lifting in the last two weeks and contraction of the arb as Europe weather shifts warmer, ample supply in Europe as they bought a lot earlier in the month pushing up freight rates and now weather flipped warmer, closing the arb some and forcing freight down."
If Europe gets another cold spell like it had in early December, "then propane prices will spike in the region and we will see freight gain once more," the source said. "Also, if [U.S. East Coast] volumes fall off [for exports] on more domestic U.S. demand, then [U.S. Gulf Coast supplies] will have to step up to cover those volumes and freight should regain on longer ton-miles."
A flurry of FOB deals were reportedly done in January and early February as freight rates dropped and arbitrage margins were regularly in the teens cents per gallon, and sometimes reached the 20-30cts/gal range, the highest in years. With all those fixtures done to take advantage of lower freight rates, rates quickly jumped up 40-60% before starting to fall again in early February 2023.
Freight rates could get some relief in 2023 as new vessels are scheduled to be placed in service. At least 45 newbuild VLGCs are scheduled to be delivered in 2024 after 20 new VLCGs were scheduled to be placed in service in 2022, according to shipbroker data. Some of the scheduled 2022 deliveries could be pushed into the first quarter of 2023.
But freight rates could also experience upward forces this year as more than 60 VLGCs are scheduled for dry docking, reported gas shipping company BW Gas.
For much of 2022, none or few FOB deals were reported for extended periods covering several weeks. There were a few more active periods, such as eight or nine FOB deals being reported in the first week of March 2022 and a record number of spot fixtures – as high as 17 in one week — done in September for loading in the United States, likely indicating an active FOB market at that time. The U.S. market cooled soon after that as shippers turned their attention to procuring supplies from the Arab Gulf, sources said.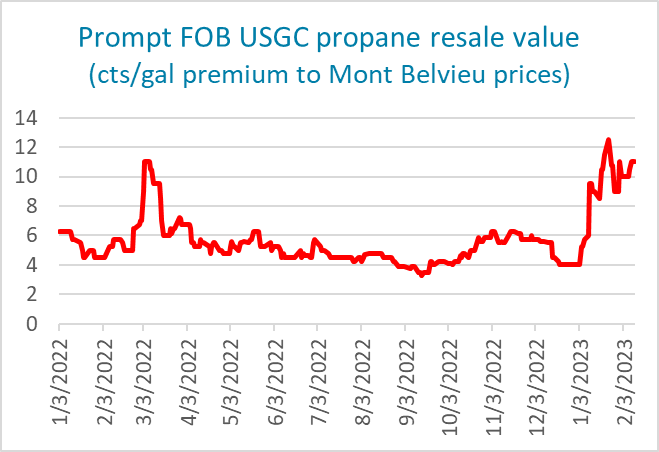 FOB U.S. Gulf Coast propane resale values assessed by OPIS showed little volatility in 2022 due to the frequently quiet market. During the relatively active period of March 3-15, FOB values for the prompt-month lifting period were assessed at an average premium of 9.8cts/gal to Mont Belvieu prices, peaking 11cts/gal on a couple of days.

But for the rest of the year, the low end of the assessed price range never fell below +2.75cts/gal and the high end never exceeded +7.5cts/gal.

In 2022, prices averaged +6.34cts/gal in the first quarter, 5.24cts/gal in the second, +4.34cts/gal in the third and 5.29 in the fourth through December 23.

In 2021, prices averaged +4.26cts/gal in the first quarter, +4.04cts/gal in the second, +4.66cts/gal in the third and +6.47cts/gal in the fourth.

Although U.S. propane exports continued to be robust in 2022, the vast majority of the deals were done under long-term terminaling arrangements rather than spot FOB deals, sources said.
According to the U.S. Energy Information Administration's December Monthly Energy Review, U.S. propane exports averaged 1.308 million barrels/day in the first nine months of 2022, 4% higher than the same period in 2021.

A source told OPIS that the U.S. has been exporting more than 1.5 million b/d of propane and propylene in late 2022 (compared to average of 1.452 million b/d in November-December 2021), but that was not enough to offset declining domestic demand.

U.S. NGL prices that were considerably stronger in December 2021 compared to the last quarter of 2022. U.S. NGL prices face more bearish pressure in early 2023, given strong production, high inventories, and tepid demand, which could help the FOB market by improving arbitrage margins if overseas demand is strong.

In December 2021, Mont Belvieu propane prices were well over $1.00/gal on most days. In March of 2023, they were in mid-60s cts/gal range, thanks to higher refiner and blender net production (up 4% from a year ago based on EIA data), copious U.S. inventories (propane and propylene stocks are up 24.7% from a year ago, per EIA), and soft domestic demand due in part to a depressed U.S. petrochemical market.

U.S. Gulf Coast LPG production capacity is expected to increase in 2023, with some of that output expected to be exported to Europe and Asia.  Chinese Covid-19 lockdowns and high gas and energy prices in Asia caused petrochemical demand there to contract but Chinese demand could strengthen in 2023 as it reverses some of its zero-Covid policies.

Enterprise Products Partners is expecting its twelfth Mont Belvieu fractionator, with a capacity of 150,000 b/d, scheduled to start operating in the third quarter of 2023. Enterprise said the addition would boost its total combined fractionation capacity to 1.7 million b/d, increasing the output of products such as propane, butane and ethane.

Also, Oklahoma-based ONEOK hopes its 125,000 b/d MB-5 fractionator will come online in the third quarter of 2023, which would boost its nationwide fractionation capacity to more than 1 million b/d.
The combination of new fractionation capacity at Enterprise Products Partners and ONEOK is expected to produce 124,000 b/d of LPG (equivalent to 3.8 million tons/year) of LPG, according to OPIS estimates.

Live spot propane price updates increase your flexibility to react to changes in the market. The North American Propane Ticker updates spot prices from market open to close, providing up-to-the-minute price indications for Mont Belvieu TET, Non-TET, Other Non-TET, Conway In-Well, Hattiesburg In-Line, Alberta and Sarnia, Edmonton and Ontario.

Tags: Propane