Wholesale Fuel Terminal Owners: Who's In, Who's Out?
The first half of 2018 saw many new owners for U.S. wholesale fuel terminals, with oil companies coming in and moving out.
For example, let's take a look back at this spring news item from OPIS:
Sunoco LP, a major fuel distributor, said it will purchase certain assets from Superior Plus Corp. for approximately $40 million plus working capital adjustments.
The assets consist of a network of approximately 100 dealers, several hundred commercial contracts, and terminals, which are connected to major pipelines serving the upstate New York market.
The wholesale fuels business sells approximately 200 million gal of fuel annually through multiple channels. The terminals have a combined 17 tanks with 429,000 bbl of storage capacity.
The acquisition is consistent with Sunoco's strategy of utilizing its scale to grow the core fuel distribution business and adding fee-based refined product terminals into the overall portfolio, Sunoco said.
Sunoco LP is a master limited partnership that distributes motor fuel to approximately 9,200 convenience stores, independent dealers, commercial customers and distributors in more than 30 states. Sunoco's general partner is owned by Energy Transfer Equity.
This OPIS news alerts story showcases the latest shift in gasoline and diesel terminal ownership this year. But there were many others!
To help you keep track of the changes, we've organized a helpful infographic below to show you who's in and who's out.
NOTE! Changing wholesale terminal ownership is a story OPIS will continue to follow, so keep an eye on this space for updates!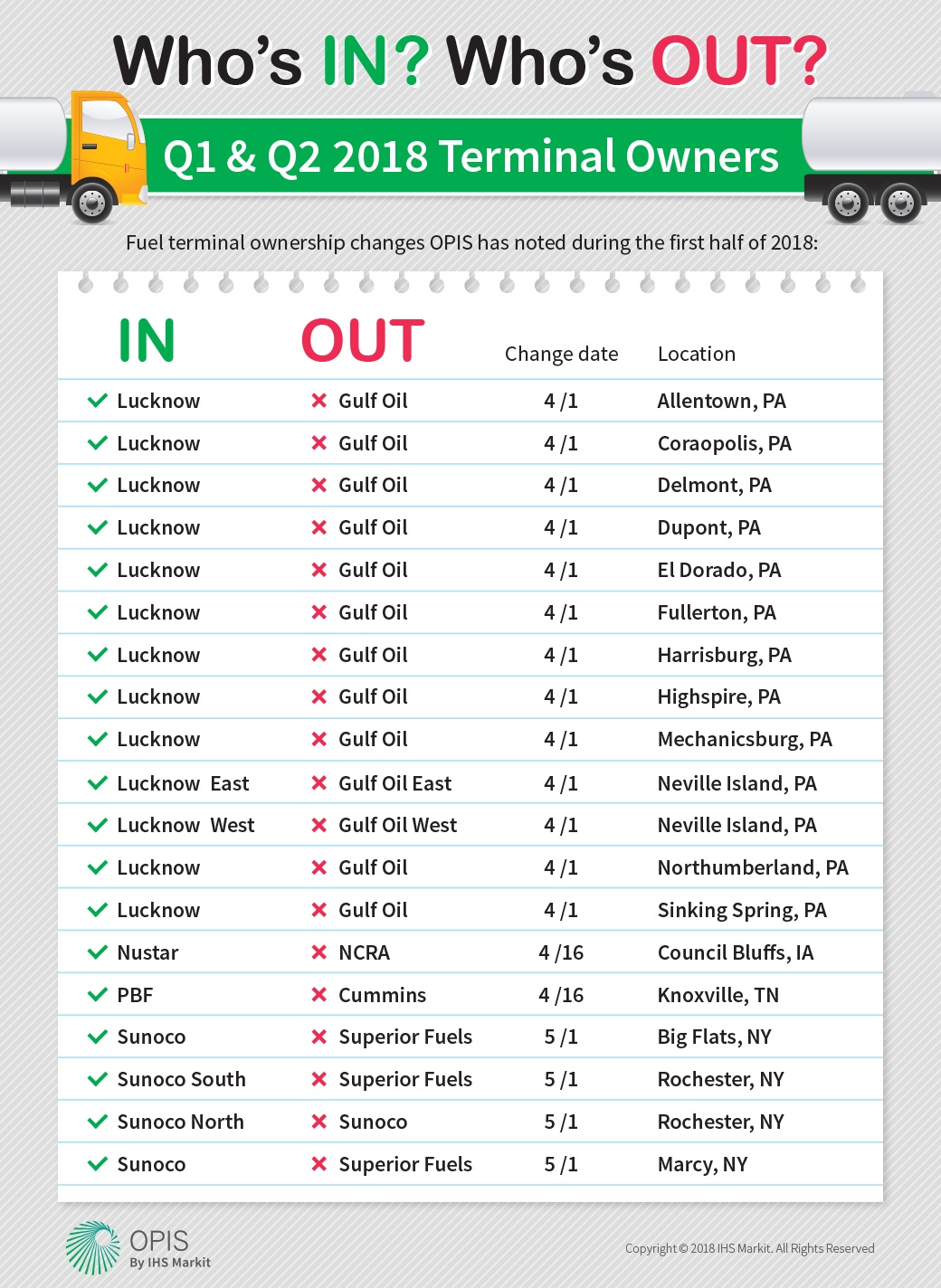 Caught off-guard by any of these changes? Not to worry! You can't be everywhere at once.

But, OPIS can be there for you…

Make sure that you stay in-the-know in the second half of 2018 (and beyond) with the OPIS Mobile News Alerts App.

Tags: Gas & Diesel, Rack Market