Ida's Impact Likely to Be Measured in Weeks
Hurricane Ida, which made landfall as a Category 4 hurricane on August 29th packing strong winds and heavy rain along with flooding.
Refiners along the U.S. Gulf Coast are certainly accustomed to dealing with major storms that impact operations and come away from those events with lessons learned. But there are always "hold your breath" moments for refiners during storms.
Without flooding and wind damage at a refinery, attention turns to utility services like electricity and other needs that may normally be overlooked, such as potable water. In the short term, refiners may have to wait 24 hours or more to even set foot in facilities in order to assess damage.
Based on the loss of electricity service and the need for what are likely to be extensive repairs throughout eastern Louisiana and into Mississippi, refinery downtime is likely to be measured in weeks instead of days. Initial estimates are at least two weeks before refineries may be able to begin unit restart operations, which would put completed restarts in mid-September at the earliest.
The Lake Charles and New Orleans area refineries (including the Baton Rouge region) account for about 17% of total U.S. refining capacity. Lake Charles was largely spared massive storm-related power outages this time compared to the one-two punch of Hurricanes Laura and Sally in 2020, resulting in roughly 5% of U.S. refining capacity (in Louisiana) continuing at or near normal rates.
The New Orleans-Baton Rouge area is home to nine refineries with total refining capacity of just under 2.4 million b/d, about 12.5% of the U.S. total.
Of those refineries, the Phillips 66 269,000-b/d Alliance refinery in Belle Chasse may have the toughest road ahead. Phillips 66 just last week announced that it would seek a buyer for the refinery. Refining observers believe that Phillips 66 may struggle to find a qualified buyer for the facility and any damage from Hurricane Ida may ultimately hasten the refinery's closure.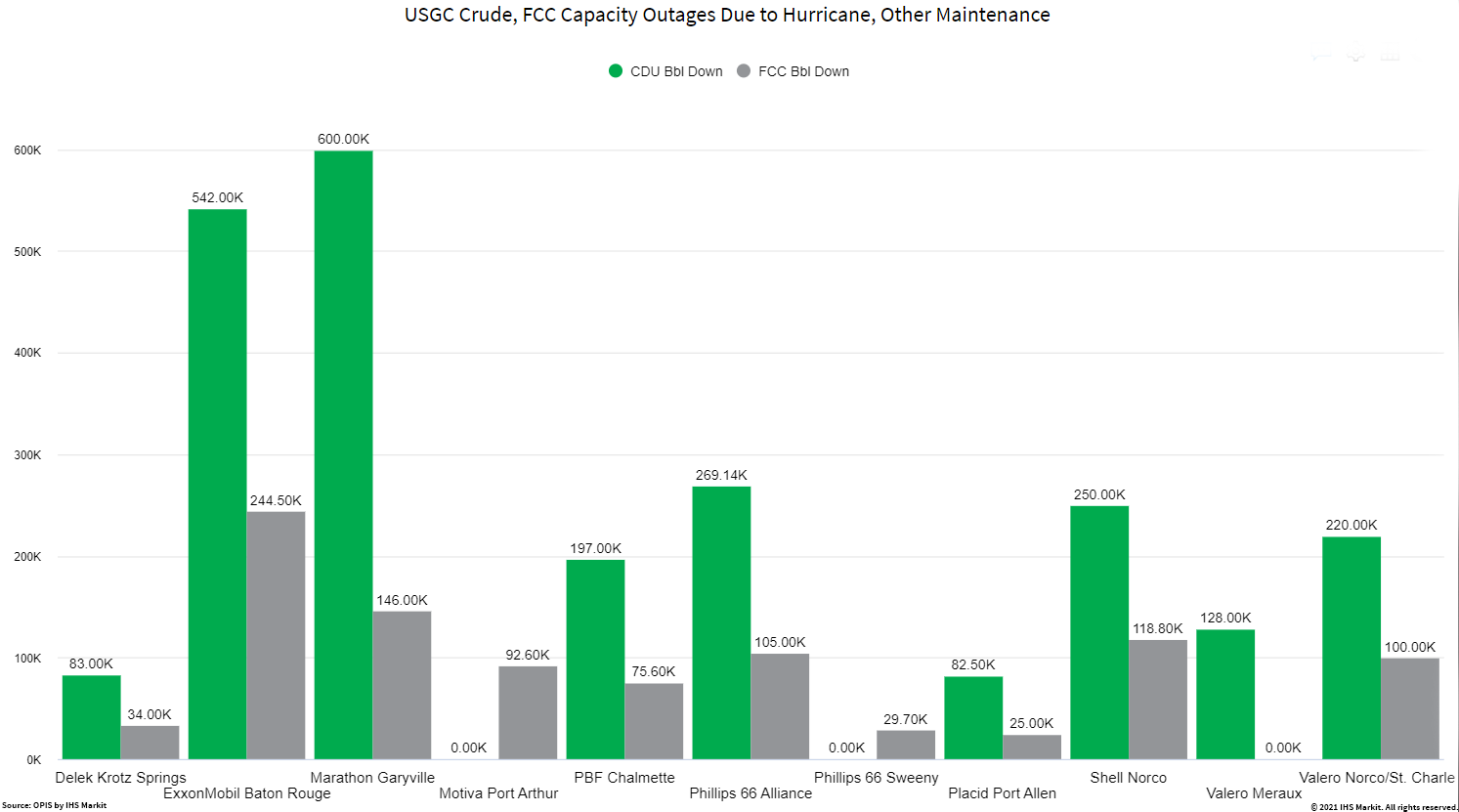 According to the company, water got into the refinery after flood waters breeched the local levee. Phillips 66 said it will conduct a full post-storm inspection when it is safe to do so. The Alliance refinery has faced challenges over the past year including shutdown ahead of Hurricane Sally and then more time down for maintenance until January of this year.
In addition, the mothballing of Shell's 260,000-b/d Convent refinery late last year means that more than a half-million barrels per day of refinery output may not return once power is restored and other refineries have begun their restart process.
Other refineries that were confirmed shut ahead of Hurricane Ida include the 250,000-b/d Shell Norco refinery, Valero's 220,000-b/d St. Charles plant in Norco and its 128,000-b/d Meraux refinery, and Marathon Petroleum's massive 608,000-b/d refinery in Garyville. Based on local reports, the Norco refineries did not experience flooding. Shell noted in an August 31 update that there was some building damage, but it didn't specify if there was any damage to the refinery.
Several more refineries that were in the high-risk zone had not offered operations updates by Sept. 1. Delek's 83,000-b/d facility at Krotz Springs and Placid Refining's 82,500-b/d refinery in Port Allen did not respond to requests for comment and PBF Energy said of its 197,000-b/d Chalmette refinery only that it lost power due to the hurricane on Aug. 29.
ExxonMobil said that its 542,000-b/d Baton Rouge refinery did not sustain any damage. Before Ida's landfall the facility was running with some units shut and operations "adjusted," leading to reports of the plant operating at half capacity. On Aug. 30 the company said it was shutting units "to stabilize operations and will experience flaring." The next day ExxonMobil said the facility was "safely progressing restart procedures."
All told, OPIS estimates that nearly 2.4 million b/d of refining capacity in the region was offline as of Sept. 1.
There was concern that Ida could have had an impact on the 375,200-b/d Chevron refinery in Pascagoula, Mississippi. The company's post-storm updates have mentioned only oil production, transportation and facilities – offshore and onshore – with no specific reference to the refinery. The storm potentially tracked enough to the west such that operations may not have been impacted.
A particularly long outage of the impacted refineries may materialize in gasoline — more so than what may have been expected. According to OPIS parent company, IHS Markit, the New Orleans area has the highest fluidized catalytic cracking (FCC) conversion ratio in the Gulf Coast (PADD 3) region and the Baton Rouge refineries have the second-highest FCC conversion capacity.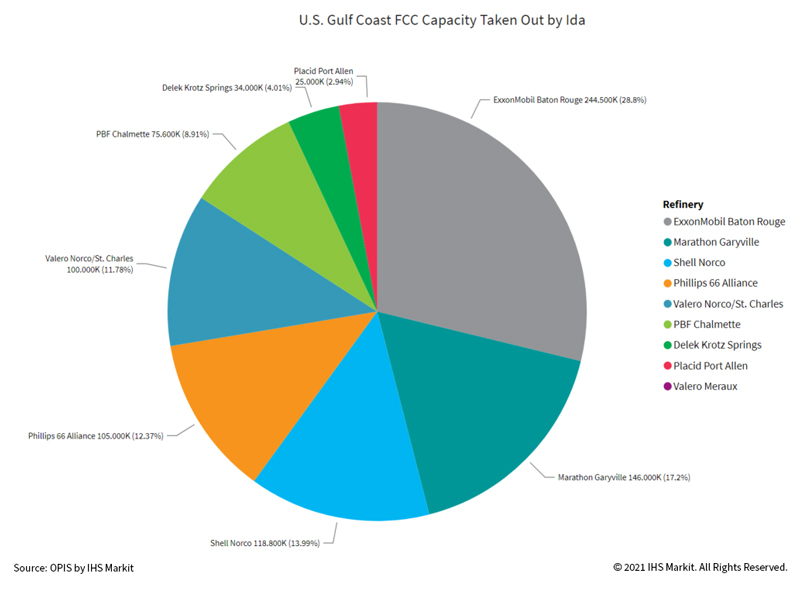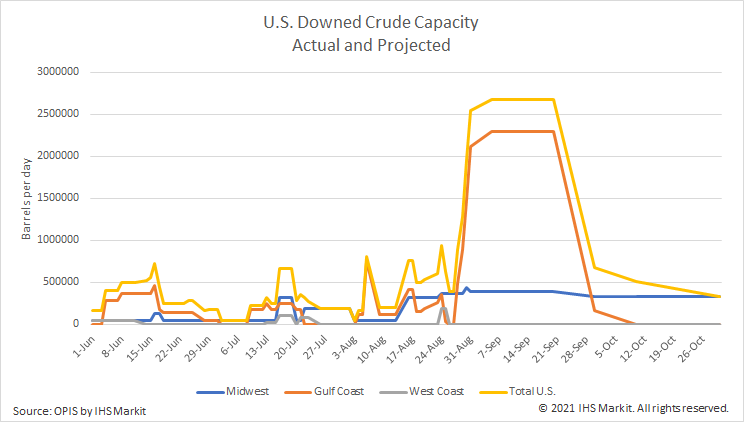 Logistics Ripple Effect
Colonial Pipeline shut lines 1 and 2 as a precaution on Aug. 29, but the pipeline operator was able to return to normal service by the morning of Aug. 31. The huge artery in the movement of refined products from the Gulf Coast into the Southeast and Mid-Atlantic was a key piece of infrastructure closely watched by the oil market.
Even with the relatively short amount of downtime for Colonial, the delays in deliveries might cause some suppliers to run out or have to adjust allocations.
Kinder Morgan's Products (SE) Pipeline, formerly known as the Plantation Pipeline, has major inputs in the Baton Rouge area and while the company said that damage was minimal, the pipeline is without power. However, the operations from Collins, Mississippi to Greensboro, North Carolina are still in operation.
A lack of power in Baton Rouge could ultimately impact the company's mainline operations in the coming days.
Typically storms like Ida would bring terminal closures as well. However, there have been very few terminals of note that have shut down and allocations of refined products by suppliers have been relatively light.
In addition to product pipelines and refined product terminals, crude oil pipelines also remain shut along with Gulf of Mexico platforms.
The Louisiana Offshore Oil Port (LOOP) as of Tuesday afternoon remained down. Additionally, damage in Port Fourchon is making it difficult for companies to inspect Gulf of Mexico platforms. For example, Chevron said that its Gulf of Mexico platforms remain shut in as well as the Fourchon and Empire terminals, along with their related pipeline systems.
Although Valero has not confirmed it, there was said to be dock damage at the company's Meraux refinery. Depending on the damage, it could hamper the ability to bring crude oil to the refinery as well as slow down product imports and exports. Sources note that a damaged dock would likely need about a month to repair.
One area of logistics that is starting to return to service is rail. Union Pacific said that most of its Louisiana route returned to service by late Tuesday. The railroad operator also said its St. James to New Orleans route is expected to return to service on Sept. 1. However, rail delivery delays and complications are still anticipated.
It May All Hinge on a Return of Electricity
Among the most critical aspects for refineries' return to service is the restoration of electricity.
Once conditions are safe, a mad scramble will ensue to restore electricity to customers. Assistance will come from other areas of the country to assist the help speed up the process. There is also an order of restoration, beginning with power for essential services and facilities critical to public health and safety, such as hospitals. The crews will also prioritize based on "bang for the buck" where they can restore service to the largest number of customers in the shortest period of time.
Power is then restored systemically through neighborhoods and businesses, with individual homes and small customer groups in the final stages. There are about 1 million customers without power right now.
According to a recent update on their outage map, utility company Entergy said it may take up to three days before personnel can get out and assess damage. Additionally, the company said that a storm of Ida's magnitude can keep power down for three weeks.
"Based on historical restoration times, customers in the direct path of a storm as intense as Hurricane Ida could experience outages for more than three weeks. While 90% of customers will be restored sooner, customers in the hardest-hit areas should plan for the possibility of experiencing extended power outages," the outage site said.
The company said that it was aggressively exploring the opportunity to deliver power into the New Orleans area using generators that do not need a transmission source to provide start-up power.
Entergy said that there are eight major transmission lines that deliver power into the New Orleans area and all eight of them have been knocked out. Repairs may also be tricky, because their electricity transmission lines span land, water and marsh special equipment will be necessary.
Get instant refinery status updates, planned refinery turnaround schedules and maintenance, plus information about unplanned maintenance and outages.

You'll know about planned turnarounds, unexpected problems and outages, units coming back online and any type of event that affects refinery operations and productions. OPIS collects all of this critical, but hard-to-find, information in this budget friendly report. Learn more about the OPIS Refinery Maintenance Report here.
Tags: Crude oil, Gas & Diesel, Spot Market