How Hurricanes Cause Oil, Gasoline and Diesel Price Changes
Oil price volatility is just a sliver of the massive repercussions that can stem from hurricanes.
It's important not to diminish the bigger picture. Simply put, hurricanes can result in catastrophic damage, not just to property but to lives in the communities they impact.
However, for the context of this blog space, we will look at hurricanes from the perspective of an oil and fuel market watcher. Storms of this magnitude can wildly rattle supply and demand when it comes to gasoline and diesel.
Our latest podcast takes you in-depth into the fuel price scenarios that can play out when a monster storm hits. Check it out right here:
When Is Hurricane Season and What Does the 2019 Season Look Like?
The hurricane season in the Atlantic Ocean takes up half of every year: from June 1 to Nov. 30. There is a peak period – August and through October – because warmer summer ocean temperatures drive more storm activity. Wind shear, which can prevent storms from forming, also decreases over the summer.
The 2019 season has been forecast as "normal." But what's normal?
Nine to 15 named storms
Including four to eight hurricanes
Of which two to four could be major, meaning Category 3, 4 or 5
Each hurricane is unique in its nature. The most recent storm, as of this writing, Dorian, had no impact on refineries or production in the Gulf of Mexico, but a couple East Coast terminals had to close down ahead of the storm.
However, there is some commonality as to how an oil refinery prepares for a storm and what happens after it's over.
Oil Refinery Activities Pre- and Post- Hurricane
Oil companies – like all commercial interests in the path of tropical weather events – closely track storms in order to act pre-emptively to protect their employees and facilities.
This involves protecting refineries so they can weather a storm. For example, a refinery might reduce or halt production for safe operation and allow employees to shelter at home or to evacuate.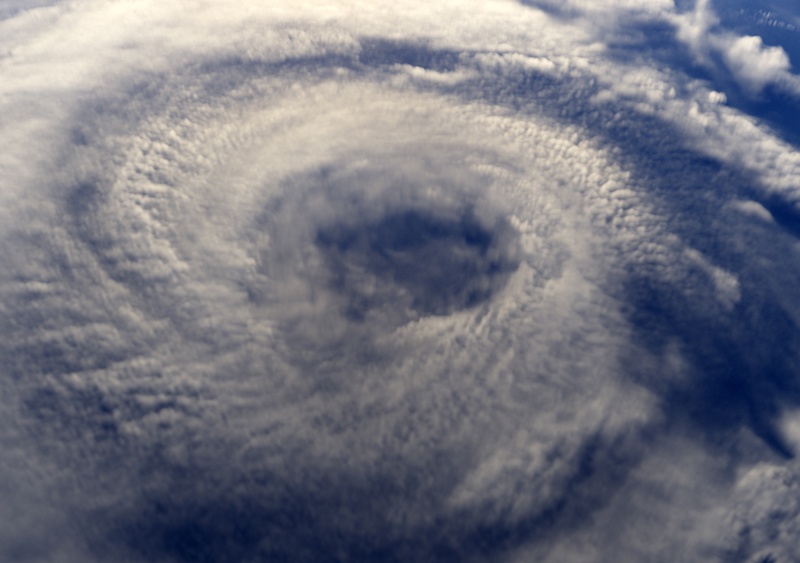 Once a storm is over, depending on local conditions, (such as workers' ability to get to their jobs) units taken down through controlled shutdown can be brought up very carefully over about a week to two weeks.
That was the scenario seen with 2019's first hurricane to make landfall – Barry. The only refinery to do a controlled shutdown was in Louisiana. It did so ahead of landfall when the impacted parish ordered mandatory evacuation. Five days later, having sustained no significant damage, the refinery began to restart.
But, keep in mind that restarts are painstaking because the chemical and thermal reactions involved in refining crude oil into fuel involve complex processes. Suffice to say, shutting and restarting refinery units does NOT come with the flip of a switch.
Take a look back at the characteristics of notable hurricanes and their impact on supply infrastructure in our latest podcast.
What Tends to Happen to Oil, Gasoline and Diesel Prices During a Hurricane?
In the aftermath of a hurricane, gasoline and diesel prices tend to spike.
For example, with hurricanes Katrina and Rita, we saw a sharp jump in spot prices in the Gulf Coast market, with the mean price for unleaded regular gasoline going from $2.30/gal on Aug. 29 – the day Katrina arrived in New Orleans, to $3/gal on Aug. 30. Prices recovered a bit following that spike, but when Rita came ashore, prices spiked once again.
Spikes weren't contained just to the Gulf Coast spot region. NYMEX futures contracts also jumped, and with that, prices across the United States all moved significantly higher, because futures pricing represents the "baseline" for spot trading across the country.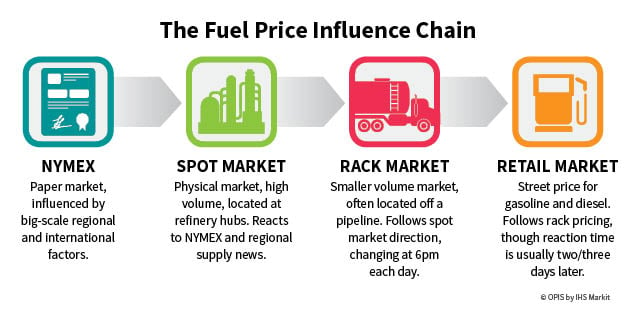 On Aug. 31 – shortly after Katrina came ashore – futures contracts for unleaded gasoline reached a high of $2.92/gal, in comparison with a high of $1.93/gal one week prior.
How Does Fuel Demand Behave During a Hurricane?
Emergency response from governments and service providers like utilities tend to increase demand for gasoline for vehicles and diesel for generators. Meanwhile, pre-storm evacuations can lift gasoline consumption.
However, because most of that demand comes from households and commercial enterprise, demand typically falls due to hurricanes' disruption of day-to-day life. It recovers – sometimes in a one-week surge – but the net effect is generally the temporary destruction of demand.
For example, in the case of Hurricane Sandy, one report that tracked sales at the pump after landfall showed net weekly decreases of 3.9% in New England, 3.6% in the Central Atlantic and 2.7% for the Lower Atlantic region.
When Fuel Supply Is Tight, Is There Any Relief?
We'll wrap up this "Hurricane-101" post with efforts to keep prices from becoming too burdensome.
With something of the magnitude of a hurricane, the government takes on a significant role in the recovery of the fuel supply chain.
Hurricane Harvey, for example, hit Houston in late August 2017 and had a significant impact on the refining sector, leading to a shortage of refined products.
Because of the difficulty of getting sufficient product, the Environmental Protection Agency allowed for a temporary emergency fuel waiver for reformulated gasoline requirements in certain areas, essentially relaxing the environmental regulations in certain areas to allow residents of those areas to access gasoline.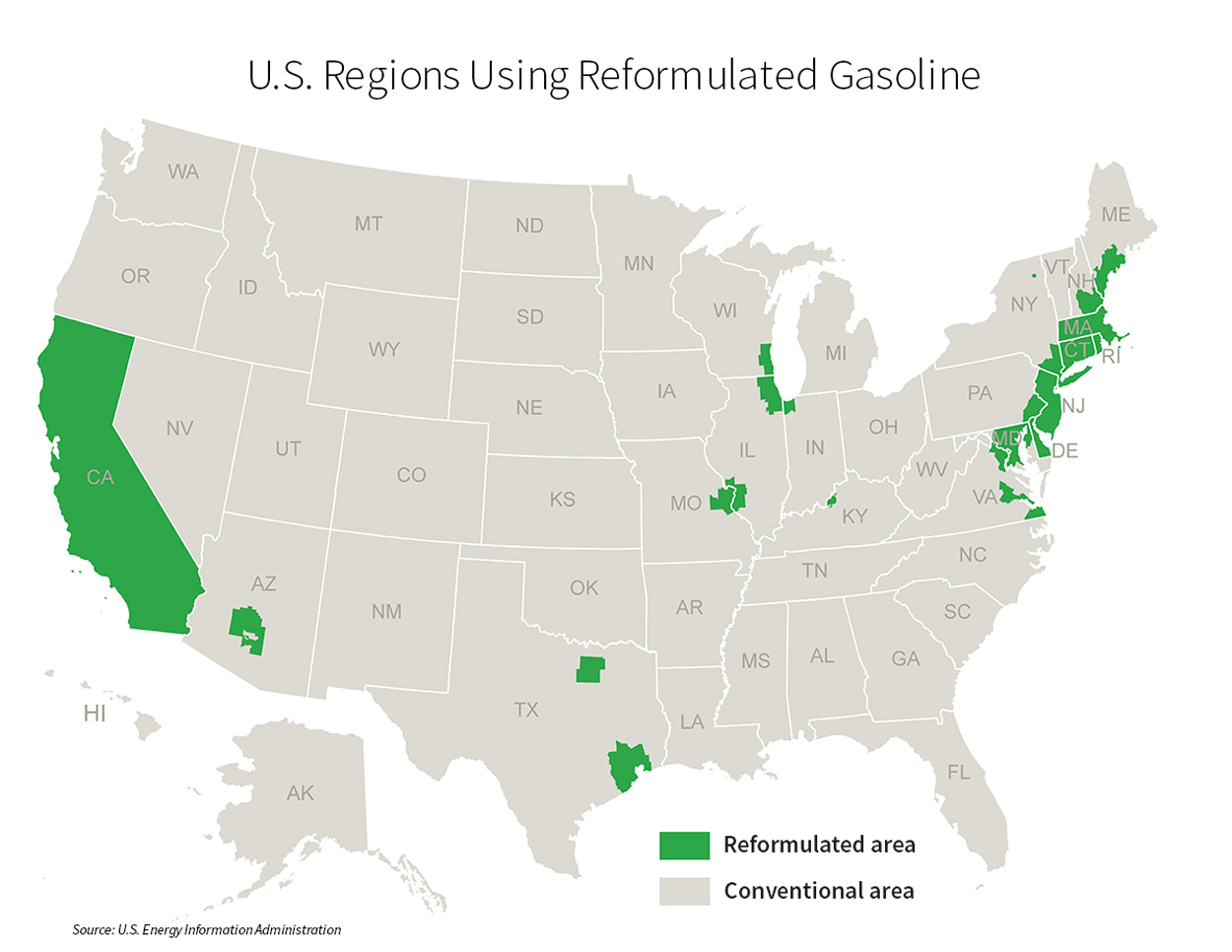 Find out more about efforts to calm supply hurricane-related outages in our latest podcast – plus learn about steps taken to curtail price gouging.

And to follow the 2019 hurricane season as it unfolds — and keep track of refinery operations all year long — check out OPIS' Refinery Maintenance Report.

Tags: Futures Market, Gas & Diesel, Spot Market