Six Idle EU Cement Plants Received $95 Million in Surplus Free EUAs
Six European Union-based plants operated by five cement industry giants — Holcim Group, CEMEX, Buzzi Unicem, Votorantim Cimentos and Cementos Portland Valderrivas — were issued a surplus of €88.2 million ($95.2 million) in free European Union emissions allowances (EUAs) from 2019 to 2022 despite the installations being idle or emitting tiny amounts of carbon in a calendar year, an OPIS review of EU data shows.
Some of the cement plants identified by OPIS emitted just hundreds of tons of carbon over a year but their operators were collectively handed over a million free permits that they could bank, use to cover the costs of emitting carbon at other installations, or sell to other parties on the secondary market for cash.
From 2019 to 2022, the cement plants collectively emitted 36,370 metric tons of emissions but were handed 2,317,061 free EUAs. One benchmark EUA contract is worth €81.08/mt, as of September 13, 2023.
In the case of a cement plant near Barcelona, Spain, operated by Cementos Portland Valderrivas SA — a subsidiary of Spanish construction company Fomento de Construcciones y Contratas (FCC) — the installation emitted just 122 mt of carbon dioxide in 2021 but received 193,433 free EUAs that same year, according to EU data.
Including the $95 million in surplus free allowances handed to the six cement plants, reports by OPIS over the last two months have identified surplus allowances worth $425.16 million that have been handed out for free to the operators of idle installations in the EU and the UK ranging from fertilizer plants and refinery operations to steelworks and chemical plants.
Under the EU Emissions Trading System (EU ETS), free allowances are issued by EU governments to installation operators that are subject to the cap-and-trade system and are designated as hard to decarbonize. The free allowance system was designed to prevent installations from being at a disadvantage to non-EU competitors that are not subject to carbon levies.
Free allowances are allocated on the basis of an installation's emissions and production in previous years and free allocation is removed the year following a plant's permanent closure. If a plant ceases operations on January 1 of a calendar year, it can still receive its allocation of free EUAs despite emitting little or no carbon for the rest of that year. In the case of some offline installations handed free EUAs, it is not clear whether their minimal carbon emissions in a calendar year were caused by the production of goods or by engaging in decommissioning activities.
Under the EU ETS, operators must surrender one EUA for every metric ton of carbon emitted to domestic emissions authorities at the end of the annual compliance period. If operators are left with a surplus of free allowances, they do not have to return those permits to the authorities but can either hold the allowances or sell them to other parties on the Intercontinental Exchange (ICE) secondary market.
Holding or selling free allowances can generate substantial revenues as the average price of EUAs has increased exponentially over the last decade from less than €5/mt in 2013 to an average of €81.16/mt in 2022.
FCC Plant Emitted 122 Tons of Carbon, Received $29.4 Million in Free EUAs
Cementos Portland Valderrivas SA, an FCC subsidiary, operates a cement installation in Sitges. According to EU data, the plant's emissions dropped from 431,953 mt in 2019 to 16,318 mt of carbon in 2020, representing a 96% reduction. In 2021, emissions fell to a negligible 122 mt and in 2022 the plant emitted 582 mt.
However, during those same three years, the plant received 670,493 EUAs in 2020, 193,433 allowances in 2021, and 6,619 EUAs in 2022. While the plant emitted 17,022 mt of carbon over those three years, the company received a combined total of 870,545 free carbon allowances over the same period, more than 51 times the plant's actual emissions.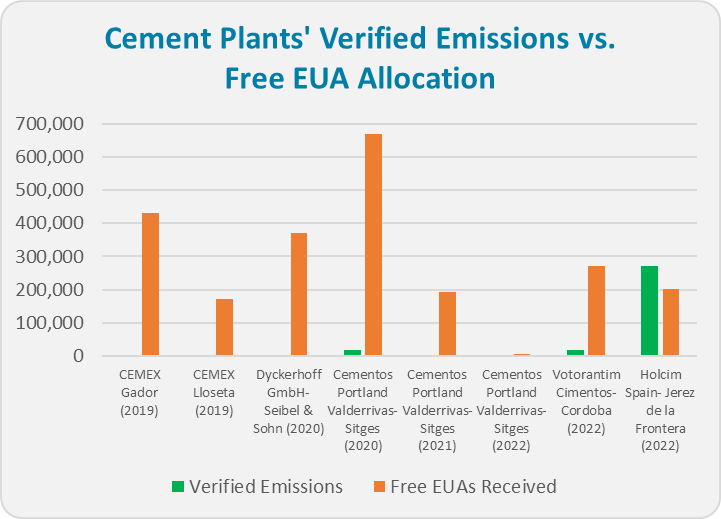 After surrendering allowances to the authorities to cover its verified emissions, the plant was left with a surplus of €27.04 million based on average benchmark carbon prices in each year (€16.21 million in 2020, €10.34 million in 2021, and €0.49 million in 2022).
According to an FCC 2022 annual report, the company sold allowances worth €7.8 million in 2021 but in 2022 the company did not sell any of the 2.685 million carbon allowances that were allocated that year to Cementos Portland Valderrivas SA and fellow subsidiary Cementos Alfa SA.
Local Spanish media outlets reported in December 2022 that FCC has plans to turn the industrial area around the cement plant into a "technological campus," a project that, while not definite, received backing from the mayor of Sitges that month.
FCC did not respond to requests for comment.
Votorantim Cimentos Plant Scored €20.72 Million in Surplus Free EUAs
Brazil-based Votorantim Cimentos' cement plant in Cordoba, southern Spain, emitted 369,433 mt of carbon dioxide in 2021, according to EU data. But in November 2021, Votorantim's subsidiary, Cementos Cosmos, announced that it planned to cease operations at the plant's kiln temporarily in 2022 and "significantly reduce" production of clinker, a mix of limestone and minerals used to make cement, citing high energy costs.
"While the clinker will no longer be produced at the Cordoba plant, cement production will continue, using clinker from other group plants, possibly from the Cementos Balboa plant in Badajoz, which was purchased earlier this year," International Cement Review reported on November 29, 2021.
In 2022, emissions at the site fell by 95% compared to 2021 levels, registering 16,746 mt of carbon, according to EU data. That same year, Votorantim was issued 271,986 free EU carbon allowances — more than 16 times the installation's actual emissions for that same year. Based on the average price of the Intercontinental Exchange (ICE) benchmark contract in 2022, the installation essentially received €20.72 million in surplus pollution permits for free.
A Votorantim representative declined to comment when contacted by phone.
Holcim Plant Emitted 1,087 mt of Carbon, Received $17.6 Million in EUAs
According to a January 2021 press release, LafargeHolcim Spain — now known as Holcim Spain — informed staff at its Jerez de la Frontera cement plant in the south of Spain that it was beginning a consultation process regarding changes to the plant's production structure and making it a "grinding-only facility."
The consultation was to be carried out with the possibility of a "collective dismissal" of personnel due to a fall in export revenues and a "reduction in the allocation of carbon dioxide emission rights in accordance with the new European regulations," the company said.
As a result, the plant's carbon emissions decreased by 99.73% between 2020 and
2022. In 2020, the plant emitted 398,446 mt of carbon dioxide; by 2021, its emissions decreased to 69,612 mt and to 1,087 mt in 2022. In 2022, the plant was issued 202,434 free EUAs, according to EU data. After accounting for its emissions that year, Holcim Spain received 201,347 surplus free EUAs worth €16.34 million, based on the average 2022 EUA price.
EU data shows the plant was scheduled to receive 29,894 free EUAs in 2023.
A Holcim Spain representative told OPIS that the plant's last clinker production took place in December 2022 and that the structural change in the company was necessary to optimize its industrial footprint in Spain due to a drop in exports and changes in EU ETS regulations.
"The plant maintains all its facilities and equipment available and [is] ready to operate, while it continues to be subject to the regulation of the EU [ETS] in the new phase IV (2021-2030)," the representative said. "Jerez plant currently continues to respond to the market needs in the region of Andalusia, serving our customers with the focus on developing green solutions to lead the decarbonization of the construction sector."
CEMEX Received $16 Million from Plants That Emitted 334 mt and 615 mt of Carbon
Mexican cement giant CEMEX operates several cement installations in Spain. In October 2018, CEMEX announced that incoming changes to the EU Emissions Trading System starting in 2020 were forcing the company to halt activities at its Gador and Lloseta installations to secure its presence in Europe.
"As part of this process, there will be an important reduction in the structure, like the ceasing of operations, at two out of the seven cement plants in the country," the company said. A November 2018 press release said the company had made its decision to halt production at the Gador and Lloseta plants due to a drastic fall in demand for cement, increasing operational costs and changes to the EU ETS.
According to EU data, the Gador installation's emissions fell 99.8% from 2018 to 2019, logging 303,335 mt and 615 mt, respectively. In 2018, the Gador installation was issued 439,297 free EUAs and 430,451 in 2019, nearly 700 times more than the carbon the plant emitted in 2019, leaving it with an extremely large surplus.
After accounting for its 2019 verified emissions, the company was left with 429,836 free EU carbon allowances, amounting to €10.71 million at the average 2019 EUA price.
Similarly, emissions at the Lloseta plant fell 99.8% between 2018 and 2019, from 185,456 mt to 334 mt. The Lloseta plant was issued 172,301 free EUAs in 2019, or nearly 516 times more free carbon allowances compared to its verified emissions.
After accounting for its verified emissions, the surplus of free EUAs received in 2019 amounted to €4.3 million based on the average price for EUAs that year.
The Gador and Lloseta plants remain active, emitting a combined 10,487 mt of carbon in 2021 and 2022, EU data show.
A CEMEX spokesperson told OPIS that the company has always advocated for a dynamic allocation model and has supported reform of the EU ETS where free allocation is gradually reduced to zero and replaced by the incoming Carbon Border Adjustment Mechanism (CBAM).
"The Gador and Lloseta plants reduced production and the allocation of the allowances was reduced, given how the dynamic system works," the spokesperson said. "It is relevant to point out that after a plant becomes inactive or reduces activity levels and allocation is stopped or reduced, either no allocation or a reduced allocation is received in the first year of start-up or [ramping up] of production due to the dynamic allocation process."
The Spanish Ministry of Environment, which administers the country's emissions system, did not respond to repeated requests for comment regarding these facilities.
German Plant Emitted 566 Tons of Carbon, Received 369,344 Free EUAs in 2020

Dyckerhoff GmbH, a German subsidiary of Italian concrete giant Buzzi Unicem, purchased  Portlandzementwerke Seibel & Söhne GmbH & Co. KG and its cement plant in Erwitte, Germany in March 2018. A month later, the German company announced its intention to discontinue clinker and cement production to "achieve necessary efficiency improvements", a Dyckerhoff representative told OPIS in August 2023.

By February 29, 2020, the company ceased operations at the plant, according to the Dyckerhoff representative, and the German Environment Agency confirmed that the plant's greenhouse gas emissions permit was withdrawn the same day.

The year that Dyckerhoff bought the Seibel & Sohne cement plant, it logged 337,898 mt of carbon emissions. Emissions fell to 279,757 in 2019 and in 2020 the plant only emitted 566 mt of carbon. Despite its inactivity that year, the company was issued 369,344 free EUAs in 2020, 652 times more than its carbon emissions. Based on the average 2020 EUA price, that amounts to €9.14 million in surplus allowances.

The Dyckerhoff representative told OPIS that the company had not sold any of the EUAs received from the Seibel & Sohne acquisition to a third party.

"The carbon dioxide amounts emitted relate to the 2020 production, while the allocated carbon dioxide rights in 2020 are associated to the previous years' production and emission levels in accordance to the legislative framework of the EU ETS spelled out in the ETS Directive 2003/87/EC," the Dyckerhoff representative told OPIS.

The German Environment Agency confirmed that it had issued the free EUAs to the company in 2020 and cited EU law, which mandates that a member state shall not issue EUAs to an installation "as of the year following the cessation of operations."

According to the Dyckerhoff representative, the company modernized and invested in environmentally-friendly technology at previously owned Seibel & Sohne plants, a transition that reached completion in 2020.

Dyckerhoff said that the company's net balance of free EUAs it received was negative from 2018 to 2020. "This gap has been narrowed from the better carbon dioxide profile of the absorbing Dyckerhoff plants in comparison to the closed Seibel & Sohne plant. This positive environmental effect results in lower carbon emissions by approximately 50,000 mt per year," the company's representative said.

Over the first weekend of September 2023, Buzzi Unicem's chief operating officer Dirk Beese reiterated that point, telling OPIS that the EU ETS's dynamic allocation system for assigning EUAs to installations meant that there was no "windfall profit" from the offline Seibel & Sohne plant because other "absorbing plants" owned by Dyckerhoff would boost their production and would not immediately receive a larger number of free EUAs.

The dynamic allocation system gives "producers an incentive to take environmentally inefficient capacities out," Beese said.

–Data Reporting by Maryam Naqvi
–Editing by Anthony Lane, alane@opisnet.com

Tags: Carbon