Is Europe Beyond Peak Diesel Demand?
Diesel and gasoil consumption in the European Union and the U.K. stayed flat in 2022 despite the end of most coronavirus-related mobility restrictions. This begs the question of whether demand will ever return to 2019 levels.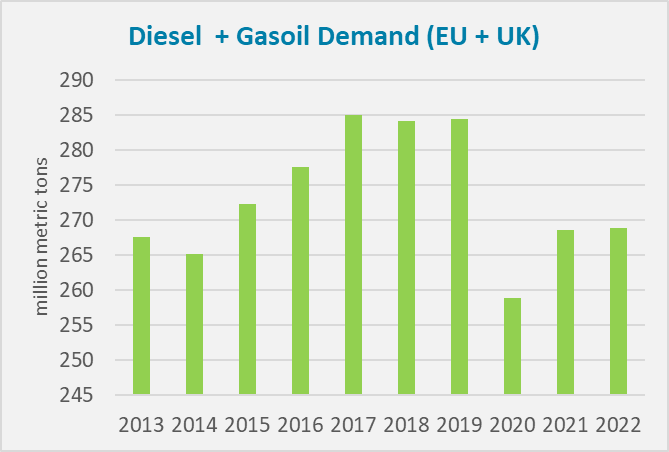 Eurostat recently reported that the E.U. consumed 242 million metric tons of diesel and gasoil in 2022, unchanged from 2021 and 5.2% below the pre-pandemic peak of 255 million mt in 2019. Despite the implementation of multiple governmental fuel subsidies across the continent to mitigate price spikes, demand dropped by 4.5 million mt in the second half of the year, offsetting an increase of 4.8 million mt in January-June.
The U.K. shows a similar trend, with diesel and gasoil demand flat at 26.8 million mt in 2022, compared with a peak of 30.3 million mt in 2017.
Europeans are Buying Fewer Diesel Cars
Sales of new diesel-powered cars across the E.U., U.K., Iceland, Norway and Switzerland fell to a low of 1.6 million units in 2022, compared with 6.8 million in 2017. Only 16% of new cars registered last year were powered by diesel engines, according to the European Automobile Manufacturers' Association ACEA.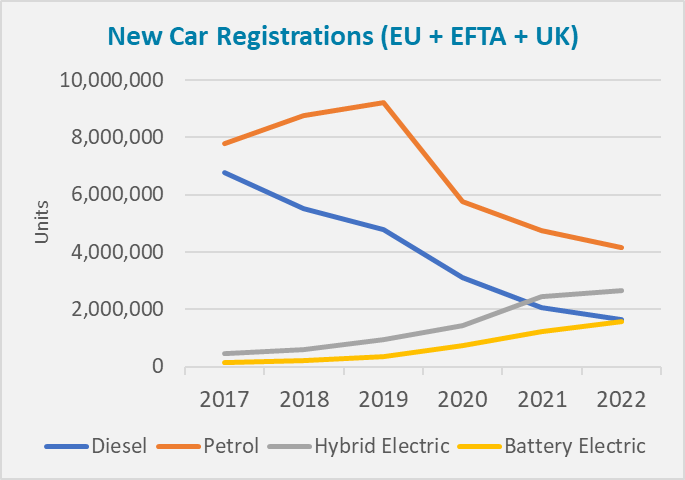 Alain Mathuren, communications director at FuelsEurope, explained that the Dieselgate emissions scandal in 2015 — when the U.S. alleged certain vehicles manufactured by Germany's Volkswagen were "designed to cheat on federal emissions tests" — damaged the reputation of diesel cars and prompted governments to toughen regulations and increase taxes on this type of fuel.
"There was a political push for people to buy diesel [cars]," said Mathuren. "But, since Dieselgate, people turned their backs on diesel and looked at other options — either gasoline, gasoline-powered hybrids, or electric."
Diesel Remains Popular in Heavy Duty Vehicle Sector  

Diesel hasn't lost its strength in the heavy duty vehicle sector. Diesel-powered trucks still accounted for 97% of new registrations last year, as large-scale electrification of these vehicles is further away.

But the heavy duty vehicle sector is intrinsically linked to economic growth, and the European economy slowed significantly in the second half of 2022. The German truck mileage index, a key indicator of economic growth and diesel consumption, weakened last year, averaging 115.5, down from 116.0 in 2021.

Higher diesel and petrol prices, combined with the fact that more people are now able to work from home, could also explain sluggish fuel demand.

And things aren't looking much prettier for diesel this year, with the European Central Bank expecting GDP growth to be only "marginally positive" in the first quarter. Diesel demand figures for the first months of 2023 show drops across all four major E.U. markets — Germany, France, Italy and Spain.

"I believe that, if diesel plateaued in 2022, demand may have found its ceiling," Mathuren said.

–Reporting by Jaime Llinares Taboada, jllinares@opisnet.com; Editing by Rob Sheridan, rsheridan@opisnet.com

Each day, OPIS editors canvass the market for hard-to-track delivered premiums into ports across Europe. They also draw on exclusive shipping data for supply insight that covers import volumes into Europe, identifying key dynamics behind price changes. This insight and price transparency for the European spot middle distillates market is delivered daily in the OPIS Europe Jet, Diesel & Gasoil Report. 

Tags: Gas & Diesel