Mexico Price Analysis: Monterrey's Proposed Lower RVP Fuel Specification
The government of the Mexican state of Nuevo Leon has proposed a change in the gasoline grade for the Monterrey metropolitan region in an effort to address high pollution levels.
The proposal suggests implementing a lower RVP grade fuel, which would help reduce emissions and improve air quality. But this change could pose significant logistical challenges and result in higher fuel prices for motorists.
Monterrey is Mexico's second-largest metropolitan area with more than 5 million people across a number of municipalities, and it is an area that rivals Mexico City in air pollution emissions according to data-provider Statista.
RVP is a measure of gasoline volatility, indicating how easily it evaporates under different weather conditions. Higher RVP levels are more volatile and evaporate more easily, contributing to smog. Maximum RVP levels allowed in Mexico vary depending on the region and time of year.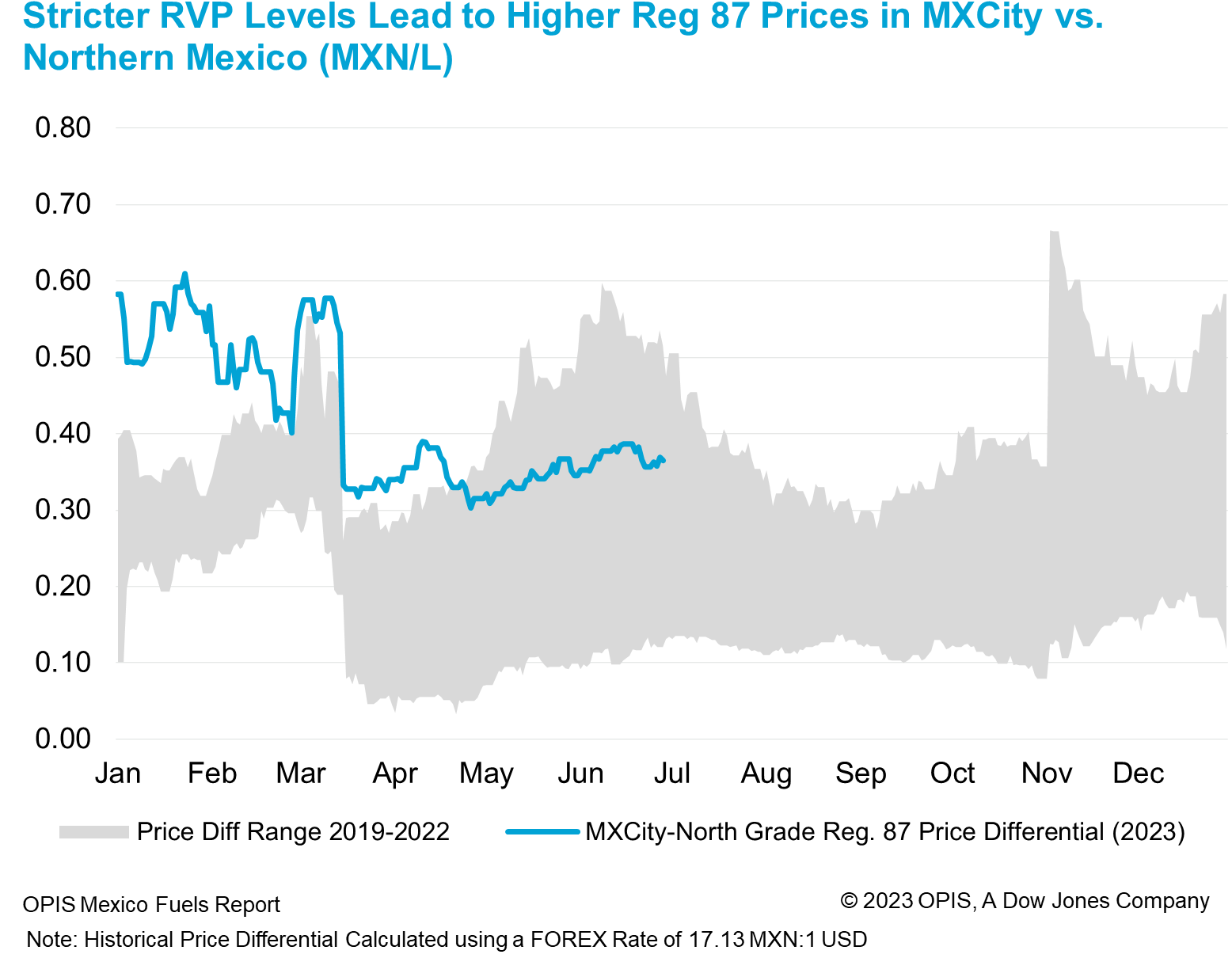 The environmental ministry of Nuevo Leon proposed in March 2022 that the metro area adopt from March 1 through Oct. 31 a 7.8 psi RVP fuel specification, known as the metropolitan gasoline grade, which is already in place in Mexico City and Guadalajara.
The difference between Mexico's metropolitan and rest of country (ROC) fuel specifications can vary greatly and lead to wide differentials late in a year and early in the new year.
OPIS explored the potential implications of shifting to a lower RVP level in Monterrey.
Logistical and Cost Challenges
Implementing the proposed 7.8 psi RVP specification would pose major logistical challenges for fuel suppliers in Monterrey, OPIS learned from sources. Suppliers would need additional storage tanks to accommodate both gasoline grades — one for the new Monterrey metro grade and the other for the rest of northern Mexico.
Doubling the storage capacity would be necessary to meet the demand for both gasoline grades in the region. However, this move could prove to be financially burdensome and logistically complex for private suppliers and Pemex.
Potential Price Increase
One of the main impacts of the proposed RVP change is the increase in fuel prices for consumers. According to an analysis of spot prices for 2022 USGC-sourced gasoline landed in East Coast Mexico, if the proposed change is implemented, consumers in the Monterrey metro area could experience an average increase of 0.46 pesos/liter (0.02 USD cts/liter) during the March through October period.
Impact on Pemex and Local Production
Market analysts doubted that the government would implement the changes due to the potential market loss it would represent for Pemex and the additional investments it would require. The move would make it harder for Pemex to find a market for gasoline produced at its 285,000 b/d Cadereyta refinery outside Monterrey, which does not now produce Metropolitan grade gasoline.
Furthermore, the government is unlikely to support this change because it would involve Pemex importing fuel to supply the Monterrey metro area, contradicting President Andres Manuel Lopez Obrador's policy of promoting local production, sources said.  Another viable option would involve private importers meeting the demand for the region. But that approach also would be at odds with Lopez Obrador's administration policy of prioritizing Pemex's position in the market.
Ensuring Compliance and Environmental Benefits
Implementing a change in fuel specification alone will not guarantee improved air quality. It would also require rigorous enforcement and monitoring of retailers to ensure compliance with the new RVP standards.  Stricter regulations and compliance from all parties involved, including government and suppliers, would be necessary to achieve genuine environmental benefits.
–Reporting by Karla Omaña, komana@opinset.com; Editing by Daniel Rodriguez, drodriguez@opisnet.com, Jeff Barber, jbarber@opisnet.com
---
Get a clear picture of the Mexico fuel markets with OPIS
Stay on top of the latest news and prices in the Mexico fuel market with the OPIS Mexico Fuels Report.
Activate your free trial to receive updates like this in your inbox.

Tags: Mexico