Intro to Fuel Pricing: OPIS Crash Course Podcast
The world runs on fuel. From upstream resources, like crude oil and natural gas, to refined products, like gasoline or diesel, fuel pricing is vitally important to a thriving business sector and countless things in between.
At OPIS, we make it our goal to help professionals in the worldwide energy market buy and sell with confidence and we see fuel price education as the first step to achieving that aim.
Announcing a New Way to Learn About Fuel Prices
We are excited to announce the launch of a brand-new educational podcast series, OPIS Crash Course.
You can find the OPIS Crash Course podcast free on:
Each episode will answer a key question in the fuel market related to the commodities we cover. Our goal is to bring you and anyone on your team up to speed on the dynamic fuel price marketplace, drawing on 40+ years of OPIS expertise.
We will feature OPIS veterans – staff members that have been with us from the beginning – as well as outside experts in the field.
In our pilot episode of OPIS Crash Course, we met with Scott Berhang, the VP of Global Sales for OPIS. Scott has been a part of the OPIS team since 1981. In fact, he was OPIS' third employee! Scott kicks off our podcast with a foundation of what OPIS does and how we do it.
What You'll Hear in the Pilot
Oil Price Information Service (OPIS) was started in 1977, when we released our first newsletter. In the years since then, OPIS has helped millions of subscribers get the best prices for fuel and increase their profits.
How do we do that?
OPIS provides pricing information at the spot, rack and retail market level for fuel commodities like gasoline, diesel, jet fuel, LPG/NGL, refinery feedstocks, renewable fuels, RINs/carbon credits, crude oil and natural gas.
In addition, we provide news and analysis of the market to help a wide variety of customers – spanning classes of trade from oil refiners to gas station owners – buy and sell fuel better.
Today's global headlines have a huge impact on fuel prices. We make it our business to figure out what is causing market volatility and explain in simple terms how price fluctuations affect you.
Scott can tell you more about this when you connect to the podcast, but in the meantime, here's OPIS at-a-glance.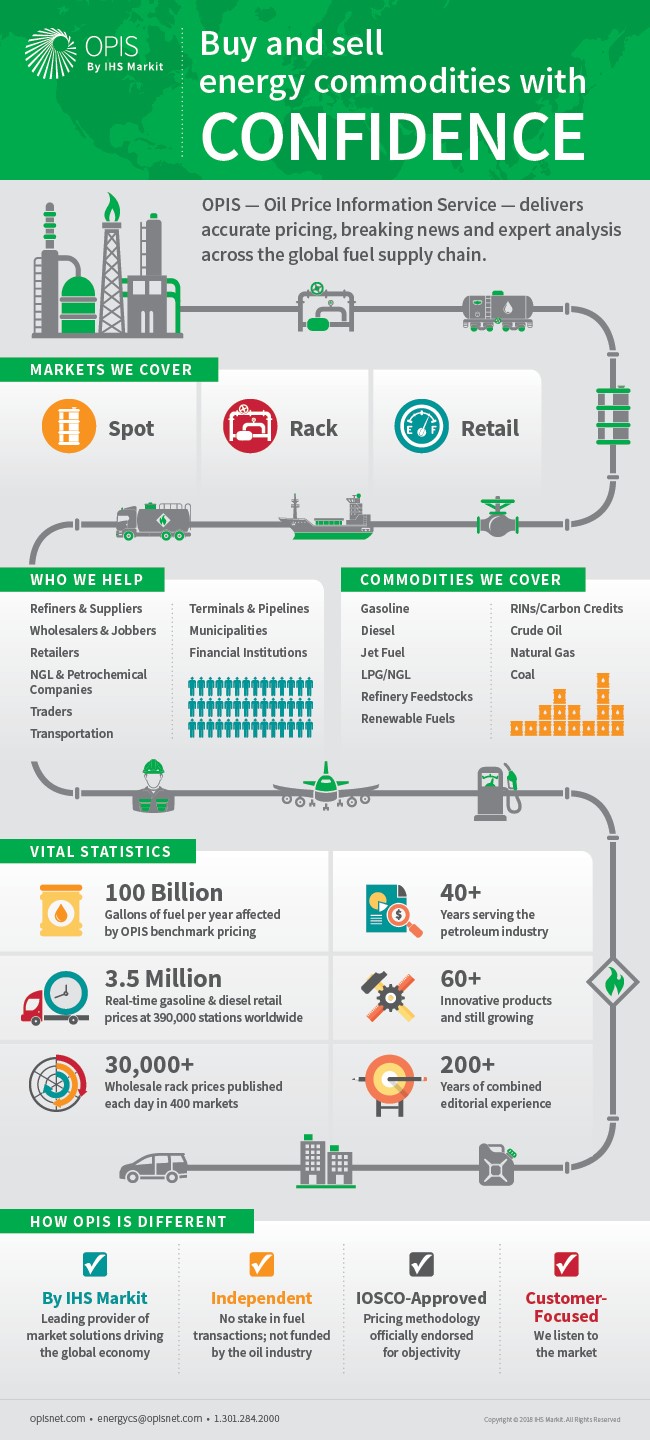 Learn more about OPIS in our pilot podcast episode. Visit our podcast page to subscribe for free today. We'll connect you to this episode and provide instant notifications of new ones!

Tags: Rack Market, Retail Market, Spot Market