Polyethylene Exports & the U.S. & China Trade War
The U.S. polyethylene (PE) industry has spent massive resources during the past decade to capitalize on abundant, low-cost raw materials that emerged from the shale oil and gas revolution.
The hope was that the products produced would find a home in places like China, the fastest-growing PE market. But barriers emerging due to the U.S./China trade war may be thwarting plans.
Imagine this seasonal scenario: It's September and your favorite football team is riding atop the pre-season rankings. Then, in the first game, the team's speedy star wide receiver stumbles to the ground, grimacing in pain and clutching at his hamstring. On the sidelines, the coach wonders how he can win without his go-to touchdown machine.
This is the predicament of the U.S. PE industry in 2019. In the midst of a wave of massive capacity expansion, one of its largest, fastest-growing export markets is at risk of being sidelined.
Remember, polyethylene is an important raw material used to make manufactured goods common in our day-to-day lives, like trash bags, milk bottles and the air pillows that cradle your latest online purchase.
U.S. Polyethylene Saw Massive Expansion the Last Five Years
Almost all PE is sold in the form of small pellets, which are produced at petrochemical factories and then shipped by truck or rail to plastics processors scattered across the country. Those processors melt the PE pellets down and reshape them into useful products.
The rail cars that the industry uses to transport and store pellets each contain roughly 200,000 pounds of resin.
In 2015, before the capacity boom, U.S. and Canadian companies produced 40.5 billion pounds of PE, according to data gathered by the American Chemistry Council. That means enough PE pellets were produced every hour to fill 23 rail cars.
In 2019, the first wave of new plants are running full throttle, and more capacity additions are on the way. The PE industry is on pace to produce 49.7 billion pounds of PE, enough to fill about 28 of those hopper cars every hour.
There has also been a shift in the domestic/export sales mix of U.S. and Canadian producers.
In 2015, 26 out of every 100 pounds of resin was sold to a customer outside North America. In 2019, export sales claim 36 pounds out of every 100.
Domestic plastic processors have not grown as quickly as the PE industry, so PE exports have become a more significant factor in balancing the market.
China's Importance as a Polyethylene Consumer
In normal circumstances, the China market is an ideal customer for U.S. PE exports. It is a uniquely large market with big buyers that can make 10,000 metric tons of excess inventory "disappear" with the issuance of a single purchase order. Because of the large volume of goods shipped from China to the United States, the reverse route, or "backhaul" freight cost, is inexpensive. And payment backed by letters of credit is a worry-free matter compared with that of other emerging markets.
However, anyone with a Twitter account knows these are not normal times for the U.S./China trade relationship, and most types of PE produced in the U.S. have been subject to an additional 25% tariff (on top of the 6.5% baseline tariff) since 2018.
That has made it difficult, but not impossible for U.S. PE producers to do business with China. A dive into the trade data gives us some sense of how the industry is responding to these challenges.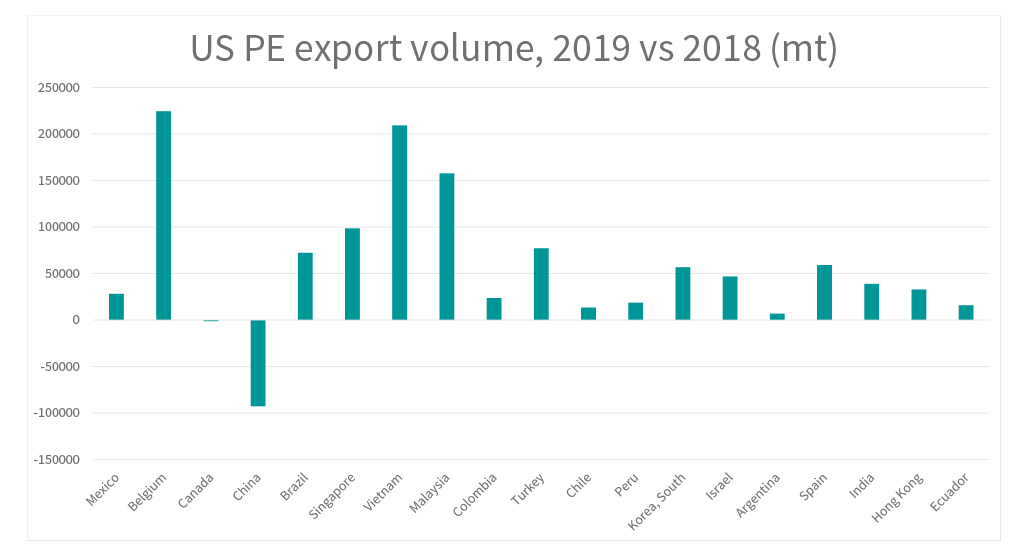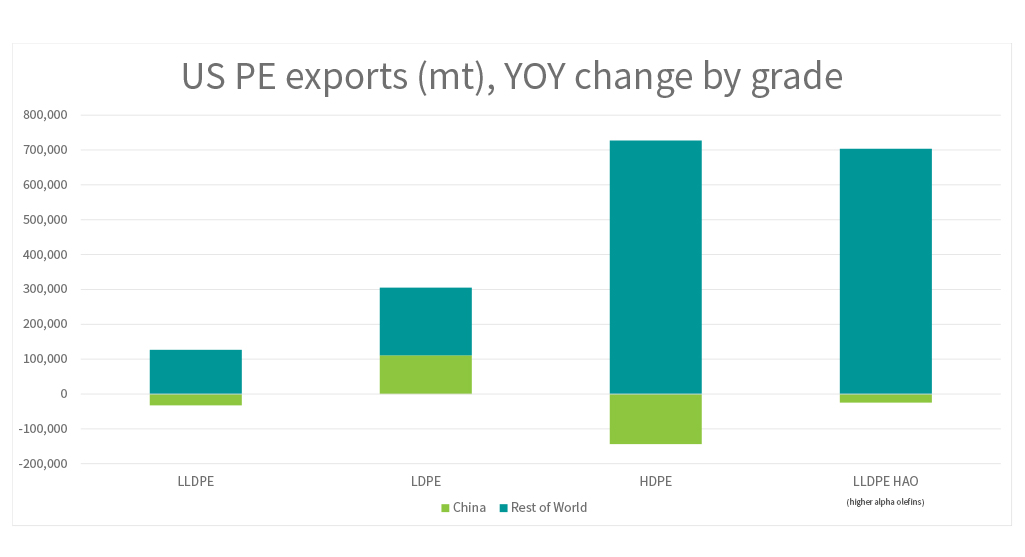 As recorded by the U.S. Commerce Department, overall U.S. PE exports to China through the first seven months of 2019 were at 381,680 mt, down 92,724 mt (-20%) from the same period in 2018. So, the Chinese market has not completely disappeared for a number of reasons – we'll discuss them shortly.
Polyethylene Market Reaction Amid the Trade War
China has become a smaller market at a time when overall U.S. PE exports (including Canada and Mexico) are up 1.66 million mt (+48%) at 5.11 million mt in year-to-date 2019. In response, the U.S. PE industry has had to expand its export channels even faster to other countries, particularly Belgium (the gateway to the broader European Union market), Vietnam and Malaysia. These three countries have absorbed over a third of the additional U.S. PE exports in 2019. The competition for orders has been intense, a "bloody price war," in the words of one U.S. trader.
You can see this dynamic in the steady erosion of PE spot prices assessed by OPIS PetroChem Wire. For the past 12 months, the benchmark rail car FOB Houston price for High Density Polyethylene Blow Molding grade (HDPE BM) has seen an average decrease in all but two months. Even those two months, March and April 2019, saw only slight upticks. Traders are still unsure where and when the downward slide will end.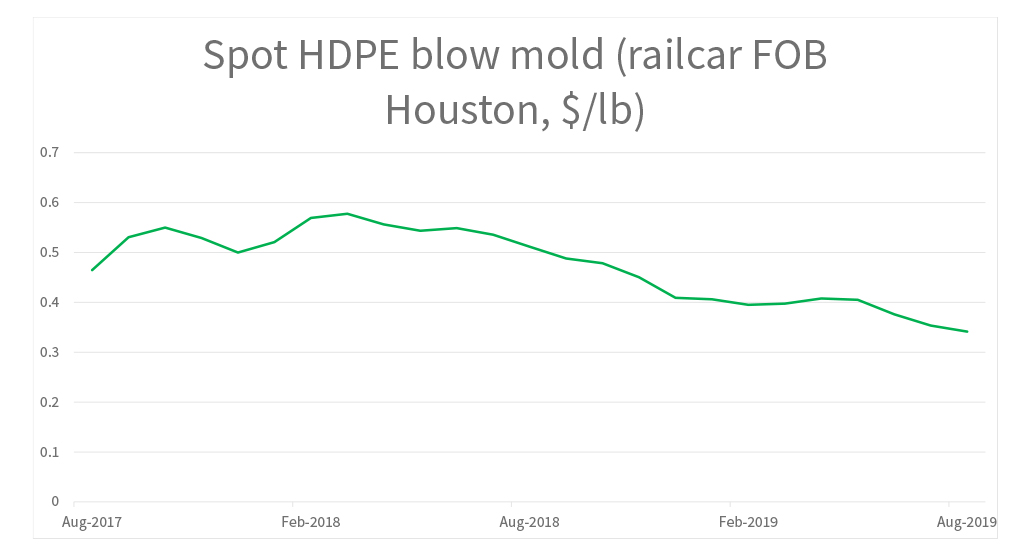 China Is Not Out of the Polyethylene Game
PE exports to China may be down because of the trade war, but, as mentioned earlier, they are not completely out of the game.
One reason is that China has yet to slap tariffs on low-density PE, or LDPE, a type of PE commonly used in plastic films and bags. Going back to the 2018/2019 trade data comparison, LDPE exports to China in 2019 are up 187%, at 170,727 mt, while other types of PE (HDPE and linear low density polyethylene, or LLDPE) are down 49%, at 210,953 mt.
This is good news if you are Dow Chemical, which opened a new LDPE plant in Plaquemine, Louisiana, in early 2019, but little comfort for the other suppliers that built plants focused on other types of PE.
And the smooth sailing for LDPE may soon come to an end. The Chinese government has announced additional 25% tariffs for LDPE, starting mid-December, in response to recent announcements of tariff escalations by the United States. Sasol and Formosa, which both have new LDPE plants starting up along the U.S. Gulf Coast in fourth-quarter 2019, are surely hoping for positive developments in trade negotiations before that December deadline.
Another loophole for U.S. PE exporters is the so-called re-export market, which consists of plastic processors in eastern China that convert the imported PE pellets into finished goods to be sold outside China.
PE resin sold to these processors can gain a waiver from the import tariffs. However, this tariff-immune segment of the Chinese market is relatively small and highly competitive for PE sellers.
Finally, some of the ongoing PE exports to China may be due to U.S. PE suppliers taking a grin-and-bear-it approach to the trade war, absorbing the costs of the additional tariffs in the short term in hopes that trade relations will improve. If U.S. suppliers abandon their Chinese customers completely, Mideast suppliers, particularly Saudi Arabia, have already shown that they are ready to pick up the slack.
Demand Growth Presents a Bigger Problem for Polyethylene
U.S. PE exporters can adjust trade flows and find alternate consumers to mitigate the impacts of the U.S./China trade war, but the greatest risk to PE margins is something beyond the control of petrochemical executives: slowing demand growth.

Industry analysts have long held that global PE demand growth will fall between 1 and 1.5 times global GDP growth. This is the fundamental reason for petrochemical producers to continue pumping billions of dollars into new PE capacity around the globe. However, at least in the short term, the trade war had put a dent in that forecast (sustainability concerns are also growing, but that's a topic for another day).

Questioned about PE global demand growth in an August earnings call, Westlake Chemical CEO Albert Chao had this to say: "I think with all the tariffs barriers and trade issues, [global PE demand growth] will be probably less than the global GDP rate. But we're only halfway through the year. We don't know what the rest of the year is going to do."

It was an acknowledgement of the uncertainty in these times, and the drag that uncertainty is creating for global trade and economic growth.

OPIS PetroChem Wire Daily provides prices that reflect how the polyethylene markets really trades. Learn more about this report and try it free.

Tags: Petrochemicals, Spot Market