The PVC Ride Slows Down as Pipe Inventories Build
Despite the desire to put the chaos and trauma caused by the Coronavirus pandemic of the past 3+ years behind us, its effect on worldwide chemical and plastics markets must continue to string that period into our memories as we analyze the state of the markets and what created today's conditions.
For PVC, the pipe market has been the scene to watch, and what happened there is a sustained demand surge that eventually changed the market's behavior and led it to the high inventory zone where it is today.
A typical year in the US plastic pipe markets is marked by the seasons: 1Q is a time of inventory restocking to prepare for the construction season and competing with buyers in Asia for the raw plastic resin as they do the same.
After 1Q, the months continue to hum along with strong demand pulling in product to replace what flies out the door. In a normal year, the big surge in demand comes in the spring, starting in March in the South and in April up North. By 3Q, distributors and contractors are just replacing what's been used and keeping up with demand. There is usually a demand surge in October as contractors look to buy the material they need to complete projects before winter weather sets in — snow and freezing ground up North and rain in the South.
With inventory being run down while sales start slowing in mid-November, it's not uncommon for pipe plants in the US to slow down or for scheduled maintenance during the Thanksgiving and Christmas holidays.
In 2019, the shock of sudden lockdowns as we wrapped our minds around living through a pandemic sent an unsurprising panic through the markets. Plants shut while they installed contact tracing protocols and upgraded cleaning processes. At the time, the effect of this was barely felt because consumer demand for the foreseeable future ground to a halt.
PVC prices for export were outpacing domestic prices by the end of 2020, a new phenomenon to this market.
But as the world embraced new ways of living — and often, new places to live — a boom in new home construction and home renovation projects proliferated, lifting pipe demand to dizzying highs. Orders quickly backlogged — and a seller's market was off and running. This demand was not limited to the US, and PVC prices for export were outpacing domestic prices by the end of 2020, a new phenomenon to this market.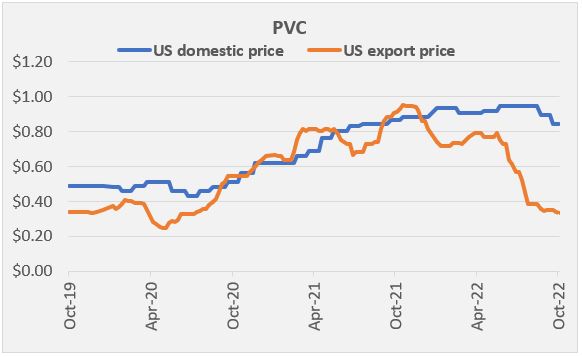 While prices in the domestic market have kept much of their strength, prices have started to turn around — and the export market has crumbled in the meantime. In the PCW PVC & Pipe Report, Senior Editor Donna Todd noted in September that "Traders were still struggling with low demand in target markets, as well as logistical problems in getting PVC out of the US. They said right now US prices work to Europe, but the problem is getting space on a ship."
Conduit and plumbing pipe prices have been steadily falling since mid-2022, and this has begun to back up into PVC prices.
Meanwhile, the frenzy in the US to get a hold of PVC pipe has abated as a concerted effort to build inventories has paid off for buyers and they are no longer clamoring for shipments. And on a macroeconomic level, construction projects are slowing down on the 2023 calendar amid rising interest rates and speculation that the US economy could enter a recession.
Conduit and plumbing pipe prices have been steadily falling since mid-2022, and this has begun to back up into PVC prices. PVC domestic prices are settled retroactively, meaning that inventory already on the books can register a high price after the fact. The market is currently waiting for September pricing to settle. Todd noted in the September 23 PCW PVC & Pipe Report that "[PVC pipe producers'] hopes were dashed this week when Aug PVC net transaction prices settled down the forecast 5 cpp to 77.5-79.5 cpp for pipe grade and 81.5-84.5 cpp for general purpose (GP) grade. This was the second 5 cpp price decrease in a row and a third 5 cpp decline is predicted for Sep contract prices, which would bring domestic contract PVC prices down by 15 cpp in only three months. A price drop of this magnitude in such a short period of time is unprecedented in the PVC market."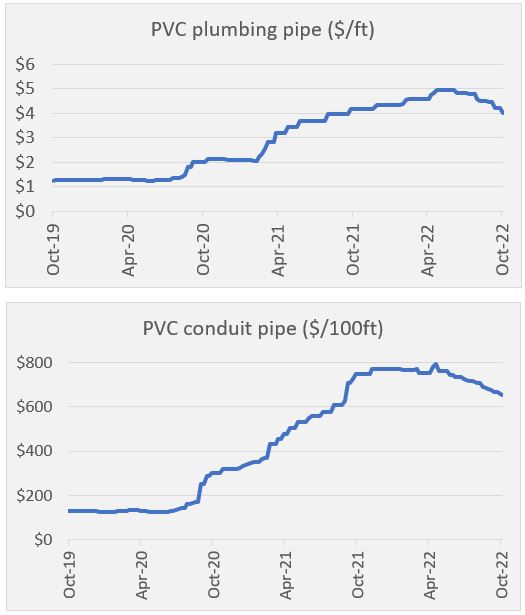 And so, after a most unusual three years, the PVC market may be returning to its normal cyclical pattern. Current pricing in the domestic market for both pipe and PVC itself are still far higher than they were pre-pandemic, however, giving a lot of room for a downturn. The current expectation is not if prices will fall in the supply chain, but how fast and by how much. "The market was still absorbing the prediction of large, sustained price decreases in the coming months and how such an unprecedented decline in PVC prices would affect their business," Todd noted recently.

To stay on top of this key market, make sure you've got the PetroChem Wire PVC & Pipe Report coming to your inbox every week!

Tags: Petrochemicals, Plastics