A Wrinkle in Time? How Record RVO Numbers May Drastically Alter 1Q Refinery Bottom Lines
Be on the lookout for some befuddled refining analysts and disappointed investors as public refiners disclose their first quarter earnings in the next 30 days.
Traditional futures screens and even custom formats that measure physical price performance have been drastically altered by Renewable Fuel Standard (RFS) compliance costs. Those additional fees were an afterthought as recently as 2019 but now can account for costs that regularly exceed processing expenses for many refiners.
Earnings' analysts and large investors in refining need to become accustomed to the RVO acronym. It stands for Renewable Volume Obligation. The composite number applies to the basket of Renewable Identification Numbers (RINs) that refiners must either generate or purchase to comply with the Energy Policy Act of 2005 as well as subsequent revisions to that act in 2007.
We cover the specific ingredients of the RVO at the end of this post.* But suffice it to say that soaring RIN values thus far in 2021 have altered the calculus by which refined products' cracks should be measured. Refining is not a monolithic business—RVO costs for merchant refiners or importers who never blend the ultimate finished products can be sky high, while costs are often much more temperate for refiners who have integrated systems.
But consider the plight of a company like Monroe Energy, the Delta Airlines' subsidiary that thanks to COVID has upped its gasoline and diesel production at the expense of jet fuel output. Monroe Energy does very little blending to generate in-system RINs and needs to buy the credits on the open market.
At first glance, the initial quarter of 2021 looks like a banner period for the Philadelphia-based refiner. Using the 3:2:1 crack for a measurement (where gasoline accounts for two thirds of the output and diesel reflects the remaining 24.4%) Monroe saw a crack of $11.80 bbl in the period. Analysts who prefer a measurement with the 2:1:1 crack (where production is 50/50 between RBOB and ULSD) saw a remarkably similar number of $11.82 bbl.
By historical standards, those are robust numbers. But the fly in the margin ointment comes via the RVO calculation for the quarter. Thanks to some of the highest daily calculations in the history of the RFS, the compliance cost for the quarter was $5.57 bbl with occasional trips to $7 bbl or higher. When adjusted for the RVO, net cracks for Northeastern refineries fall to an unimpressive $6.23 bbl to $6.25 bbl.
Refinery processing costs can range from $3.50-$4 bbl for sweet crude refiners to $10-$12 bbl for California plants that run heavy sour crude. Put another way, refining is now a three-legged stool with processing costs, RVO compliance numbers, and net margins all accounting for about a third of the gross "crack" or top line.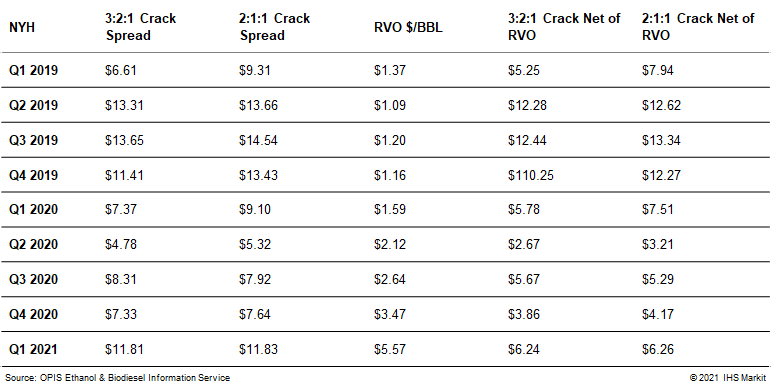 Surprisingly, two public refiners who typically rail against RFS compliance costs, have already advised investors that first quarter earnings would fall short of Wall Street expectations. Both of those companies – Phillips 66 and Valero – chose to attribute much of the blame to winter storm Uri and its devastating impact on production and logistics. There is also no doubt they will cite the RVO and RINs when they host actual earnings later this month.
But one can predict that other publicly traded refineries will see executives bemoan the cost of procuring RINs in the recently completed first quarter and into the second quarter. At one point in mid-March, the basket of RINs which determine the RVO hit $7.23 bbl, or more than 17.2cts gal. That compliance responsibility is spread unevenly across the dozens of US refining companies but suffice it to say that getting relief on RINs is "Job One" for industry lobbyists. They can accurately complain that there has never been a calendar quarter where the top line number for refining margins is so disparate from the bottom-line number.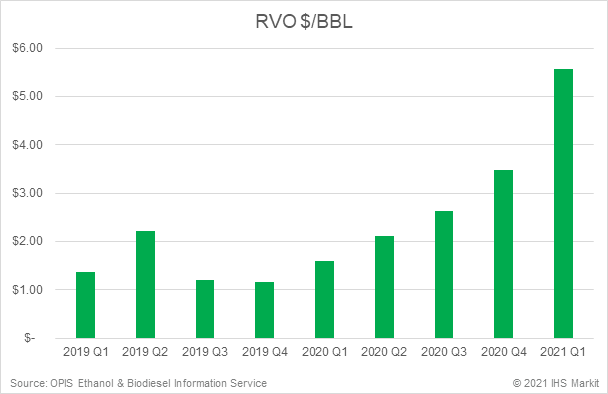 Under normal circumstances, refiners might catch a break from foreign competition since importers of gasoline and diesel traditionally purchase the applicable RINs when they book a cargo. Back in mid-March, the cost to move a cargo of diesel or gasoline from Rotterdam to New York flirted with 23cts gal, thanks to about 6cts gal in freight and an RVO obligation of 17cts gal.
But enter the persistent unrelenting pandemic.
US East Coast demand has indeed remained about 10% below the last normal year (2019) but lockdowns in Europe and mobility issues on other continents have rendered US shores the "cleanest dirty shirt" in finding a home for unwanted fuel.
Notwithstanding the stiff cost of foreign gasoline or diesel, plenty of distressed fuel from offshore refineries landed at US ports in March. The Energy Information Administration measured gasoline imports in the week ending April 2 at 1.297 million b/d. More than 9 million barrels of gasoline entered the country despite costs that were over 20cts gal when the cargoes were booked. It was the highest arrival rate since May 17, 2019 and the second highest number in nearly ten years. For perspective, the RVO in May 2019 was just 2.12cts gal, or about 89cts bbl, or a measly one-thirteenth of the peak RVO recorded by OPIS a few weeks ago. Put another way, total costs of shipping a cargo from Europe to the US was ~7cts gal two years ago.
"You can no longer simply look at the price of fuel in Europe, the cost of TransAtlantic freight, and the price buyers are willing to pay on the US East Coast.," noted Tom Kloza, Global Head of Energy Analysis for OPIS. "You need to know the "RVO" or you're missing about two thirds of import costs."
There is also a dramatic impact from the RVO on US exports of gasoline and diesel. Gulf Coast refiners with plenty of export customers don't incur an RFS cost if they move fuel to Mexico, or Central or South America. But Latin American companies are quite familiar with the RVO acronym, and they use it as a negotiating tool for procuring gasoline or diesel manufactured in the US. They've learned that refiners can accept a diesel price 10cts gal lower for a merchant sale, given the alternative of paying stiff compliance costs in the US.
Some other elements of the RVO impact on bottom-versus-top-line margins:
Domestic jet fuel is impacted, not because of RIN purchase requirements but thanks to the lack of the credit obligations. Jet fuel discounts versus ULSD futures of 15-20cts gal are only partially attributable to demand attrition. If a refiner can find a home for jet, it often affords better economics than a diesel sale that comes with a RINs' burden.

Of all the energy products that have traded in 2021, the most volatile and dynamic has been soybean oil. A spike in bean oil prices can be prohibitive for traditional biodiesel production, and a higher D4 RIN becomes the lever that makes biodiesel economics work.

One wonders what happens to a company like Marathon Petroleum, which benefited from integrated supply that tempered much of its RIN pain. Most observers sense that the most complicated part of the supply negotiation with 7-Eleven involves how the RINs will be treated in term contracts

.

There are some serendipitous winners thanks to the rising cost of RINs. Public retailers like Casey's and Murphy USA have refrained from comments on the credits, but high RIN values definitely pump up the bottom line of many retailers.
*The actual equation for computing the RVO weights four of the Renewable Identification Numbers as follows: (D3 RIN X 0.34%) + (D4 RIN X 2.1%) + (D5 RIN X 0.49%) +(D6 RIN X 8.63%). D3 RINs represent cellulosic biofuel (mostly Renewable Natural Gas; D4 is biodiesel; D5 is advanced biofuel (mostly sugarcane-based ethanol from Brazil) and D6 RINs are ethanol.
Tom Kloza, Global Head of Energy Analysis, OPIS by IHS Markit; Denton Cinquegrana, Chief Oil Analyst, OPIS by IHS Markit; and Jordan Godwin, Senior Editor, Renewable Fuels Pricing, OPIS by IHS Markit contributed to this analysis.
OPIS offers RVOs calculated all the way back to 2011.
Get accurate, timely news, pricing and analysis for buying and supplying ethanol-blended fuel and biodiesel with the OPIS Ethanol & Biodiesel Information Service. This service includes real-time news alerts, end-of-day pricing assessments, and a weekly newsletter and rack pricing report. Sign up now for a free 3-week trial!
Tags: Biofuels, Renewables, RINs, Spot Market