ANALYSIS: U.K., European Refinery Turnaround Activity Parting Ways in 2021
Continental Europe's largest oil refineries do not plan to undertake full-scale maintenance in 2021, while by contrast, the U.K. will be a relative hive of turnaround activity next year.
With little downtime planned at refineries in the key Amsterdam-Rotterdam-Antwerp (ARA) hub, northwest European refining margins already impacted by low demand are likely to remain under pressure, even if COVID-19 vaccines are distributed early next year and product demand gradually starts to pick up.
Royal Dutch Shell's 404,000-b/d Pernis refinery near Rotterdam in the Netherlands, BP's 400,000-b/d refinery in Rotterdam and ExxonMobil's 320,000-b/d Antwerp refinery in Belgium have eschewed full-scale turnarounds in 2021. Instead, the operators have penciled in heavier maintenance work for 2022, according to local sources with close links to the plants.
Both ExxonMobil and Shell postponed work originally scheduled for 2020 and 2021 respectively, while BP has not changed its plan for a full-scale turnaround in 2022 at its Rotterdam refinery, according to sources in the ARA.
Pernis has delayed its big maintenance project for 2021, OPIS reported in November, with the turnaround work on the hycon and solvent deasphalter units postponed for a year in a bid to cut costs. Those units, which boost production of cleaner fuels, were deemed to be in sufficiently good condition to permit a delay to maintenance, said Rotterdam-based sources, with the result that more limited maintenance work will take place next year.
Similarly, a two-month full-scale turnaround penciled in for this autumn at ExxonMobil's Antwerp refinery was reduced in scope, OPIS reported in July, with only essential work carried out on individual units over a four-week period starting at the end of September. A larger turnaround will be carried out in 2022. Cost-cutting was once again cited by sources with links to the refinery for the postponement.
The maintenance schedule for 2021 in the ARA is consequently thin, with the largest work heard to date occurring at ExxonMobil's 190,000-b/d Rotterdam refinery along with its aromatic plant. The integrated event is expected by sources in Rotterdam to begin in the second half of February, with unit inspectors arriving on the site on February 15, those sources say.
"The autumn 2020 maintenance season has been relatively heavy, and with new lockdowns in Europe hitting demand further, refiners are turning their hopes to 2021 to recoup some of the low margins of 2020," said Eleanor Budds, principal research analyst at IHS Markit.
As a result, the centre of gravity for turnaround activity in northwest Europe next year appears likely to shift westwards, with several full-scale delayed and planned maintenance works due to take place in the U.K.
The British government designated the downstream sector a "critical industry" during the onset of the COVID-19 pandemic, which saw government officials emphasizing the need for operators to keep their refineries online. As a result, those delayed turnarounds will make 2021 a busy year for refiners who are otherwise attempting to cut capex and often employee numbers too.
Citing local sources, OPIS reported last month that the Valero-operated 210,000-b/d Pembroke refinery in southwest Wales will undertake a nine-week maintenance shutdown at the start of February; the Phillips 66-operated 210,000-b/d refinery on the English east coast will go offline for maintenance in April; and the 110,000-b/d Lindsey refinery will undertake a shutdown in September, OPIS reported last month.
The latter two turnarounds will take place exactly a year later than originally planned, local sources say.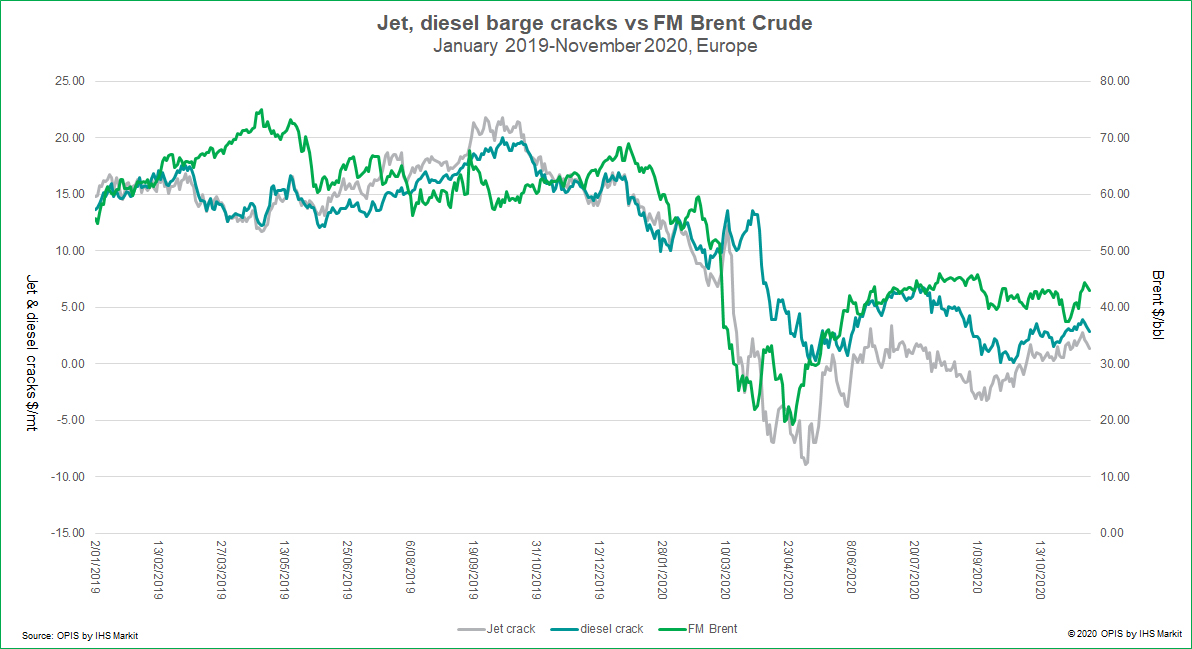 A full-scale turnaround at the 200,000-b/d Grangemouth refinery in Scotland that was expected to take place in April this year was similarly postponed. Although brief maintenance did later occur at crude processing units at the refinery in October, the chances of more turnaround activity in 2021 are high, say sources at Grangemouth. Those sources told OPIS last week that the refinery's capital expenditure will only be slightly lower in 2021 than in 2020.
Sources in Scotland have previously said that more work at Grangemouth could coincide with a triple-plant turnaround penciled in for April 2021, which was postponed from July this year, OPIS reported in April. The interlinked plants affected by that work are the ExxonMobil-operated 830,000-metric ton/year ethylene plant at Mossmorran; the neighboring 12,500 mt/day Shell-operated Fife Natural Gas Liquids (NGL) plant and Shell's St. Fergus gas plant, which has a gas intake capacity of 1,600 million standard cubic feet per day and supplies the NGL plant via a pipeline.
With the 210,000-b/d Essar-operated Stanlow refinery in northwest England committing to just individual unit maintenance works until the first quarter of 2022, only the U.K.'s largest refinery, the 270,000-b/d ExxonMobil-operated Fawley plant, has a question mark hanging over its 2021 maintenance schedule.
The company has previously given assurances to local government authorities that it will not undertake big planned maintenance work during the construction of the $1.5 billion Fawley Strategy (FAST) project, assuaging authorities' concerns over the ability of road infrastructure to cope with increased heavy vehicle traffic.
The company has pushed back a potential restart of construction work of FAST's two new units that will boost diesel production by 38,000-b/d to the fourth quarter of next year at the earliest, say sources at Fawley. That construction work is likely to last a year, those sources say.
A full-scale turnaround would consequently have to happen either side of the FAST construction work in order to honor the pledge to local authorities.
The turnaround work scheduled in the U.K. will however do little to move the needle on overall northwest European margins, which are expected to see only a modest uptick next year after a dismal 2020, according to IHS Markit, the parent company of OPIS.
"We forecast margins overall to be slightly higher year on year in 2021 to 2020, as demand will recover gradually but remain some 8-9% below 2019 levels," said Budds. "Refinery rationalization announcements thus far look insufficient to account for the lower demand outlook."
All of the operators cited above declined to confirm their future maintenance plans when contacted by OPIS.

Each day, OPIS editors canvass the market for hard-to-track delivered premiums into ports across Europe. They also draw on exclusive shipping data for supply insight that covers import volumes into Europe, identifying key dynamics behind price changes. This insight and price transparency for the European spot middle distillates market is delivered daily in the OPIS Europe Jet, Diesel & Gasoil Report. If you don't already subscribe, download a sample copy here – and then request a free trial here.

Tags: Gas & Diesel, Spot Market