Ukraine's Fuel Crisis Deepens Amid Logistic Obstacles, Regional Shortages
Ukraine is in the grip of widespread fuel shortages as the country tears itself away from Russian exports, and imports from the west are impeded by logistical challenges and regional shortages in a redraw of the European energy map.
Since Russia's invasion of Ukraine on February 24, about 60% of its retail fuel stations have closed, according to Kyiv-based Artem Kuyun, director of Ukrainian fuel consulting group A-95. Motorists who want to drive to the border face waiting times of between five and seven hours to fill up their tanks, with some resorting to sleeping in their cars parked at the stations. Supplies are unpredictable, as some regions have adequate gasoline but no diesel, while other locations only have diesel and no gasoline.
Ukraine is heavily dependent on Russia for fuel imports, which arrive mostly by rail. In 2021, Ukraine consumed 8 million metric tons of diesel, 2 million mt of gasoline, 2 million mt of LPG, and 360,000 mt of jet fuel. Of this, Russia and Moscow-aligned Belarus accounted for 74% of Ukraine's LPG fuel supply, 62% of diesel, and 44% of gasoline, according to A-95.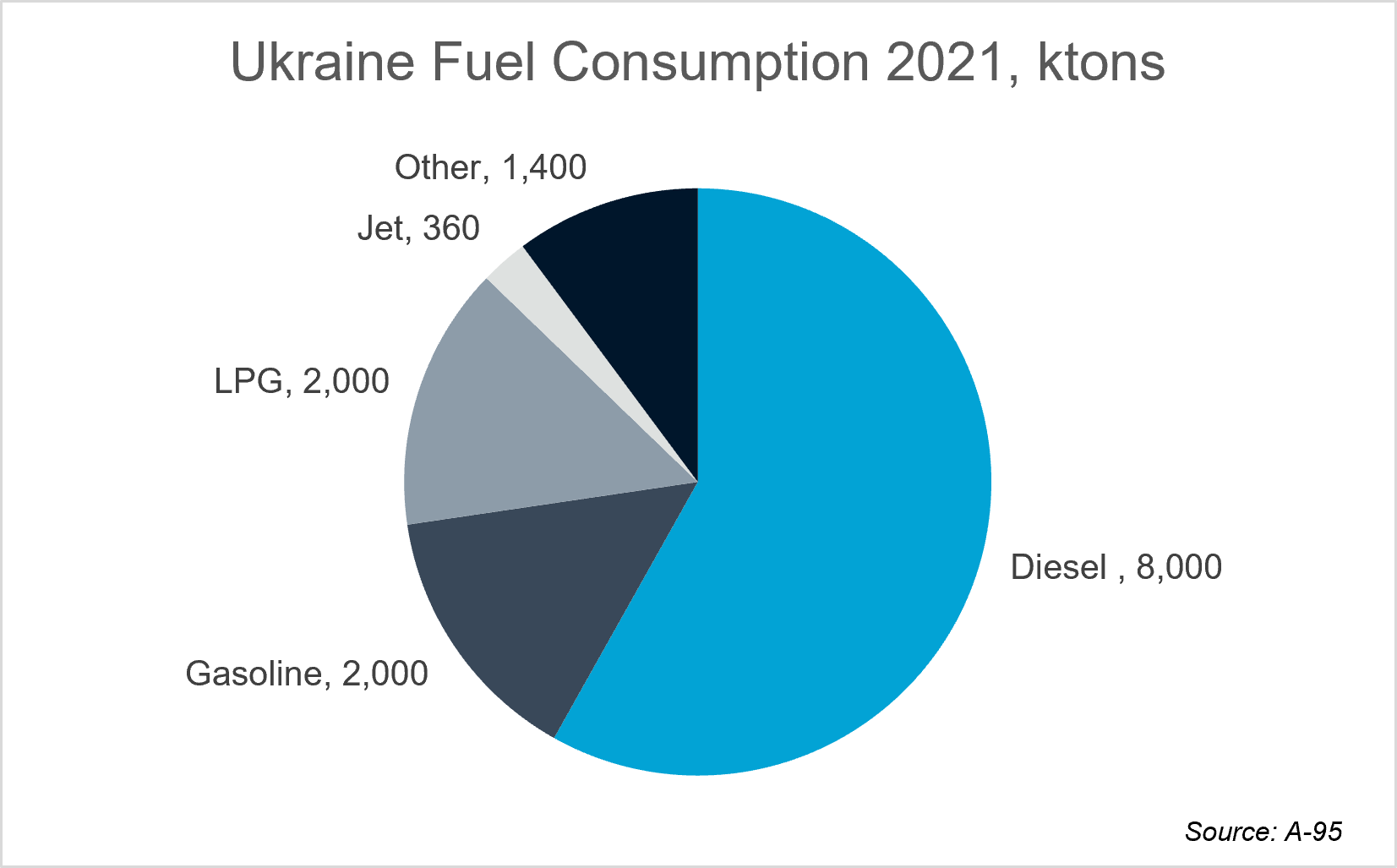 While fuel consumption in Ukraine has plummeted since the invasion, demand is expected to rise sharply in April – a critical time for the agricultural season – Kuyun estimates approximately 300,000 mt of diesel, 120,000 mt of gasoline and 70,000 mt of LPG. Ukraine's agricultural sector, famously known as the 'breadbasket of Europe', is in desperate need of fuel, particularly diesel, to power tractors and machinery as seeding season starts.
Unsurprisingly, delivered fuel prices to the Ukraine have shot up as the cheaper Russian supply is cut. For example, gasoline prices on a DAF (Delivered at Frontier) Ukraine basis have surged to premiums of $200-250/mt to the northwest Europe indication from $50/mt in more typical times pre-invasion, according to Kuyun.
Switching supply sources
Fuel supplies are trickling in from neighbouring countries on their western border such as Poland, Hungary, Slovakia, and Romania, but Kuyun says volumes are nowhere near enough and the process is mired in inefficiency. "Every stage takes a lot of time and bureaucracy. There is no priority or single decision-making centre for Ukraine."
Foreign aid packages to Ukraine are focused on military supplies and humanitarian assistance but fuel is not a priority. European governments are grappling with their own energy concerns and price hikes as they attempt to wean buyers off Russian oil and gas exports in the wake of sanctions and embargoes.
Central Europe is highly vulnerable, with inland refineries in Poland, Germany, Czechia, Hungary, and Slovakia isolated from coastal imports and heavily reliant on the Druzhba 'Friendship' pipeline network, the main artery that brings in crude oil from the Russian hinterland.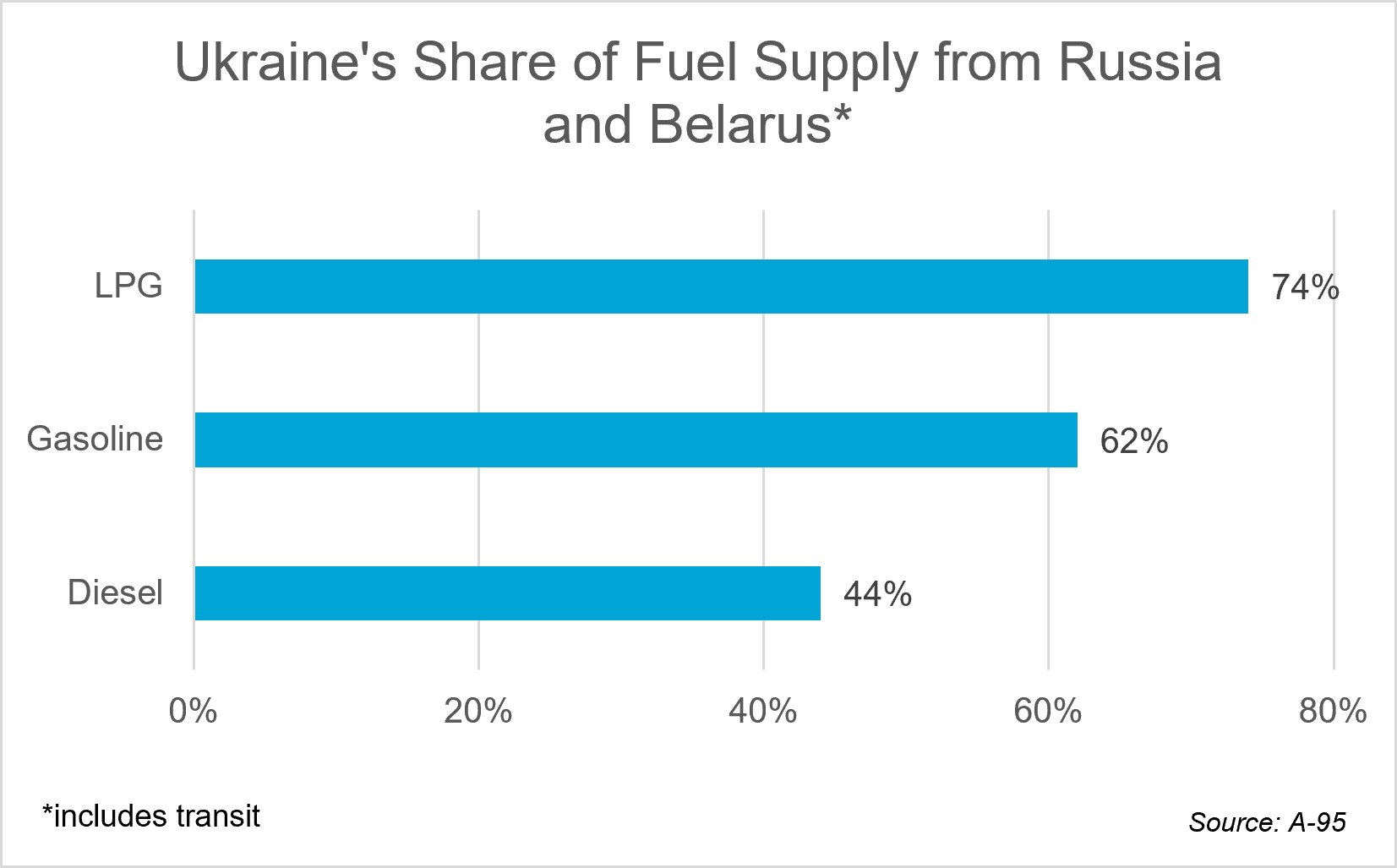 "Not many people will sell into Ukraine as supplies are missing [in those countries] as well," one fuel trader in central Europe told OPIS.

There are notable bottlenecks in the supply chain crossing Ukraine's western border, including different railway gauges and pipeline diameters, shortages of adequate railcars, various permits for truck drivers, as well as dealing with old and rusty equipment. In the south, Ukraine's seaborne imports have largely halted as Russia attacks their Black Sea ports.

"LPG can be delivered from Amsterdam-Rotterdam-Antwerp (ARA) by train to Polish terminals and get reloaded to trucks – that is not very complicated. But the delivery by trucks to the Ukraine is the difficult part," said one market source.

Integration investment needed

This has longer term implications for Europe's refineries and fuel logistics as Ukraine looks to integrate itself into the European energy network. For a start, Kuyun thinks investment is needed for fuel terminals in Poland, Slovakia and Romania to be equipped with railcars that can accommodate the wider railway gauges used in former Soviet Union countries to smoothly transport fuel into Ukrainian depots.

Hungary could be a key logistical hub to bring in supplies from elsewhere in Europe into western Ukraine. The two countries are connected by rail on the same gauge, as well as via a diesel pipeline. Although originally set up by Russia's Transneft to ship in Russian product, the direction of pipeline flow can also be reversed. "Unblocking the Hungarian railway and pipeline could solve most of the infrastructure problems today," he claimed.

Kuyun urged fuel owners, transhippers and expedition companies operating along the corridor from the ARA, through Germany and to the Polish border to step up to the challenge facing Ukraine.

"Big traders know how to sell fuel from any point in the world," he said. "This is a question about initiative."

OPIS developed the pricing in its Europe LPG & Naphtha Report to reflect the market's desire for an unbiased methodology and accurate spot price benchmark in northwest Europe and the Mediterranean. Try the OPIS Europe LPG & Naphtha Report free for 21 days. You'll get a daily PDF report plus alerts sent to your inbox as news breaks.

Tags: NGL & LPG, Spot Market