US PVC Producers Seek to Hold onto Gains Amid Construction Slowdown
The US PVC market saw an unusually volatile year in 2021, to say the least, and saw another one in 2022.
To give some context, prices in the US PVC market began what looked like an inexorable rise with the settlement of the June 2020 contract price, when prices rose by 3 cents per pound, but the pace of the increases doubled with the settlement of September's prices following the landfall of Hurricane Laura near Lake Charles, Louisiana, on August 27, 2020. With the December 2020 settlement, PVC resin prices were up a total of 19 cents per pound.
By the time contract prices settled for December 2021, the confluence of the impact of Hurricanes Delta in October of 2020 and Ida in August of 2021 hitting petrochemical production in Louisiana, flooding at the Formosa Plastics chlor-alkali plant in May 2021, and Winter Storm Uri in February 2021 that shut down almost every petrochemical plant and refinery along the Texas and Louisiana Gulf Coasts, had joined with the effects of the global Coronavirus pandemic to see prices up a total of 31.5 cents per pound for the year, and a total of 50.5 cents per pound since June 2020.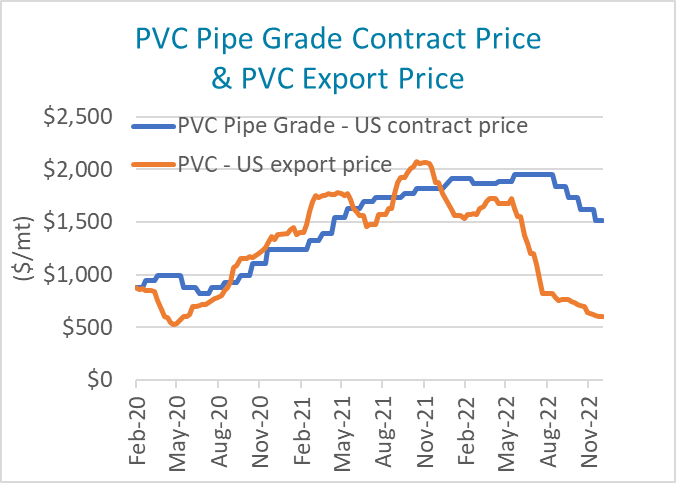 Prices peaked with the April 2022 contract settlement for pipe grade PVC at 87.5-89.5 cents per pound ($1,951 per metric ton) and remained flat at that level through the June 2022 settlement. The market in the second half of 2022 saw suppliers of PVC and pipe fighting hard to hold on to their gains despite a growing inventory picture that was emerging all along the supply chain.
They were supported by the continuation of strong demand from the construction market. Total construction spending rose by 1.3% in January to a seasonally adjusted annual rate of $1.677 trillion and increased by 8.2% compared to the January 2021 rate of $1.550 trillion, according to the U.S. Commerce Department.
Contractors continued to order pipe to build, rather than build inventories, well into 2Q 2022. Sensing this, pipe suppliers continued issuing price increases, managing to raise them to $700/100 ft for conduit pipe and $4/ft for plumbing pipe. However, steadily rising interest rates along with ever-rising home prices were causing construction firms to gradually pull back from aggressive schedules as rates rose from 1% in May to 2.5% in July. By September, when rates reached 4%, contractors' pipe inventories began rising. Still, pipe producers kept issuing price increase notices, which kept up demand as consumers strove to build inventories before prices rose further.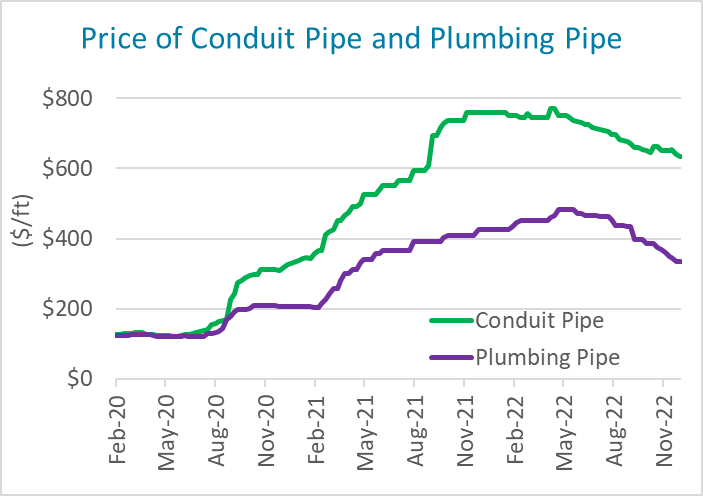 The result of what amounted to a massive inventory build by the end of the second quarter of 2022 created a major pullback in orders and the U.S. PVC contract price saw its first decrease with a 5 cents per pound decline with the July 2022 settlement. This came at a time when export demand from Asia also dropped off, adding to the inventory building in the U.S. By mid-December, the U.S. pipe grade PVC contract price had dropped to 68.5 cents per pound (around $1,500/mt), a decline of 20 cents per pound. Conduit pipe prices had dropped to around $635/100 ft and plumbing prices were down to $3.35/ft.
At this writing, expectations for a resurgence of construction projects in 2023 were good for municipal and conduit pipe due to the Infrastructure Bill passed by Congress, while the outlook for plumbing pipe was more muted due to the impact of still-rising interest rates and high home prices on housing demand.
Why is the cost and availability of petrochemicals exerting such a powerful influence on the economy at large and how are they helping to drive prices and inflation?

Watch or listen to the discussion of the often misunderstood petrochemical market on OPIS Energy Insights on Barron's Live. 
In an effort to put an end to the persistent downward movement of PVC prices, producers issued a new round of price increases of 6 cents per pound for January 1, 2023.  Market watchers considered a 6 cents per pound price hike unlikely to succeed so early in the year, despite the fact that PVC producers had reduced operating rates to 70% in November in an effort to tighten up their resin inventories and reduce the market supply glut. They believe it is possible that the price increase will be delayed and split into two parts, up 3 cents per pound for February and up another 3 cents per pound for March.
The prediction of a market pundit had been that PVC prices will drop by 3 cents per pound each month for January and February, followed by a 2 cents per pound decline for March. This forecast changed on December 21 to flat for January, a 2 cents per pound price increase for February, and a 1 cent per pound price hike for March. At the end of January, the first quarter 2023 forecast changed again. This time PVC prices were predicted to rise by 1 cent per pound for January, 2 cents per pound for February and 2 cents per pound for March.
By February 10, Formosa, Westlake and Shintech had reacted by issuing price moves that basically split the previously announced January price increases of 6 cents per pound into two parts, with 1 cent per pound going into effect for January and the remaining 5 cents per pound being pushed to February 1. The previously announced 4 cents per pound price increases, that were initially meant to take effect on February 1, were pushed back to March 1. Oxy Vinyls, on the other hand, announced that it was leaving its previously announced price increases of 6 cents per pound for January and 4 cents per pound for February on the table, but it was adding a 5 cents per pound price hike for March.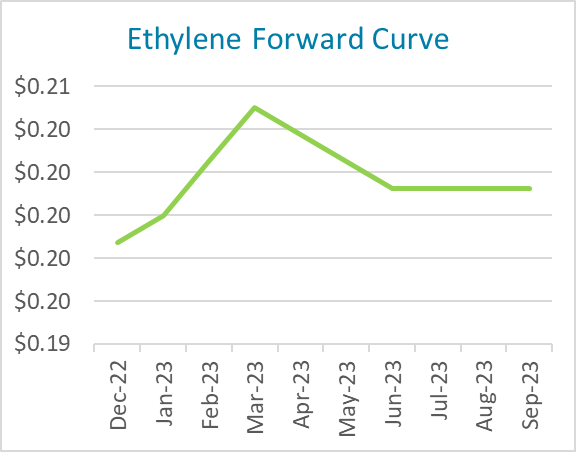 At the same time, a contango ethylene curve supports the outlook that PVC prices are not in peril of sliding in the first quarter of 2023. Ethylene is half of the PVC molecule (the other half is chlorine), but it is a major driver of the PVC price. While current prices for December ethylene at Mont Belvieu, Texas, have dropped to slightly below 20 cents per pound, a small contango in its forward curve (with March ethylene assessed at 20.5 cents as per OPIS PCW on December 16) is somewhat supportive of stability in the market, if not the price increases being sought by PVC producers. Forward ethylene prices retreat slightly in April (to 20.375 cents per pound) and stabilize at 20.125 cents in June.

At this point, it looks as if PVC contract prices will be rising in the first quarter of 2023, but it's an open question of how much of the 10 cents per pound in price hikes on the table producers will be able to hammer home. Downstream demand will be the determining factor.

Reporting by Kathy Hall (khall@opisnet.com), executive director of OPIS global petrochemicals, and Donna Todd (dtodd@opisnet.com), senior editor at OPIS PCW

While the impact of the storm was minimal, weather is a factor that is nearly impossible to build into forecast models. However, with reports like the PetroChem Wire PVC & Pipe Weekly, you'll know what to expect when the weather enters the market's picture.

Make sure you've got the OPIS PCW PVC & Pipe Report coming to your inbox every week!

Tags: Petrochemicals, PVC