2019 Gasoline and Diesel Prices by Market
Oil price futures are poised for a volatile 2019, if the end of 2018 is any indication. What will that mean for gas and diesel prices at the spot and wholesale level?
Plus, click on the OPIS Crash Course episode right here to listen to top takeaways from the U.S. spot fuel markets.
In the year that was, prompt WTI crude oil never settled below $50/bbl – that is, until the very end of 2018. As the equities market staggered lower, WTI and Brent crude oil prices plunged, only to whipsaw higher as the market clawed its way back up.
Still, the damage was done to the oil complex and the stage is set for a tumultuous year. That stands to pull gasoline and diesel futures along for a roller coaster ride. Those moves will take their toll on what you pay at the pump.
Want to read a mid-year update of this blog post? Click here to see what our editors were tracking as the halfway point of 2019 loomed.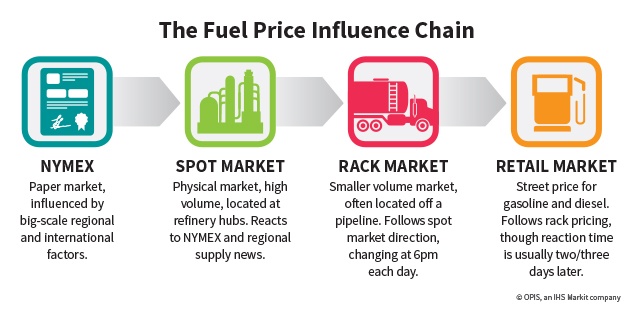 Remember, the price you pay for gasoline and diesel at the retail level starts higher up the fuel chain.
That "price influence chain" begins in the futures market, where paper contracts of fuel, including gasoline and diesel, are traded. You can read more about the futures market here.
The actual fuel that is produced in a refinery is priced at a premium or discount to that futures market. That so-called spot price is then used to derive the value wholesalers pay at one of some 400 rack markets across the United States. The rack price then influences the price paid by drivers at the retail level.
So, to grasp what is making a local fuel price go up or down, it is important to understand what's happening at the spot market most closely associated with it. Here's a map to give you some geographical reference.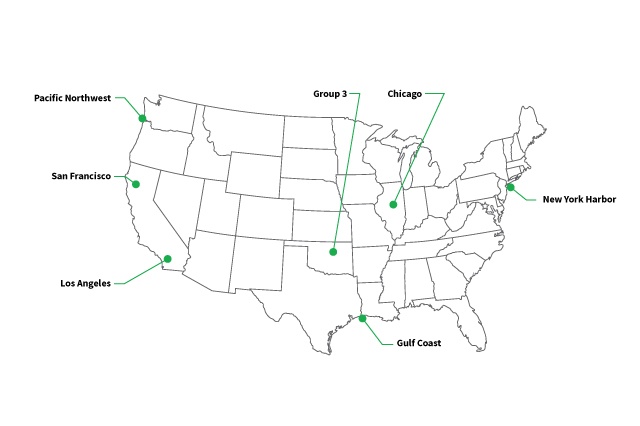 Each of those spot markets has its own unique characteristics, advantages and challenges. For some regions, the advent of an open market in Mexico will shape 2019 pricing. For many markets, the coming of low-sulfur fuel requirements for ships in 2020, as decreed by the IMO, could be a major game changer.
Our spots editors pulled together the top trends that will steer prices in their markets during 2019.
Gulf Coast
Gulf Coast gasoline prices will likely continue to see depressed values in 2019, with peaks probably off from normal heights and likely opening the year at multiyear lows. There are multiple reasons for the lower gas prices, largely due to robust inventories of material already on-hand and refiners continuing to run at very high rates.

After Gulf Coast spot diesel prices started 2018 around $1.95/gal, cash values were set to finish the year around some of their lowest levels since 2017. ULSD prices fell by more than 14% since the start of 2018. But, as 2020 looms, Gulf Coast middle distillates could see increased demand, as ship-owners look to source a low-sulfur option to power vessels to comply with IMO regulatory changes.

Mexico gasoline and diesel exports will continue to be a major part of PADD 3 refiners' plans in 2019, although with the election of new leadership some of those opening markets may not be as set in stone as thought a year or two ago. Additionally, hurricane disruptions are always a wildcard, crimping production and seeing prices spike momentarily – similar to what took place 2017 in the aftermath of Hurricane Harvey.
Group 3 and Chicago
High regional refinery operating rates have been notable in the Group 3 and Chicago spot markets in 2018. Utilization rates averaged weekly level of 92.28% throughout the year. With current crack spreads looking better for heating oil versus gasoline, one participant expected refiners to favor the distillate side of the barrel.

Strong inventory levels will shape gasoline prices. Regional gasoline inventory levels stand several million barrels over both year-ago figures and five-year-averages for this time of year, according to the Energy Information Administration. Most of December saw builds in inventories and participants don't expect that to change any time soon as the market enters a 12-week period in which gasoline demand is typically at its lowest.

Midwest refined products could see their reach expanded in 2019, after Buckeye Partners' original plan to provide bidirectional service on Laurel Pipeline by the end of this year did not come to fruition due to ongoing legal proceedings with the Pennsylvania Public Utilities Commission (PUC). In a November earnings call, Buckeye said it is optimistic about a favorable decision from the Federal Energy Regulatory Commission to begin first bidirectional operation on a section of its Laurel Pipeline in early 2019.
New York Harbor
Tight distillate inventories will likely shape diesel prices in the New York Harbor spot market in 2019. Distillate stocks reached their lowest levels since 2015 this past year. As such, prices reached multiyear highs in May. Northeast ULSD spot prices fell off sharply alongside futures markets in late 2018 due to macroeconomic concerns. But look for low inventory levels and strong U.S. demand to keep a floor under prices in the coming year.

Market participants are also focused on the upcoming IMO 2020 transition, with one source noting that, due to plentiful storage in New York Harbor, the Northeast is positioned to potentially become an important blending hub.

Conversely, ample gasoline inventories helped the New York Harbor market absorb supply disruptions. Spot gas component prices closed out 2018 significantly lower than where they started it. Prices have been hovering around two-year lows, posing challenges for refining margins.

Looking ahead to 2019, planned maintenance for the region looks to be limited so far. Philadelphia Energy Solutions (PES ) has plans in place for a Q1 turnaround at Girard Point in January, involving the crude unit, reformer and large FCC.

Delta's Monroe Energy refinery, in Trainer, Pa., will likely remain a focal point in 2019. Delta acknowledged in September that it was exploring a possible joint venture for the 190,000-b/d refinery. The joint-venture partner may handle everything except for jet fuel at the refinery.
West Coast
Recent price swings in the U.S. West Coast gasoline and diesel markets should spur trade liquidity in 2019, market watchers said. L.A. CARBOB premiums soared above 25cts/gal over NYMEX futures several times in Q4 and a continuance of that heightened level of volatility was expected to attract players to the relatively thin market.

The West Coast spot market also expected to face fierce competition from Asian refiners in exporting excess supplies to Mexico as well as Central and South America. Gasoline demand from exports to Mexico is expected to support the USWC market and keep mogas balanced in 2019. How much USWC products will be exported to Mexico in 2019 will hinge on output by Pemex's 330,000-b/d Salina Cruz refinery in southeastern Mexico on the Pacific Coast.

Meanwhile, California's tough environmental regulations and rising crude production in neighboring western Canada mean USWC refiners will likely import more foreign crudes. One bright spot for crude production for PADD5 is the expected resurgence of Alaska North Slope (ANS) oil output due to recent discoveries and fewer barriers to entry, according to IHS Markit. The ANS Basin is poised to increase crude oil output by as much as 40% in the next eight years. Most refineries in California and Washington state are equipped to process ANS crude.
Keep it tuned to OPIS during all of 2019 to see how your market unfolds and how the fuel price moves at the futures and spot level translate to what you pay at the wholesale and retail level.

Want to stay fresh on market trends even if you are pressed for time in 2019? Subscribe free to our OPIS Crash Course podcast! Click below to be taken to the Crash Course homepage and subscribe via your favorite podcast channel!

Tags: Gas & Diesel, Spot Market