NGL Price Analysis & Export Outlook
Natural Gas Liquids prices dropped significantly in 2019, opening up opportunities – and challenges – for exports of products such as propane, butane and ethane in 2020 and beyond.
What exactly do we mean by an NGL price drop? Prices in 2019 moved to a fraction of what they were year ago. Let's quantify that:
Propane and butane were down by as much as 60% on the year
Ethane was down by as much as 70% from a year ago
Why Have NGL Prices Dropped?
As is often the case in commodities markets, the tug-of-war between NGL supply and demand has jerked in favor of one direction.
NGL prices have eased largely due to strong U.S. upstream production, focused in the key plays and basins – namely the Permian Basin and its sub-plays.
To add numbers to that, the Energy Information Administration four-week week production average has been below 2 million b/d only three times in 2019.
But there's limited U.S. demand growth to absorb that production. U.S. butane and propane markets, for example, are considered "mature."
How Has this Played Out for One Key NGL?
The demand curve for propane for each regional U.S. PADD is lower than seen historically when comparing the inventory cycle (April 2019 through May 2020).
Amid a constraint on export capacity (more on that later), propane inventory builds across the U.S. on a year-over-year basis have depressed prices and created a disconnection between crude oil and propane. Propane has fallen as a percentage of crude oil to levels in the low-30% territory.
Find out more about NGL supply-demand analysis like this, here.
NGL Price Outlook: Exports to the Rescue? Maybe.
In our latest OPIS Crash Course Podcast, OPIS' Bobbie Clark and IHS Markit's Darryl Rogers sat down to share their insights on the supply-demand imbalance in the NGL market. Exports play a key role in evening out the scales. Listen to their podcast in its entirety here:
Both experts went into detail on the opportunities for NGL exports. But they noted a critical hitch in the plans: U.S. export capacity is maxed out.
Let's quantify that statement: The four-week average for propane exports, as per EIA, for the week ended Sept. 27, topped 1 million b/d, marking the 25th time this year. For perspective, in 2018, the four-week average went above 1 million b/d only four times. In 2017, it was eight.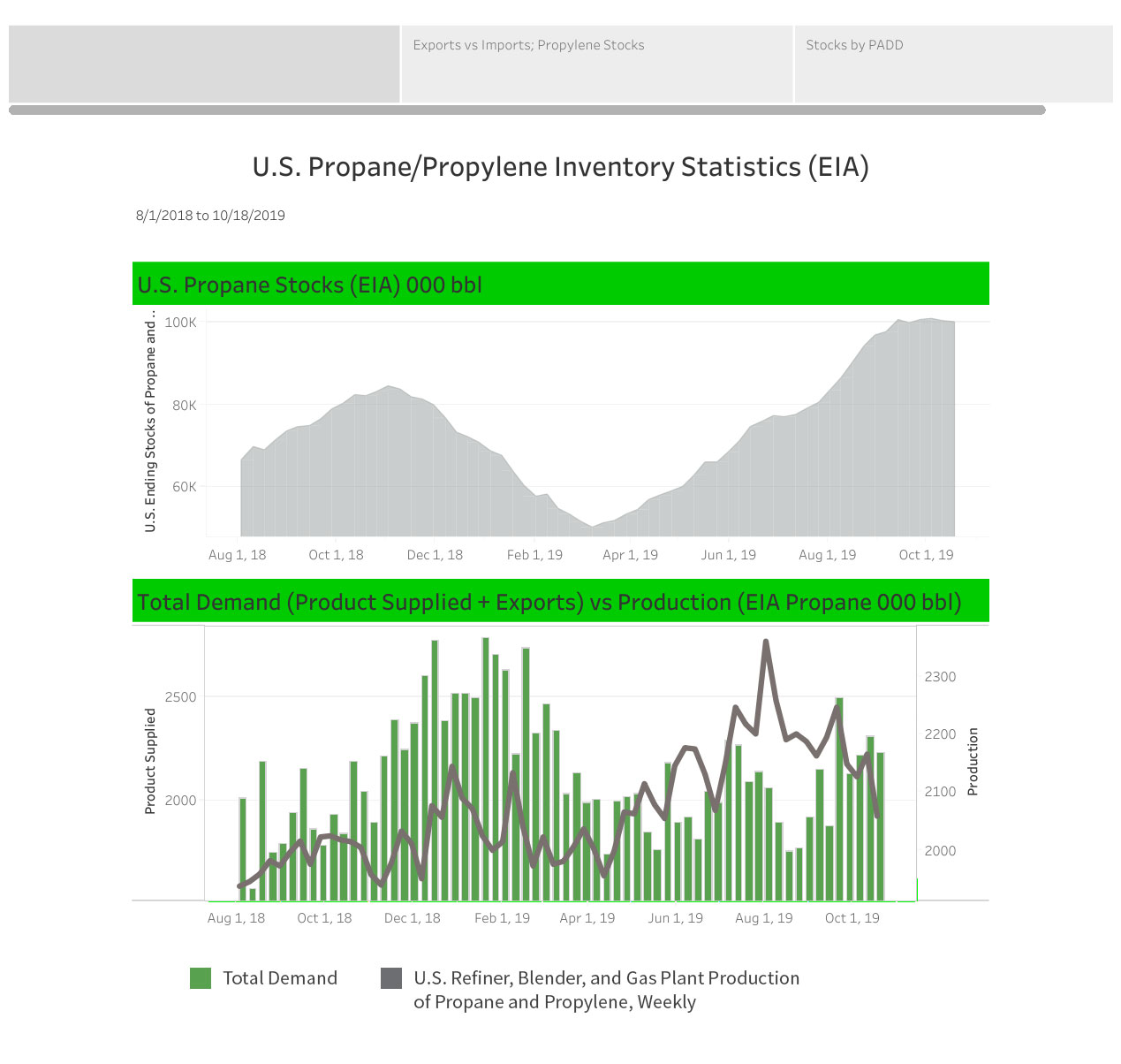 U.S. producers know there is an opportunity to do more, with a number of export facility expansions in the cards.
NGL major Enterprise recently announced that its own LPG export facility on the Houston Ship Channel was operational after an expansion of 175,000 b/d brought total capacity to 835,000 b/d. Another expansion is planned for late 2020 to add another 260,000 b/d.
Targa has been at work expanding its Galena Park facility to accommodate up to 500,000 b/d, from its current rate of 230,000 b/d. This expansion is largely slated to accommodate butane exports.
Energy Transfer is expanding its Nederland, Texas, facility by 200,000 b/d from 225,000 b/d currently.
The Targa and Energy Transfer projects are expected to be online by the third quarter of 2020.
Check out the full podcast to get the inside scoop on the ethane market, which has its own unique supply and demand fundamentals.
In the Meantime, What Can We Expect for NGL Prices in the Future?
With prices probing lows, some NGL pricing analysts think an uptick is inevitable.

A near-term major bullish factor has to do with the harvest season, typically a motivation for higher propane prices.

Crop-drying this year may be strong. The season started late, so analysts note pent-up demand. There have also been reports that the crop is wet after rainy weather in the U.S. Midwest, which could fuel demand.

Meanwhile, while NGL markets are very well supplied, pressure on the U.S. upstream producers to perform from a financial perspective could create a slowdown in activity and production, and markets could tighten up quickly.

Be sure to listen to our latest OPIS Crash Course Episode, "NGL Price Analysis & the 2020 Outlook for Propane, Butane and Ethane Exports" for wildcard factors that could sway prices.

And for daily benchmark NGL spot pricing, check out OPIS' North American LPG Report.

Tags: NGL & LPG, Spot Market